Singapore – Sea, the parent company of leading e-commerce platform in the region, Shopee, bags the top spot as the top retailer for the Southeast Asia region based on sales in 2021, as seen from the latest data of Euromonitor International. This was two places up from last year's rankings where in the previous report, Sea fell behind Indonesia's e-commerce Tokopedia, the top retailer for the said year, followed by Seven & I Holdings, the holding company of 7-Eleven.
Sea recorded sales of $16.06b 2021. It's the same brands showing up for the top three retailers in the region only their places shuffled – Tokopedia ended second with $12.88b in sales, followed by Seven & I Holdings with $10.85b.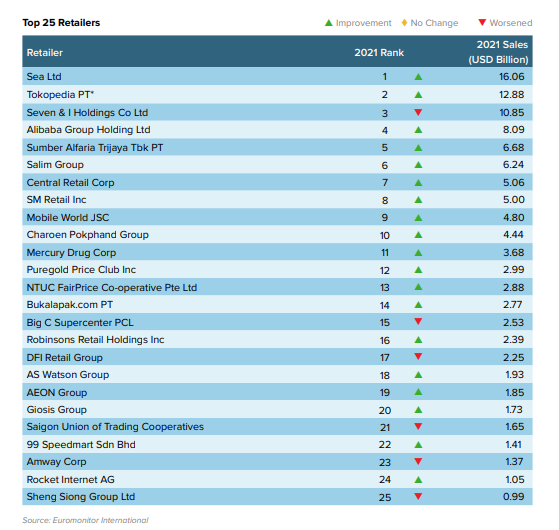 Meanwhile, Chinese retail & tech giant Alibaba comes in fourth, followed by Indonesia-founded convenience store Alfamart. Indonesian conglomerate Salim Group also makes a comeback, while we see two Thai retailers entering the upper 10 – Central Retail Corp and Charoen Pokphand Group.
In the top 10, Vietnam's Mobile World JSC enters the list, while Philippines' SM Retail also retains its crown as one of the region's top retailers.
The report notes that the retail industry in Southeast Asia is largely fragmented, where growth primarily comes from companies with a regional presence. The biggest pattern we see for the period is the dominance of e-commerce platforms such as Shopee, Tokopedia, and Alibaba reflecting the pace of channel shifts. E-commerce players outperformed other distribution channels, especially in markets with
In 2021, e-commerce grew more than 30% in Southeast Asia and is expected to reach over $165b by 2026. This makes the territory a lucrative target for global e-commerce players.
The report notes that while this is the case, a general or broad strategy will not work. Conquering the market is complex and regional e-commerce players must create localised strategies catered to various cultural needs.