Singapore – Globally recognised convenience store 7-Eleven and Singapore-born Tiger Beer, have joined forces to unveil the very first beachfront convenience store right on the sands of Palawan Beach Walk, Sentosa in Singapore. 
The opening celebration will kick off with a variety of promotions and special treats for families enjoying the last weekend of the school holidays and for young adults and tourists who have made hanging out on the beaches of Sentosa their highlight of the week.
Perched right on the sands of the popular Palawan beach, this picturesque 7-Eleven store can be spotted from afar with its vibrant murals and unique graffiti artwork on its facade. Guests can enjoy their refreshing drinks, hot snacks and even ready-to-eat meals at the special 7-Eleven x Tiger Beer chillout area on the sands or at their favourite beach spot.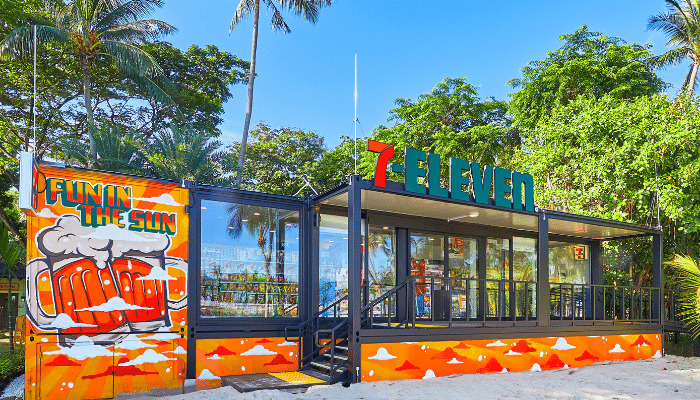 To help people get their drinks fast, 7-Eleven and Tiger Beer will be bringing a special reverse tap bar, which will automatically dispense the right pour of beer in each cup consistently – without needing a bartender. The reverse tap dispenser is fast, convenient and easy, giving you more time to spend soaking up the sun.
Savour the last weekend of the June school holidays with an unforgettable carnival-inspired blast on the beach with family and friends at the 7-Eleven's Sentosa Palawan Beach store on 25 and 26 June 2022.
Customers can enjoy free popcorn, 7-Eleven balloons, face painting activities, Häagen-Dazs or Walls ice cream, Mr. Softee, chances to walk away with exciting Spin and Win rewards, and last but not least, live music performed by local singer-busker Jeff Ng, who recently made headlines for his popular weekly busking at The Cathay.
7-Eleven Singapore's Managing Director, Steven Lye, said, "7-Eleven is reimagining convenience at the beach with our first beachfront store at Sentosa, in collaboration with Singapore's iconic brand Tiger Beer. From the Arctic Coke machine to the exclusive Nitro Tea, and Reverse Tap beer and the Tiger Beer chill out zone, our new store offers a lot of exciting things for beach loving families, young adults and tourists, and we look forward to welcoming them! We hope that customers will be able to enjoy our new concept store with its unique design and special murals."
Meanwhile, on the collaboration, Asia Pacific Breweries Singapore's Marketing Manager, Yogender Sharma, commented, "This is a great collaboration with 7-Eleven where we pushed the boundaries and found innovative ways to uncage the ultimate refreshment for our consumers. Tiger has a special bond with beer-lovers, and we believe that the beachfront store at Sentosa Palawan Beach would energise the experience by bringing consumers the smoothest beer and greatest vibes."
"We are delighted to be home to Singapore's first-ever 7-Eleven store by the beach. This new store concept is an example of the novel and imaginative experience that we are curating for our guests on our beach. Apart from providing the convenience of getting beach essentials, the store is also a unique beachfront bistro where guests can pick up a quick and affordable meal. We welcome this partnership with 7-Eleven in enhancing our guests' experience as they enjoy their day on Sentosa, " said Chew Tiong Heng, divisional director, Business and Experience Development, Sentosa Development Corporation.