Manila, Philippines – To promote the online series 'Money Heist: Korea – Joint Economic Era', streaming platform Netflix in the Philippines has launched an outdoor campaign that depicts the show's heist in a literal sense.
Mall-goers at the SM Megamall in the city of Mandaluyong in Metro Manila, as well as in TriNoMa, were surprised to see an outdoor installation where an armoured truck, seemingly stalled due to colliding with a street light post, is brimming with a lot of items and goods, including play money, boxes of Korean goods, among others.
'Money Heist: Korea – Joint Economic Era' is a South Korean television series which is based on the popular Spanish heist crime drama series 'Money Heist'. The series depicts a hostage crisis situation set in a unified Korean Peninsula.
The campaign is made in collaboration with local creative agency GIGIL, who has long been known for making local campaigns for Netflix, with titles such as 'All Of Us Are Dead', 'Trese', and 'Red Notice'.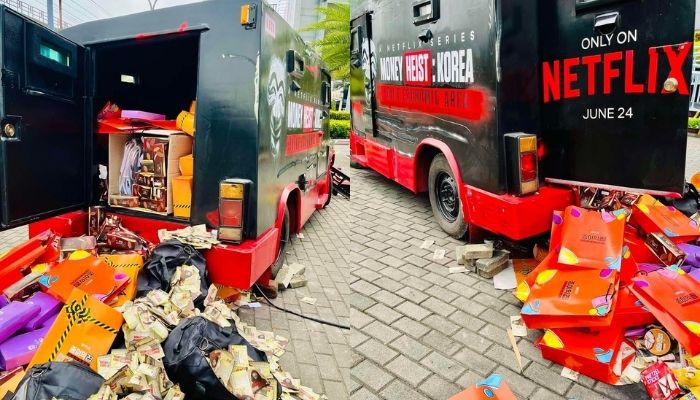 Speaking to MARKETECH APAC, Netflix said in order to select what type of outdoor campaign they will execute, they always consider the uniqueness a series brings to its viewers.
"Things that get noticed get talked about, and things that get talked about are searched for–and in Netflix's case, watched. This has been the underlying principle behind our campaigns for the brand. Conversation enables conversion," Netflix said.
For this particular case, Netflix banked on Filipinos' love for Korean-related products, and spun the campaign based on the series' premise.
"Money Heist Korea is a spin-off of an already existing franchise (La Casa de Papel), so we did some research on what makes it different from the original. The answer was right under our noses–it's Korean. While it has a similar plot, there are a lot of Korean nuances that give it its own distinct flavour. We deliberately leaned into its Koreanness, because not only did it make the Joint Economic Area special, it also made it fit well with Filipinos–after all, we are fans of Korea's products, content, and culture. If it's Korean, then it's probably worth giving attention to."
When asked as to why they think outdoor campaigns still matter, Netflix told MARKETECH APAC that one of the best ways to create a digitally-led campaign is to engage with the audience in real-life, then bring the experience to their devices.
"There's a different kind of magic when you experience something first-hand, and getting to experience this for yourself (which you once just saw on-screen) compels you to share it, and convince others to experience it for themselves, too," they concluded.