Manila, Philippines – Following the success of the hit South Korean TV series Squid Game, a new thriller series has been released by popular streaming service Netflix, titled All Of Us Are Dead, in January this year. The series, based on the webtoon Now At Our School, is a coming-of-age thriller series that revolves around the story of high school students who are caught up in a zombie infection in their school, forcing them to improvise school equipment to protect themselves from a hoard of zombies.
With the rising popularity of said series, as well as banking on the previous success of several South Korean TV series on the platform, Netflix Philippines launched its very first local campaign for this year, with the aid of independent creative agency GIGIL.
In an exclusive interview with MARKETECH APAC, Jeano Cruz, creative director and head of social at GIGIL, stated that the underlying thought for this local campaign is through a mix of the series' survival theme, light moods during the episodes, and the fact that the characters are going through their adolescence. For the agency, this allowed them to implement more comedy and romance themes in between the suspense and thrill of a zombie apocalypse story.
Moreover, Cruz told MARKETECH APAC that part of the creative process for this campaign is to bank on the emotional attachment among Filipino adults: nostalgia during their high school days.
"We believed every Filipino adult could relate to one another because of what they went through in their formative years: from being in a high school barkada (buddy/friend), to studying the same lessons in high school, to experiencing the same student lives everyone else was experiencing across the country," he stated.
The first blow: 'Knowledge is weapon'
One of the first brand activations Netflix Philippines did was releasing a 2-minute film, centred around the humour of utilising your school knowledge to survive in the middle of a zombie apocalypse. The twist? The film is done in retro 90s fashion, and delivered like old educational shows such as ABS-CBN's 'Sineskwela' that discussed science-related topics catered to kids.
Another interesting facet utilised in the film is the host of said film, a supposed cameo of the late Ka Ernie Baron, a well-beloved Filipino TV presenter, weatherman, and inventor. He is known for his show Knowledge Power, where he discusses educational topics about science, health, history among others.
The film, aptly called Knowledge is Weapon, begs the question of why is it that when we were in high school, we were taught concepts that we never really needed in everyday life. Turns out, it was all in 'preparation' for any impending zombie apocalypse.
"In back and forth sequences between All Of Us Are Dead and the program, we're shown the things we can do to plan an effective survival strategy during this outbreak. Whether that may be using a diorama to plan an exit route, growing a mung bean to have a direct food supply, or using the 'maglalatik' dance (a Filipino folk dance) to effectively distract a zombie from using our crush as a meal—the application of our knowledge goes beyond the four walls of a classroom," Cruz noted.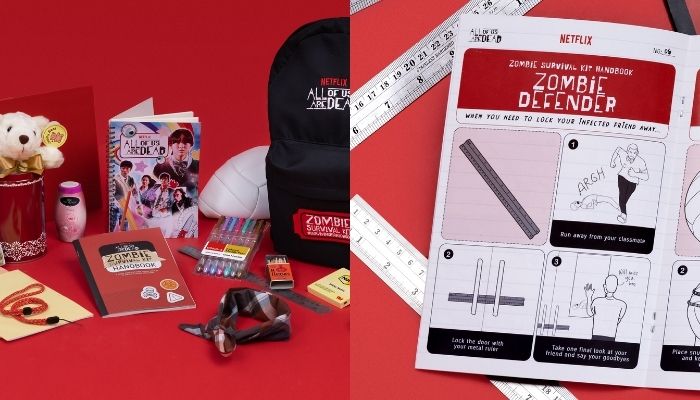 As part of that film activation, GIGIL's campaign for Netflix Philippines was also accompanied by TikTok influencers demonstrating how they would apply their own high school learnings in a zombie apocalypse, a ZSAT or the Zombie Survival Assessment Test which tested the population's survivability by how well they remembered high school lessons in the context of a zombie invasion, and an actual Zombie Survival Kit using only school supplies.
The second blow: Memeifying through billboard activations
Another facet of the All of Us Are Dead local campaign is through billboards promoting the series. The twist? GIGIL transformed the usual billboards that accompany a Netflix Philippines launch into meme billboards that carry with it a 'core memory' for every Filipino who went through high school.
Cruz further told MARKETECH APAC that they are always looking for ways to help their clients achieve their objectives. He added that their clients wanted All Of Us Are Dead to penetrate pop culture through executions that connect with audiences and help the title be talked about for days even after the series release on the streaming platform.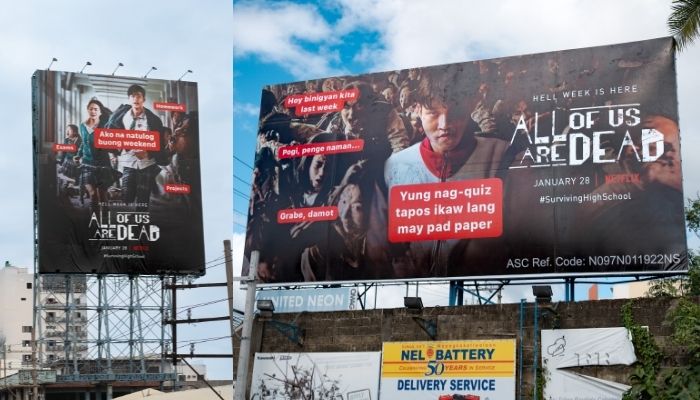 "It's the first time anyone brand's done this in the country. Our clients at Netflix allowed a language that was born online, memes, to live in the real world through their billboards nationwide. This allowed their All Of Us Are Dead campaign to connect to even more people who see these billboards everyday, and create a virtuous cycle where photos of the billboard are uploaded to social media and then people online talk about them more," Cruz stated.
He further explains, "By using memes as billboards for the first time, we connected to Filipino audiences nationwide on a new emotional level because we've tapped into their 'core memories' about their high school lives."
Speaking about their general work relationship with Netflix, Cruz noted, "We love working with our clients Daphne Ng, Cass Wong, and especially Stef Pajarito, a fellow Filipino at Netflix, who always pushes us to create never-been-done-before marketing campaigns in the Philippines that allow the Netflix brand to connect with Filipino audiences better. They are always bold in their directions and are collaborative with the agency in creating ideas that might otherwise be rejected in other companies. He would always tell us that sometimes our ideas are so stupid that's why he loves it, and it's his spirit that has given birth to viral campaigns by GIGIL for Netflix."
Some of GIGIL's past work for Netflix Philippines included promotions for series such as Trese, Squid Game, DOTA, To All The Boys I Loved Before, Red Notice, among others.