As the advertising industry continues to change in order to address the needs and concerns of consumers, agencies are rethinking how to improve their capabilities for brands. One of the firms' strategies is expansion through acquiring other companies in the space, and this is exactly what we've been seeing in the case of Japanese advertising agency Hakuhodo Inc., which has made a number of buy-outs in the past periods.
In February 2017, Hakuhodo acquired ICG, an activation agency headquartered in Singapore, while in 2018, the agency acquired Vietnamese IMC group Square Communications and three companies in the Philippines, creative engineering company IdeasXMachina, brand agency Beginnings Communications, and events/activation company eNAV.
A year later, Hakuhodo has acquired shares in digital agencies, Winter Egency Co., Ltd. in Thailand in 2019 and AdGlobal360 in India in 2020. Also in 2020, it acquired Taiwan's Growww Media, an operating holding company with five brands under its umbrella: United Communications Group, a full-service advertising agency, KY-Post (activation and exhibitions), Pilot Group (PR), Interplan Group (large events and exhibitions), and Medialand (digital marketing). Most recently, the Japan-based agency has completed the acquisition of Malaysian digital creative agency Kingdom Digital. We know that these undertakings are meant to supercharge growth, but what does such a targeted business move by one firm imply about the changes in the industry as a whole?
For MARKETECH APAC's newest The Inner State, we spoke with Shuntaro Ito, senior corporate officer at Hakuhodo and president and CEO at Hakuhodo International, to share with us their growth strategies and plans for their recent acquisitions.
Elevating Hakuhodo's competitive positioning
Commenting on Hakuhodo's continuous acquisitions and competitive positioning, Ito said that they feel there are two approaches; the first is the acquisition of overseas companies, which propels the Hakuhodo Group's competitive advantage on the global stage, and the second is the application of the competitive advantage they have in Japan over Asia and other overseas markets.
He further shared that bringing in companies that are passionate about growing together as a group is strategically very important, and this is why they are pursuing the acquisitions of companies that shine across the different markets which share the Hakuhodo Sei-katsu-sha thinking (Hakuhodo's term to describe people not simply as consumers, but as fully rounded individuals), partnership philosophy, and focus on the importance of creativity.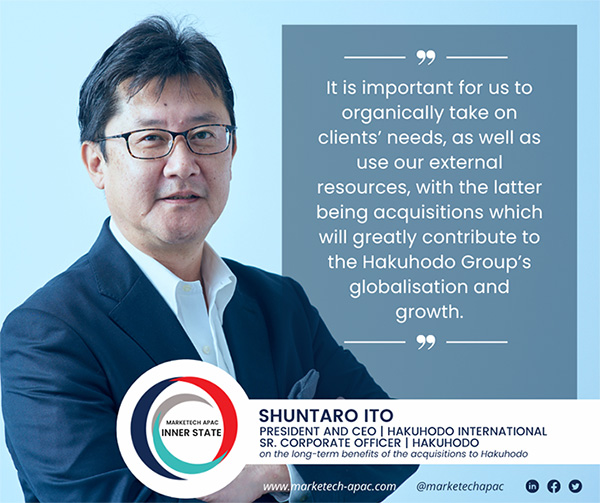 "During the acquisition process, we apply our sustainable management thinking and place importance on maintaining sustainable corporate management in a continuous manner. In going forward, based on this thinking, we would like to further expand our network," Ito added.
Meanwhile, when asked about what he thinks are the top needs and challenges of brands when it comes to their advertising business, and how a bigger and continuously growing Hakuhodo can be of an answer to them, Ito noted that challenges differ by brand but Marketing ROI and full-funnel capabilities are key needs they see across many clients.
"Therefore, I believe marketing solutions that make full use of digital and data are necessary and it is important to create real touchpoints that work together with digital. We seek marketing partners that can take on these challenges in a holistic way. Trust is also a very important component and we believe it is also a strength of ours," said Ito.
The value of the acquisitions
According to Hakuhodo, their belief, 'people are our main asset', is shared with the companies that join them before the acquisition and are asked to maintain this stance.
Ito said that at the same time, they also encourage sustaining and further enhancing the corporate culture and uniqueness of the individual companies, and in order to manage the Hakuhodo Group as one entity, they set up contacts across their group and co-work from the very early stages.
"From working together with our overseas subsidiaries, creating alliances with Japan and other group companies across the world, encouraging a parallel network across companies that fall under the same category, we create opportunities to work as a member of the Hakuhodo group and in going forward, would like to further expand on this," he added.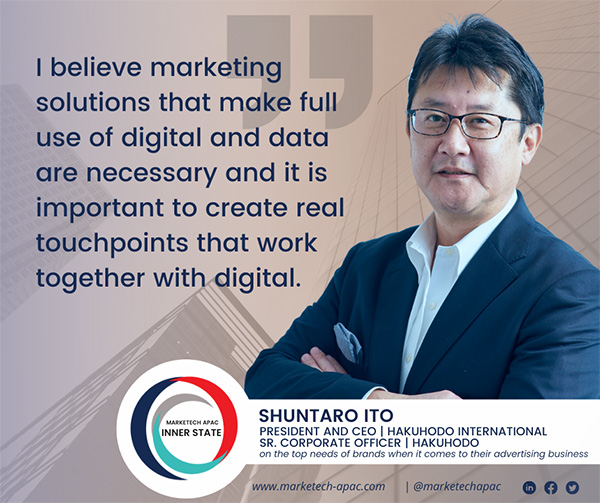 Meanwhile, Ito said that on the long-term benefits of the acquisitions to Hakuhodo, clients' needs can cover a multitude of areas and with change at an alarming rate, the Hakuhodo Group must continuously evolve to cater to these needs.
"Thus it is important for us to organically take on clients' needs, as well as use our external resources, with the latter being acquisitions which will greatly contribute to the Hakuhodo Group's globalisation and growth," he said.
Through the latest acquisition of the Malaysian company Kingdom Digital, they are now able to offer clients in Malaysia and across Asia services in digital marketing, digital campaign, social media marketing, content marketing, and digital content creation.
"Along with this wide array of services, we believe we are now able to work with other companies within our group both online and offline to provide marketing solutions tailored to our clients' needs," Ito noted.