With full-fledged outdoor engagement now back on track, out-of-home advertising has also seen itself resurrected. Brands are once again going 'outside' after an endured period of highly-digitised communication with consumers. After all, brands need to be where consumers are, and in this post-pandemic period, they are out and about, ever so ready to unleash their pent-up social energy.
In Indonesia, we see the realisation of this through a local bottled mineral water brand, AQUA.
The brand, just like many, has once again activated the playbook on programmatic DOOH and, just recently, situated itself in attention-grabbing events such as the Citayam Fashion Week, to bolster its visibility to audiences and solidify the brand as a wellness brand.
Tapping the DOOH strategy anew is only one step ahead; as brands, such as AQUA, rediscover their footing in outdoor promotions, they would need targeted and strategic data to know where to place and manoeuvre their DOOH ads.
In its partnership with media technology company Moving Walls, the AQUA brand, in a previous campaign, forged its strategy and direction for its DOOH endeavour, successfully placing itself in front of consumers – at the right place and time.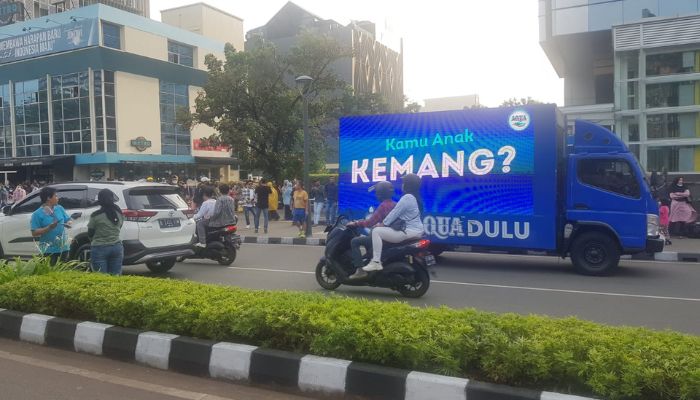 The Challenge
AQUA, the leading bottled mineral water producer in Indonesia, wanted to promote hydration and position itself as a wellness brand. The challenge was also to stand out during the Citayam fashion week by captivating street fashion enthusiasts and creating effective brand awareness.
The Objective
AQUA came up with the hashtag #AQUADULU meaning 'Water First' which they thought will catch on with millennials. They used it to maximize brand awareness in a highly personalized manner by promoting their bottled water while calling on audiences to stay hydrated outdoors during the Citayam fashion show.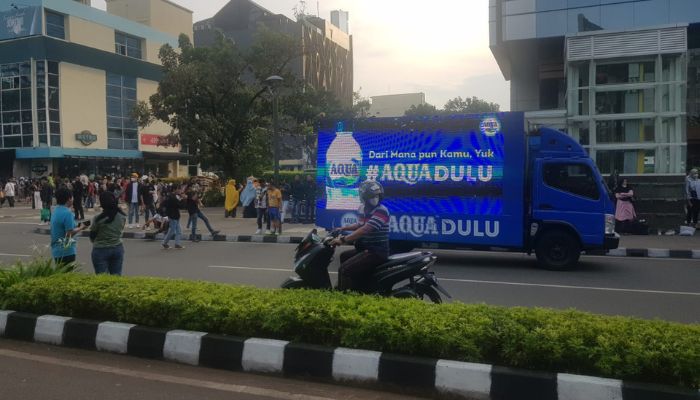 The Solution
AQUA supercharged its on-ground marketing by adding a programmatic digital out-of-home (DOOH) campaign featuring the captivating tagline #AQUADULU. The campaign used dynamic content tailored to real-time weather conditions, ranging from sunny skies to unpredictable weather patterns, making it a true standout in the advertising world.
AQUA capitalized on Citayam Fashion Week, an impromptu street fashion event popular among Jakarta millennials by promoting their messages on a moving LED truck. By solely exposing the audience to the LED-powered truck, AQUA effectively captured their attention and engaged them with the campaign.
Utilizing data from the Moving Audiences DOOH platform, key locations for AQUA were identified, and a truck fitted with an LED screen was deployed to circulate those localities. The truck showcased dynamic, contextually relevant creatives, tailored to the temperature of each location, accompanied by a QR code for audiences to scan. To further maximize the campaign's programmatic capabilities, activations occurred only when reached 30 degrees Celsius.
The Results
AQUA's digital out-of-home (DOOH) campaign was executed over a month and proved to be a great success in Indonesia. The campaign was able to reach over 1 million unique individuals and delivered 2 million impressions throughout its route. The campaign reached the desired demographic, with over 50 per cent of those in the vicinity of the campaign belonging to the 18 to 34 age group.
The campaign effectively utilized dynamic creatives for DOOH, with the sunny creative being displayed more frequently during the campaign period (13/06/2022 – 12/07/2022), owing to the weather conditions being predominantly sunny with low rainfall during the times when the content was being showcased (noon and morning). The creatives were thoughtfully designed with a more simplistic approach to favour sunny content, resulting in a higher playtime for these creatives.