With pandemic restrictions now easing out, brands have been reevaluating their marketing strategies and exploring new avenues to engage with consumers. One approach that has gained significant traction is the utilisation of outdoor campaigns. With people eager to venture out and reconnect with the world, outdoor advertising provides a unique opportunity for brands to capture attention, build brand awareness, and foster meaningful connections.
Moreover, these outdoor campaigns have made brands recognise the value of reconnecting with consumers in the physical realm. By immersing consumers in their brand story and providing opportunities for participation, brands can forge emotional connections that extend beyond a mere advertising message.
This is especially true for campaigns related to tourism, more relevant with regions easing up borders to boost local tourism. And for low-cost airline AirAsia, it tapped into the wide reach of programmatic DOOH to promote its 7 million free seats campaign, launched in celebration 700 million passengers flown in conjunction with the airline's 21-year anniversary.
In partnership with Moving Walls, AirAsia has forged its strategy and direction for this DOOH endeavour and successfully placed itself in front of consumers – at the right place and time.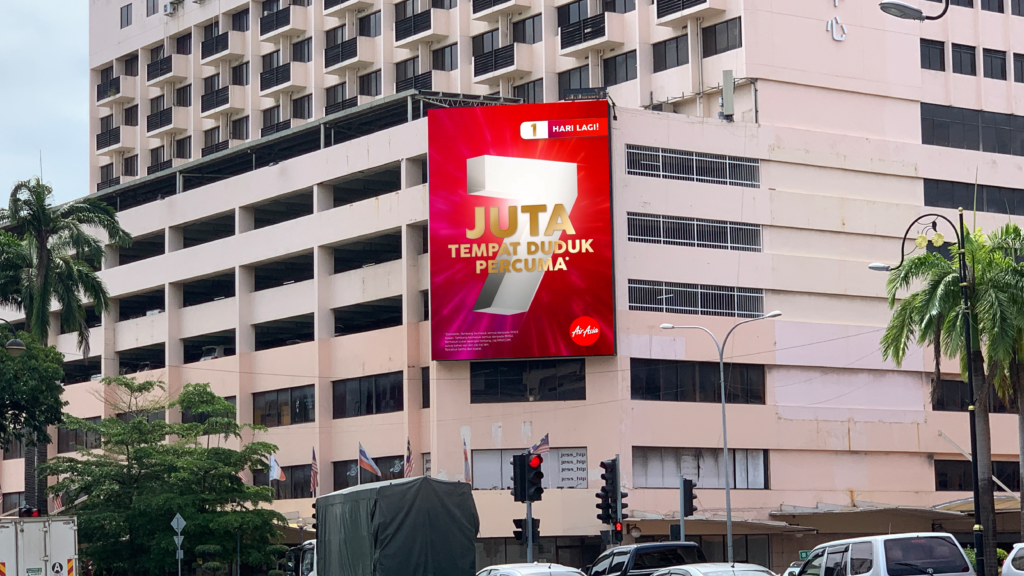 The Challenge
As a low-cost airline, AirAsia wants to entice itching travellers to grab seats to local, ASEAN and further destinations around the world. The challenge was how should AirAsia rise to the challenge of creating awareness about its 7 million free seats promo to its specific target audiences.
The Objective
AirAsia aimed to launch an innovative programmatic DOOH campaign to drive awareness and drive bookings for its 7 million free seats promo. The objective was to engage audiences uniquely and leave a lasting impression that would lead to a significant increase in bookings for the promotion.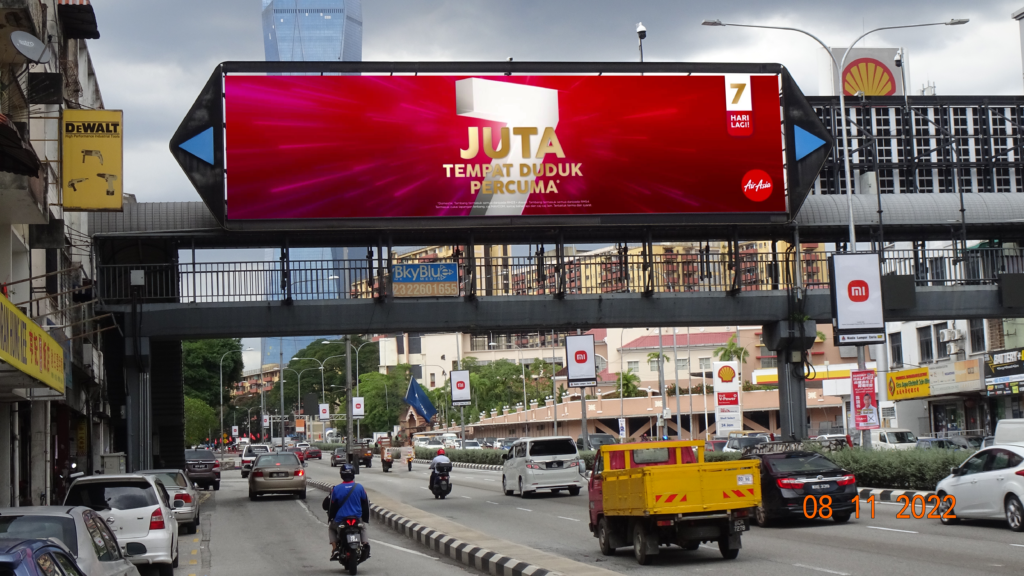 The Solution
AirAsia leveraged a programmatic DOOH campaign to promote its 7 Million free seats promotion, by targeting high-traffic locations frequented by its key audience segments. The campaign utilized dynamic countdown creatives that displayed the number of remaining free seats for the promotion, creating a sense of urgency and encouraging viewers to take immediate action.
The dynamic countdown creatives were designed in a visually appealing manner to attract viewers' attention and encourage them to engage with the ad. The creatives were optimised for each location, taking into account the audience's demographics and behaviours in that particular area.
The programmatic DOOH platform used real-time data to target audiences at the right time and place, ensuring maximum impact and relevance.
The Results
The mega sale campaign by AirAsia delivered exceptional results, leaving a significant impact on the company's bottom line. The campaign reached over 4.10 Million people and exceeded our initial expectations with a unique reach of 500K. Real-time optimization helped us achieve a lower cost per thousand impressions of RM36, making the campaign both cost-effective and high-value.
By leveraging the programmatic DOOH campaign through Moving Wall's Moving Audiences platform, they delivered the right content to the right audience at the right place and time. This dynamic creative strategy has helped AirAsia stand out in a cluttered and competitive market and generated high levels of engagement. As a result, the free seats offered were snapped up in just a few days, making AirAsia top of mind for travellers planning their year-end holiday.
The campaign's effectiveness not only increased bookings and revenue but also demonstrated the power of combining creativity and DOOH for strong outcomes in a short period. The success of this strategic approach showcases the importance of leveraging Programmatic DOOH to create dynamic and effective advertising campaigns.