Singapore – McDonald's latest menu launch is a big nod to the passion of the BTS army, as it partners with the popular Korean pop icons for the 'BTS Meal'. The launch is a global rollout in nearly 50 countries.
The meal includes 10-piece chicken McNuggets, medium fries, and Coke, as well as McDonald's South Korea's two popular dipping sauces – sweet chili and cajun.
The availability of the meal will be subsequent in the covered markets. Starting May, the 'BTS Meal' will be gracing the fast food's menu in Malaysia, Australia, and Singapore, as well as South Korea, and Vietnam. Meanwhile, in countries India, Hong Kong, and the Philippines, as well as Indonesia, the rollout will be in June.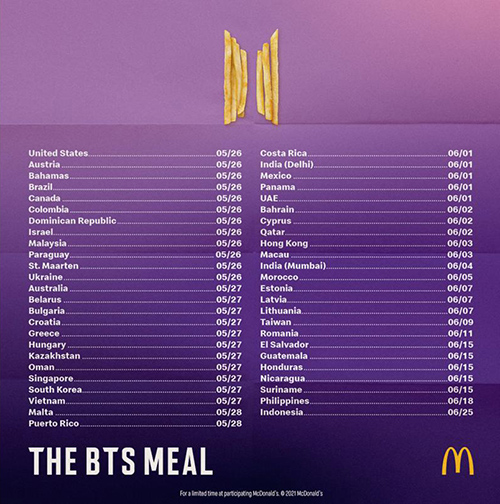 The announcement of the BTS meal follows the successful launch of McDonald's celebrity signature orders program in 2020. BTS is the latest icon to have their signature menu items featured and will be the first celebrities to share their order with customers worldwide.
Morgan Flatley, the chief marketing officer of McDonald's USA, said, "BTS truly lights up the world stage, uniting people across the globe through their music. We're excited to bring customers even closer to their beloved band in a way only McDonald's can – through our delicious food – when we introduce the BTS signature order on our menu next month."
Meanwhile, BIGHIT MUSIC, the label of BTS, commented, "The band has great memories with McDonald's. We're excited about this collaboration and can't wait to share the BTS Meal with the world."