Travel and tourism marketing has taken a different turn due to the COVID-19 pandemic. The major tourism industries have ceased activities in response to travel restrictions, which include the closing of airports, hotels, and travel agencies, as well as restrictions on mass gatherings worldwide, amongst others. This inevitably spills over to consumption behaviour where tourists have drastically shifted their lifestyles, coming to realise the risk and safety of the global health crisis.
Two years after the pandemic outbreak, travel restrictions and quarantines are now being lifted around the world. Many countries have started various marketing and promotional tourism campaigns to support travel recovery. For instance, the tourism marketing agencies of Maldives and Malaysia have recently announced their efforts in boosting inbound travel. Thailand has also launched many travel campaigns this year, like the recent partnership of the Tourism Authority of Thailand (TAT) and Thai AirAsia, jointly promoting travel to Thailand in key ASEAN and South Asian markets by utilising the airline's increasing regional flight network.
Meanwhile, in the Philippines, the country's Department of Tourism (DOT) has recently unveiled its new campaign called 'It's More Fun for All', aimed at promoting inclusiveness and accessibility in the tourism sector. Moreover, DOT has launched a special playlist on Spotify, 'Sounds More Fun in the Philippines', which is a compilation of specially selected Filipino music that aims to welcome listeners back to the Philippine destinations they love, letting them relive epic travel memories. 
Another interesting campaign from DOT is the 'ASMR Experience the Philippines' project, which seeks to bring people to certain destinations through ASMR videos that explore the natural sounds of a place, allowing one to tune into nature and be fully present in the moment.
As tourism in the Philippines has shown signs of bouncing back now that we are in the new normal, MARKETECH APAC's The Inner State spoke with Maria Anthonette Velasco-Allones, Tourism Promotions Board Philippines' (TPB) chief operating officer, and June Allenie Caccam, AirAsia's head of marketing for the Philippines, to learn more about the marketing and promotional efforts of the travel and tourism industry today in the country.
Marketing and brand strategy of the Philippines' tourism sector
While the pandemic has given the travel industry some pressing challenges, it also presented unique opportunities. According to Velasco-Allones of TPB, physical events and out-of-home advertising, which were very strong avenues for MICE and business travel promotions in the Philippines, were rendered moot at the height of the pandemic. However, the lockdown became an opportunity for the destinations to recuperate and recover from over-tourism.
At the same time, the Philippines took this time to rebuild a greener and more sustainable tourism industry. This allowed them to revitalise the tourism products they were going to market as soon as borders reopened.
"We increased our support to community-based tourism sites, providing various assistance in terms of enhancing capacities, particularly retooling skills in areas like digital marketing and leveraging the use of social media. Coincidentally, the pandemic made more tourists aware of the carbon footprint they leave when travelling; they now prefer less crowded destinations and those that support local communities," said Velasco-Allones.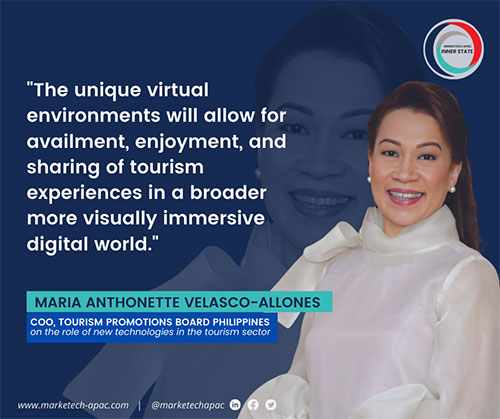 Meanwhile, for airlines, Caccam listed some of the challenges they faced during the outbreak. This includes questions on safety, the uncertainty of lockdowns, changing intercity travel protocols, and emerging new COVID-19 variants, as well as the expenses to travel due to testing protocols and quarantine requirements.
"Along with the challenges came opportunities because people were forced to learn to adapt to new technologies and be more present online. Most brands fast-tracked their digital pivot to address the changing customer habits," said Caccam.
In terms of the influence and marketing strategy reorientation in reigniting travel, TPB has developed new avenues to reach its stakeholders in the digital space.
"The pandemic [also] allowed us to strengthen our domestic tourism program. We were able to promote lesser-known destinations, and, through intensive policy implementation on health and safety protocols, we were able to reopen particular destinations and curate more exclusive experiences," said Velasco-Allones.
For AirAsia, Caccam said they had to go back to the drawing board and identify the new pain points of its customers and the additional steps needed to include in their booking and travel journey. The airline has maximised all its digital assets to push relevant content to alleviate customers' uncertainty like disseminating information about the different travel requirements and reminding them of the travel protocols a few days before their flight.
"We also leveraged on 'collaborative tourism' and strengthened our partnerships with different stakeholders in the tourism industry such as the Department of Tourism, local tours and restaurants, and hotel and resort partners," she added.
As the pandemic-related travel restrictions are now being eased, there are factors the tourism sector considers when creating tourism campaigns during the new normal. For TPB, the imperatives in creating tourism campaigns post-pandemic are revisiting the new avenues where the audience consumes content, redirecting its efforts in building travel confidence, and making sure that its tourism products and services are both sustainable and inclusive for this discerning market of travellers. While for AirAsia, the campaigns are now more personalised based on the segment, destination, and travel behaviour.
Future of tourism in the Philippines
Technology in the tourism sector will primarily be adopted in its marketing and business engagement from the point of sale to the collection of feedback, according to TPB.
Velasco-Allones noted, "Augmented Reality, Virtual Reality, and the Metaverse are just new platforms by which we intend to engage our current and potential consumers. The unique virtual environments will allow for availment, enjoyment, and sharing of tourism experiences in a broader more visually immersive digital world."
Meanwhile, Caccam shared, "These technologies such as AR/VR and meta verse are innovative and creative channels that can help brands acquire new customers, provide a wider reach and upsell new products by bringing to their homes the brand experience."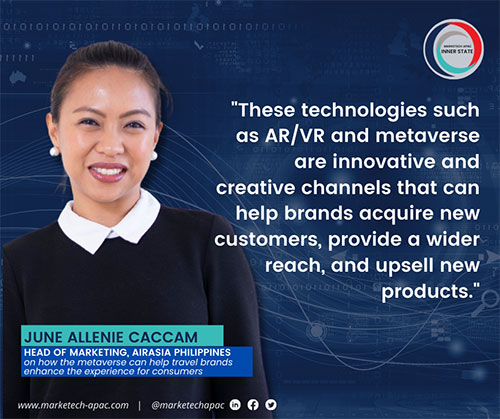 And now that the Philippines' borders are open to international tourists, the tourism sector is working continuously on improving the systems to ensure that visitors will have a seamless and still fun experience for the duration of their stay in the country.
Velasco-Allones said, "One of our approaches is keeping our tourists up-to-date with the latest travel advisories and health requirements for local destinations through digital innovations. The TPB also continues to enhance its digital content development and distribution to make sure we are able to promote the Philippines on all relevant platforms."
Caccam also shared, "AirAsia is a digital and lifestyle platform for everyone and we aim to be our customer's everyday app. We are more than just an airline, we are a one-stop-shop for all your travel and lifestyle needs."