Manila, Philippines – Local insurance provider Allianz PNB Life has launched its newest campaign for its commitment to sustainability entitled 'Seeds of Tomorrow'. The digital short film, which is a much more straightforward approach than its previous awarded campaign 'No Filter', was made available for streaming on Facebook last June 23.
The insurance company had been recognised twice for its highly visual and engaging creative ad, 'No Filter', which launched in 2021. Developed by creative agency Gigil, the ad, currently at 800,000 views, was an eye candy with a 'cause', delivered through a jovial mood but provoking an all-important message that the polluted world can't be 'fixed' with a filter–but that a policy from Allianz PNB Life can help.
The insurance provider shared with MARKETECH APAC that the reason they decided to focus on a more literal approach this time with 'Seeds of Tomorrow' is that they needed "to go into detail" and show how Allianz is fulfilling that sustainability role in securing the future. The ad, sans the frills, shows different scenarios of how a good insurance plan can help build a better 'tomorrow' for oneself, family, and the environment.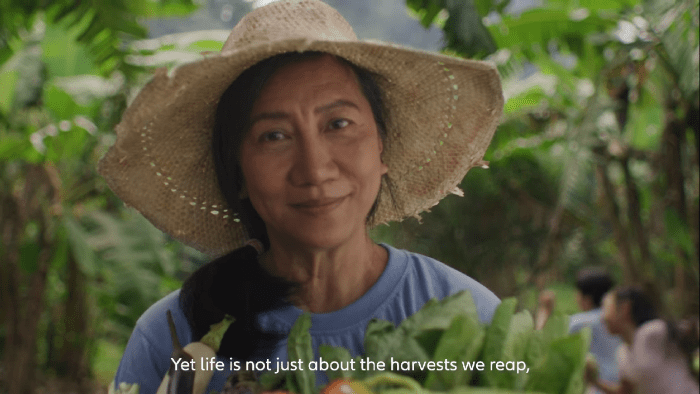 "We are proud of our 'No Filter' campaign because it firmly established via a creative approach that sustainability is in Allianz PNB Life's DNA, that we believe that sustainability is a way to fulfil our company's Purpose, which is 'We Secure Your Future'," said the company.
The insurance provider added, "A more straightforward campaign shows our focus on sustainable food production, renewable and alternative energy sources, tree-planting, cycling (just like our award-winning Allianz Ride Safe campaign, which promotes healthy and sustainable transport), and even our partnership with the WWF for a foodshed that provides food to Filipino families. 'No Filter' showed creatively the 'WHAT', while 'Seeds of Tomorrow' shows the 'HOW'."
The company's 'Ride Safe' bicycle campaign was created to encourage a healthier lifestyle among Filipinos while lessening the carbon footprint and pollution generated by transportation vehicles.
"The [present campaign] ties in with our purpose of 'We secure your future', not just of our customers but of the communities we operate in. We want to highlight the importance of getting an insurance plan that can help build a better world," commented its President and CEO Alexander Grenz.
In terms of what consumers can expect from its sustainability initiatives, the company said it will be continuing the said Allianz Ride Safe campaign. The company shared that there could be more cycling infrastructure in the future, but more than that, it is eyeing activities that will teach more Filipinos how to be bike mechanics.
Other sustainability-focused activities aimed in the coming periods is its ongoing 'Kaagapay' (support) financial literacy seminars which aim to teach farmers, labourers, and other folks, who may not have access to proper financial education, how to properly manage their money so that they have funds for the future.