Today, many consumers believe that brands have the responsibility to create positive environmental change, encouraging future sustainability. These consumers want brands to produce products and services that respect environmental and social issues because they love to relate to their preferred brands.
One of the companies who have been strong on sustainability marketing efforts is insurance company Allianz PNB Life in the Philippines, who released a sustainability spot 'No Filter', alongside creative agency GIGIL in 2021, highlighting the symbolism of 'filters' and the illusion of seeing our environment from a 'filtered' perspective. Another campaign of Allianz PNB Life for its commitment to sustainability is entitled 'Seeds of Tomorrow', which was launched last July 2022. It focused on a more literal approach this time, as the company needed "to go into detail" and show how Allianz is fulfilling that sustainability role in securing the future. The ad, sans the frills, shows different scenarios of how a good insurance plan can help build a better 'tomorrow' for oneself, family, and the environment. 
Additionally, creative technology agency whiteGREY is also committed to promoting sustainability. In August 2022, the agency launched a new sustainability business practice called 'whiteGREY Positive' (wG+), which aims to help brands and NGOs achieve their sustainability goals and reduce environmental impact. Through a range of solutions including brand strategy, creativity, behaviour change and technology, wG+ will be able to help organisations respond to Australian consumer and corporate demand for sustainable progress.
For MARKETECH APAC's latest The Inner State, we have invited Gino Riola, Allianz PNB Life's chief marketing officer, and Simon Wassef, whiteGREY's chief strategy officer, to discuss how creative communications can contribute to promoting sustainable benefits to businesses, consumers, and society.
Businesses' creative communication strategy on sustainability
As the demand for sustainable marketing continues to grow, we asked about both the unique challenges and opportunities it presented. Riola shared that their client communications, consumer research, and focus group discussions have indicated that sustainability is an important subject for Filipino consumers.
"We have had excellent recognition from our policyholders, distribution partners, and the general public on our sustainability campaigns and advocacies. The good challenge for us is how to continue spreading the message and encouraging like-minded organisations and individuals to join our cause," he said.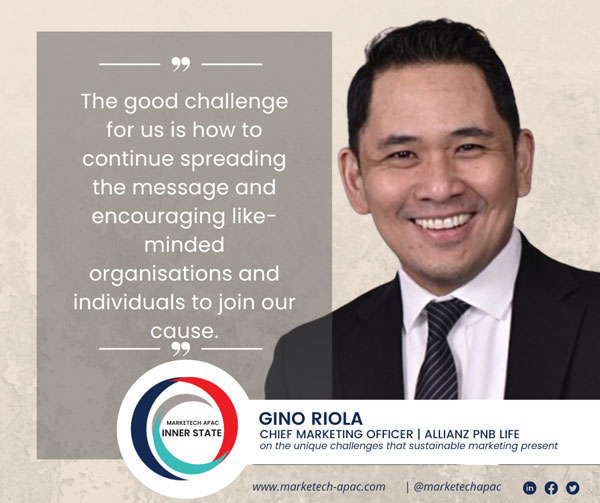 Riola added, "We collaborate with SOS Children's Village, WWF, our bank partners, local government units, and Life Changers. Globally, the Allianz Group focuses on climate change and decarbonisation, social impact, and integrating sustainability across our operations."
Meanwhile, for whiteGREY, the biggest challenge they have faced is meeting the cultural demand for sustainable, responsible business from all their partners. Wassef said, "But from this challenge comes opportunity. All of our clients are asking us about it. And the answer, quite simply, lies in extraordinary ideas. Ideas that galvanise organisations. Ideas that change consumer perception of what's possible, change behaviours, and change the fortunes of businesses."
He also added, "That's why we created a dedicated sustainability practice, whiteGREY Positive (wG+). To enable anyone, at any stage of their sustainability journey, to walk in our doors and create the ideas that will help them meet that cultural demand, and to solve the tension of growing in ways that are good for people and the planet with extraordinary ideas."
In terms of the factors businesses consider when creating sustainability campaigns and messaging, Riola said that the two main factors for them at Allianz PNB Life are the relevance and impact of their sustainability advocacies.
"We also take into consideration our strengths and those of our sustainability partners in terms of our capability to execute," he added.
Meanwhile, Wassef shared that at whiteGREY, they follow a simple, three-step process: Consult. Collide. Create.
"We Consult widely. We invite as many diverse perspectives and practitioners into the conversation as we can, both from inside our client's organisation and from outside. Then we Collide. This is where all the diverse thinking is brought together to articulate – and solve – the real tension. The Create phase is exactly what the name suggests. But it's not just about any idea. The first two phases ensure that what we create is authentic, tangible, enduring and – most importantly – extraordinary ideas. The bar is high – only extraordinary ideas will do," he said.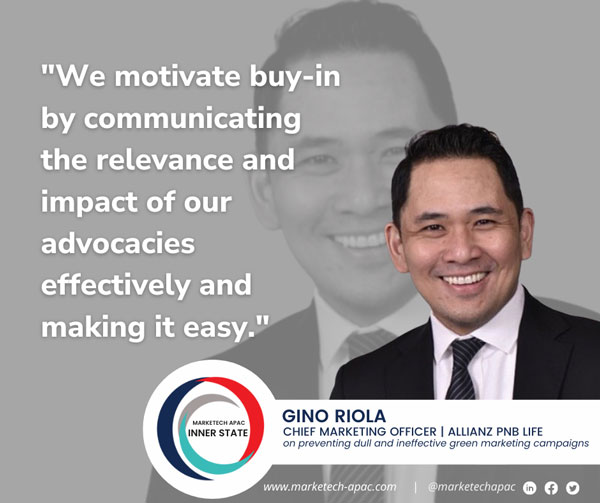 When asked about how to prevent dull and ineffective green marketing campaigns, and how to develop more creative sustainability campaigns, Riola said, "We motivate buy-in by communicating the relevance and impact of our advocacies effectively and making it easy. For instance, policyholders of our Allianz Protect financial solution donate automatically to the World Wildlife Fund's foodshed program that will benefit farming communities in Negros Occidental."
Meanwhile, Wassef said, "To prevent dull and ineffective campaigns, articulate the real tension. Sweat it. And be honest about it. It's only in the grit of real tension that we find the extraordinary ideas that truly move the needle."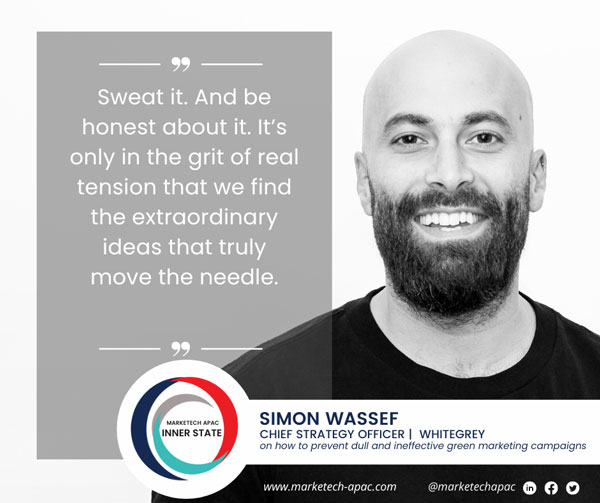 Achieving Sustainable Future
As consumers have become more socially conscious of their consumption, we also asked about how they aim to develop their products/services and marketing campaigns to reflect this new resolve.
For Allianz PNB Life, Riola said that they will continue to pursue their current advocacies and work with their partners to reach more beneficiaries and lay the foundations for the Allianz Group's three areas of focus: climate change and decarbonisation, social impact, and integrating sustainability across their operations.
"Further, we have plans to develop new sustainability-related financial solutions such as Allianz Protect and the Peso-Hedged Global Sustainability Equity Fund," he added.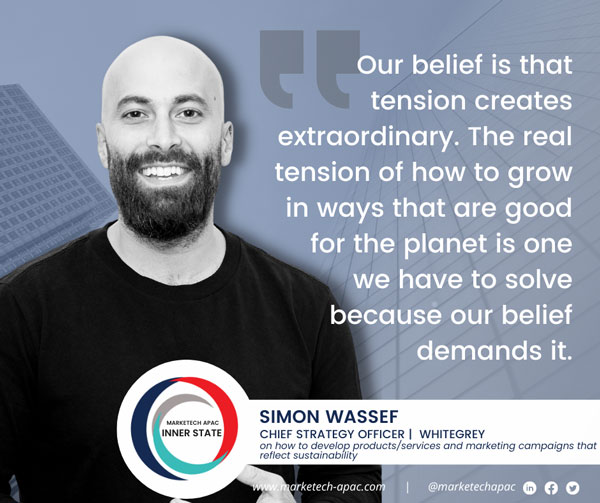 While for whiteGREY, Wassef noted, "We've talked about wG+ and how it works. We have spent years working in the sustainability space and we wanted to share what we've learned. Simply put, this is an insight that we're happy to share because our future depends on it."
He further shared, "But moreover, it's in our DNA. Our belief is that tension creates extraordinary. The real tension of how to grow in ways that are good for the planet is one we have to solve because our belief demands it. And when that's in your DNA, you bring diverse perspectives to the table and give them their moment to contribute."