United States – Short-video sharing platform TikTok has seen $3.7b in lifetime consumer spend off the back of the biggest quarter in spend amongst apps, according to a report by data AI company data.ai.
The report found that a major factor in TikTok's recent rise to the top is its monetisation strategy, in which it primarily monetises through advertising – attention-grabbing content critical to its success. Outside of in-app advertising, TikTok uses a feature similar to the tipping system that Twitch uses to monetise. Coins are TikTok's currency, where fans can buy gifts using coins and give gifts to their favourite creators. Creators can also buy coins to use tools like the Promote tool – where creators can choose a video to promote in hopes of increasing views or followers. Coins also allow creators to then set a promotion budget, duration, goal, and audience for a set amount of coins.
The same report revealed that TikTok has surpassed $840m in consumer spend worldwide, a 40% jump from Q4 2021, and the US was amongst the primary drivers of growth — with consumer spend increasing 125% QoQ in the first quarter of 2022. The US was also ranked first by consumer spend in the first quarter of 2022 for TikTok, contributing 37% of total spend, while China was placed second, contributing 26% of TikTok's spend in the first of quarter 2022. Meanwhile, aside from the US and China, the top markets by spend for TikTok included Kuwait, Germany, Saudi Arabia, the United Kingdom, Russia, and Japan, as well as France and Italy.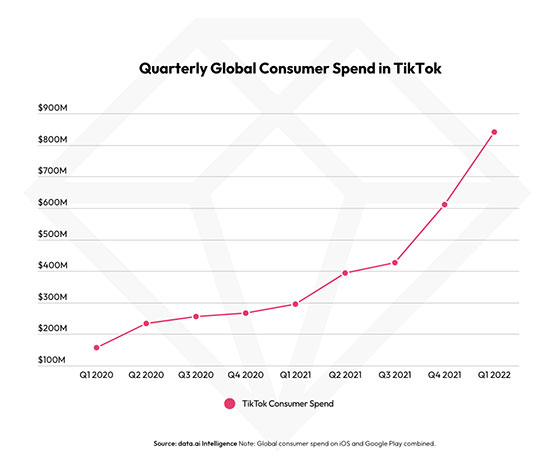 Moreover, TikTok was also found in the second spot by downloads and fifth by average MAU in the first quarter of 2022.
The data AI company said, "We forecast that TikTok would surpass the 1.5 billion MAU milestone in 2022, and after just 1 quarter in 2022, TikTok has indeed shattered that prediction. Not only does TikTok have a growing user base, the app has fostered deep engagement — with global users outside of China spending 19.6 hours per month on average in the app during 2021. While this is equal to Facebook, which was ranked the first social app by time spent globally in 2021, TikTok's growth trajectory is unrivalled, up to 4.7x in just 4 years. In 2018, its average monthly time spent per user was only 4.2 hours."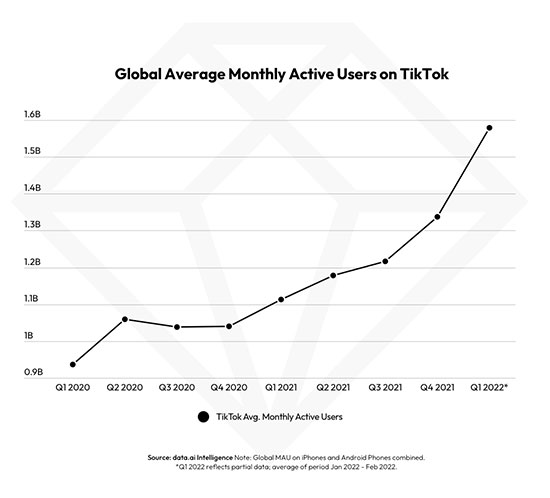 In March 2022, TikTok has expanded the pilot of its Stories feature, which began testing in the summer of 2021. During the same month, TikTok has also launched SoundOn, allowing artists to upload and monetise music, encroaching on the music streaming territory of apps like Spotify and Apple Music, amongst others.
In addition, data.ai's State of Media & Entertainment report has found that Spotify ranked first for global downloads in 2021, followed by ByteDance's music streaming platform Resso, which underscores TikTok's commitment to the music discovery and streaming space.