With the fast-paced digital world, marketers and communicators have a bigger challenge in their hands to deliver communications that would truly snare consumers' attention – and in a sustained manner. The boulder becomes even bigger as communication strategies differ per each industry. One such industry that is often perplexed in resonating seamlessly with consumers is tech.
With its intricacy, tech providers are continuously improving their own solutions and as part of the process to promote new offerings, they must rely on effective marketing communications. Being able to hit this area of the business right is vital, allowing existing and prospective consumers to see how their services work and to create an impact on their purchasing decisions.
But the biggest question remains: in spite of all these ways of communication, how do tech companies actually communicate their services to clients, way beyond their technicalities? In an age where numerous tech brands are all vying for consumers' attention, effective technological communication becomes the crucial element to win over clients–and create a difference for their respective customers.
In our newest The Inner State feature, we roped in three marketing leaders from various industries; namely Kat Warboys, marketing director for APAC at HubSpot; Kyra Kuik, global head of content at Siteimprove; and Azadeh Williams, founder and managing director of AZK Media–to learn more about their insights, leadership takes and advises in executing the ideal and impactful communications for their clients.
On the principle of storytelling: How one marketing software company uses its 'flywheel model' concept
In reality, there is this thing called a flywheel, where it is a spinning wheel that is extremely energy-efficient, pushing something into higher speeds while maintaining a constant source of energy. This is what HubSpot, a marketing software company, utilises through its "flywheel model". For the company, their business model uses the momentum of happy customers to drive referrals and repeat business. In addition, this model is applied to their products and solutions, which is then adopted by their marketing teams when it comes to bringing product launches to life.
This is what the 'flywheel model' does across their organisation, according to Kat Warboys, marketing director for APAC at HubSpot. When asked about their key methodology in their tech communication, she explained the importance of their business model, noting that we are now in an era where customers hold all the power: they're informed and have higher expectations from businesses and marketing teams than ever before.
"The flywheel model also helps to identify and eliminate any friction, which will act as something that slows down the speed of the flywheel. This could be poor internal processes, lack of effective communication between teams or misalignment with customers. The more marketers increase speed and decrease friction, the more they'll create promoters of the businesses, and those promoters become the force that keeps the flywheel spinning," Warboys said.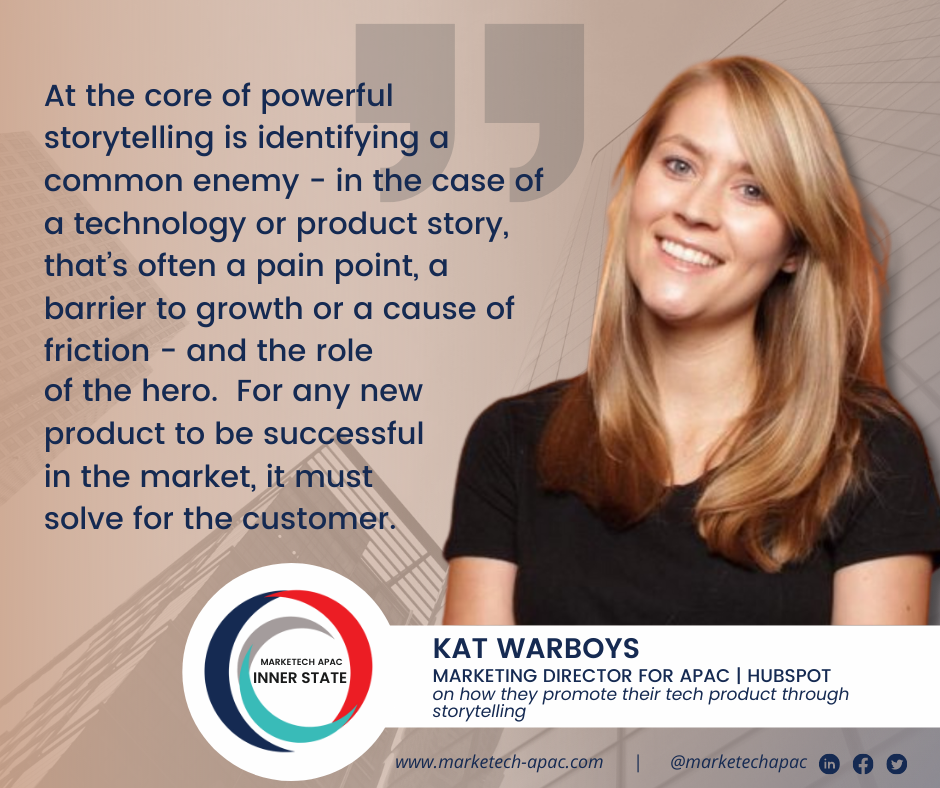 However, Warboys noted that as much as the "flywheel model" is ideal, bringing it to life requires cross-functional teams to be in unison and aligned every step of the way, ranging from website updates to product pages, running webinars to highlight the product and its benefit.
"At the core of powerful storytelling is identifying a common enemy – in the case of a technology or product story, that's often a pain point, a barrier to growth or a cause of friction – and the role of the hero. For any new product to be successful in the market, it must solve for the customer. Tapping into customer pain and leveraging effective storytelling ensures your audience feels as though they are being heard and as a result, the messaging will resonate," she added.
When asked their preferred communication channels to deliver their tech-related messaging, Warboys said that more and more people are leaning towards preference of visual content.
"They're also shifting where they're reading content, opting for social media platforms over more traditional or long-form outlets. When it comes to communicating with your audience, we must meet them on the platforms and channels that they're accessing, if that means visual content or social media, then those should be the preferred channels of engagement," she explained.
Despite this, Warboys noted from their 'State of Marketing' report that traditional channels are still being used, such as blogs, infographics, case studies, interviews, eBooks, white papers and checklists. In other words, there is still a hybrid approach for the company to communicate their tech-related messaging.
"When launching a single product, we lean into specific content such as thought leadership, social channels, public relations and webinars to address both the pain point that the technology solves and also share insights from research," she stated.
In regards to their key performance indicators (KPIs), they have their so-called 'Customer Code' philosophy, where the success of a tech-related messaging is determined when a built campaign that customers love has the customer at the forefront of their decisions.
"It's not about what you sell, but how you sell. It's about making your customers more successful, building relationships by doing the right thing and focusing on the long-term even if it's not always the easiest path," she stated.
In addition, a more metric-driven approach is measuring demand, where for example, if it's a well-known product and there is already strong market awareness, they can look at metrics like free trial sign-ups, sales demo requests and opportunities with their sales team.
However, Warboys notes that when they launch a brand new product, they need to consider a much heavier content and education strategy over the long term. She added that this is when they really lean into thought leadership and market surveys to help validate a new concept.
"In these instances, the metrics would be more interest and awareness based, such as webinar registrations or attendance rates, podcast downloads and listen-through figures, and or resource downloads. These metrics give us an insight into how effectively we're communicating our messaging and help us understand how engaged our audience is," she stated.
A mix of a multi-pronged approach and understanding of technical differences: How a SaaS company does their communication
Meanwhile, for global software-as-a-service (SaaS) company Siteimprove that specialises on website governance and optimisation, a multi-pronged approach in communicating their brand message and service lineup is vital, as stated by Kyra Kuik, global head of content at Siteimprove.
"We create an overall messaging map for each audience who might want to learn about the product (e.g. customers, prospects, media, etc.). From there, we assess what each of those audiences needs and wants to know about the product. Then we create content and communications that address those needs while maintaining consistent messaging for that audience," Kuik stated.
She further explains, "For example, we might need to create in-depth tutorials with technical specifications for super-user customers, whereas prospects might only need a light explanation of why our new product brings them value. Overall, this approach ensures we give each person all the information they need without anything irrelevant or overwhelming."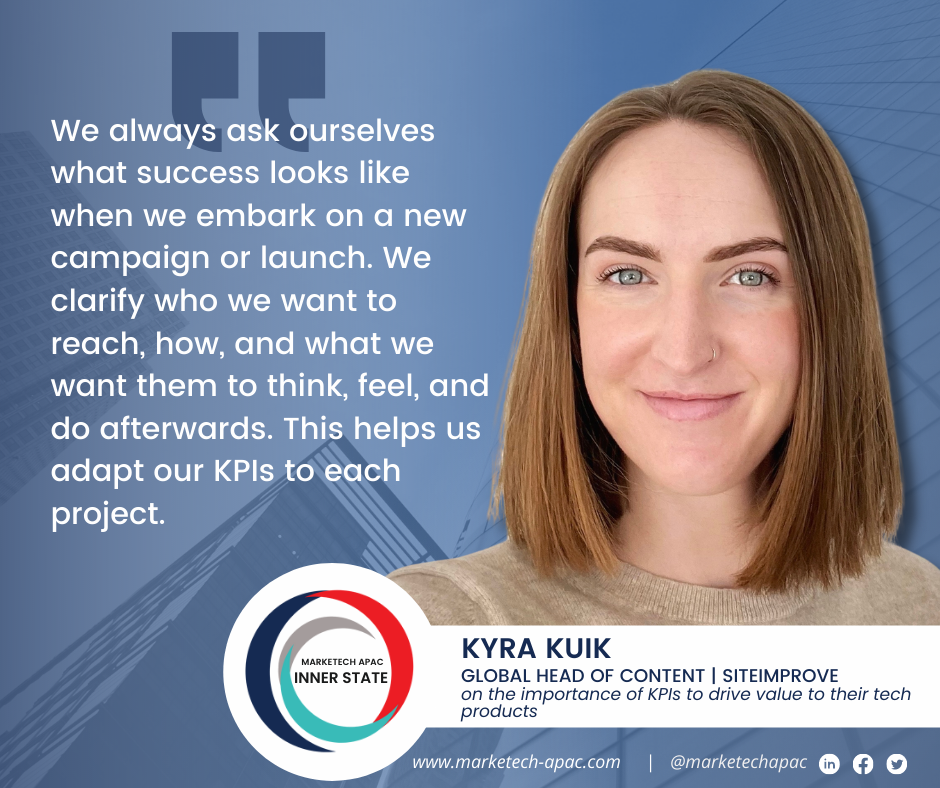 Meanwhile, on the subject of balancing their messaging to their expert and non-expert audience, Kuik notes that they have carried out extensive personal research, so that they have a good understanding of how technical different audience segments are.
"We always make sure our communications are tailored to their level of expertise and their overall interests. Overall, our tone of voice and brand personality are very approachable and personable. We believe in making things as simple as possible," she stated.
Meanwhile, regarding their form of communicating, she said, "If we have an important technical update for customers, then we use email or in-product messaging. For more public-facing channels, we use our blog, the website, our social media channels, webinars, emails, and we regularly distribute press releases about significant updates."
Lastly, on the subject of how they measure KPIs, Kuik says, "We always ask ourselves what success looks like when we embark on a new campaign or launch. We clarify who we want to reach, how, and what we want them to think, feel, and do afterwards. This helps us adapt our KPIs to each project, so we're measuring the things that actually drive value for us."
An understanding of how others digest information: How an integrated marketing agency relays tech-related information
From tech vendors themselves, we move to marketing agencies that have a similar issue when crafting communications for their tech-related clients.
For Azadeh Williams, founder and managing director of AZK Media, they believe that everyone digests information in different ways, as some people prefer to read a press release or article, while others watch a video or listen to a podcast, and some just prefer to see a one-page slide or infographic.
"When we help our technology clients scale their go-to-market strategy, we ensure the campaign integrates a product launch video with great messaging, all on a beautifully designed and SEO rich web landing page. We then amplify that content with a press campaign, and scale inbound activity with a mix of paid and organic digital, creative and social marketing campaigns," Williams said.
Williams further added that when it comes to communicating the tech message, they often see technology companies struggle when marketing a new product. To fix this issue, they aim at making complex technical concepts easily understandable, digestible and 'attractive' to their prospects and a broader audience.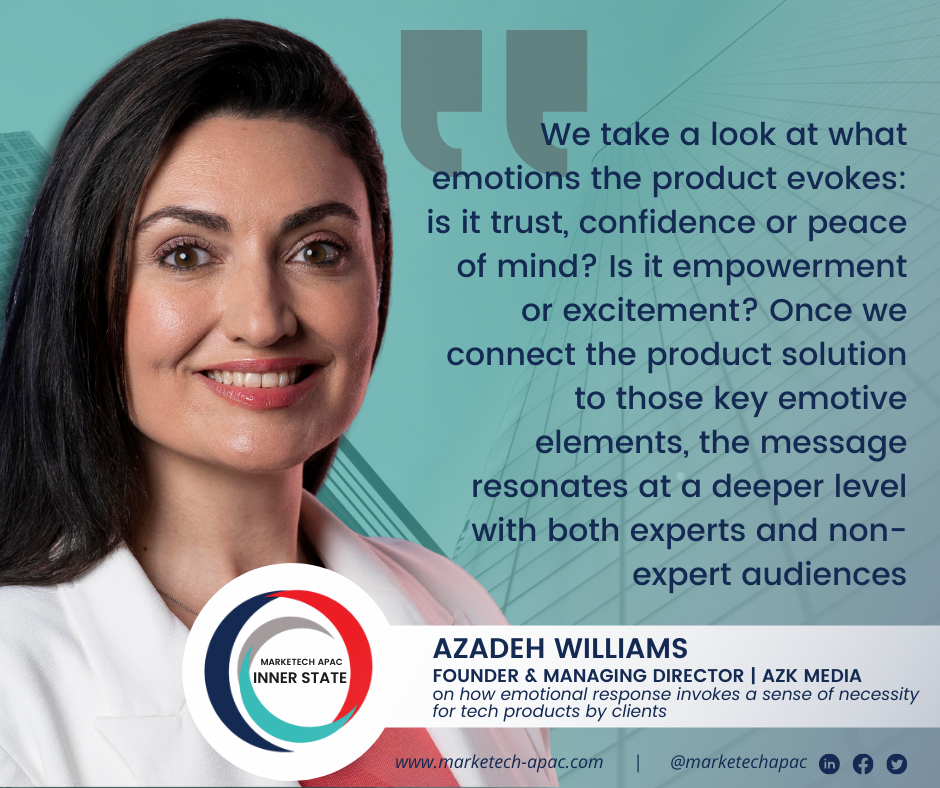 "So what we do is first deep dive and understand what critical problems or pain points the technology solves for customers at a micro level, along with the wider economic, social and industry benefits of the innovation at a macro level," she stated.
She added, "We then take a look at what emotions the product evokes: is it trust, confidence or peace of mind? Is it empowerment or excitement? Once we connect the product solution to those key emotive elements, the message resonates at a deeper level with both experts and non-expert audiences."
Meanwhile, from her eyes as a public relations person, they amplify their client's press releases and thought leadership content across the thousands of publications in their global media network. In addition, they also have strategic partnerships with key publishers, technology institutes and industry organisations where they further syndicate and scale their client's messaging.
"On top of this, we leverage powerful inbound marketing strategies, email marketing and social media amplification methods to really amplify all the messaging at scale. From a social media platform perspective, we've found LinkedIn as a highly powerful platform for B2B technology message 'stickiness," Williams added.
On the topic of business KPIs, she further explained that there are many measurement tools now that can show exactly what revenue can be attributed to inbound marketing efforts, versus other marketing and sales activities.
"We suggest technology marketers measure social media engagement (not just 'reach and impressions), site traffic increase, click through rates, inbound sales inquiries (leads), number of demos booked and share of voice against competitors. Now this list is not exhaustive, but it's a good starting point to make more data-driven decisions to help further refine your marketing messaging," Williams concluded.