Singapore – Market measurement firm Nielsen has released new data to list the most influential players on Instagram, with all of the listed players to play at the FIFA World Cup 2022.
Cristiano Ronaldo, who has been a global superstar for nearly 20 years with Manchester United, Real Madrid and Juventus, again increased his Instagram following in the past year with around 47% follower growth. He leads the list with a media value of US$3,585,218.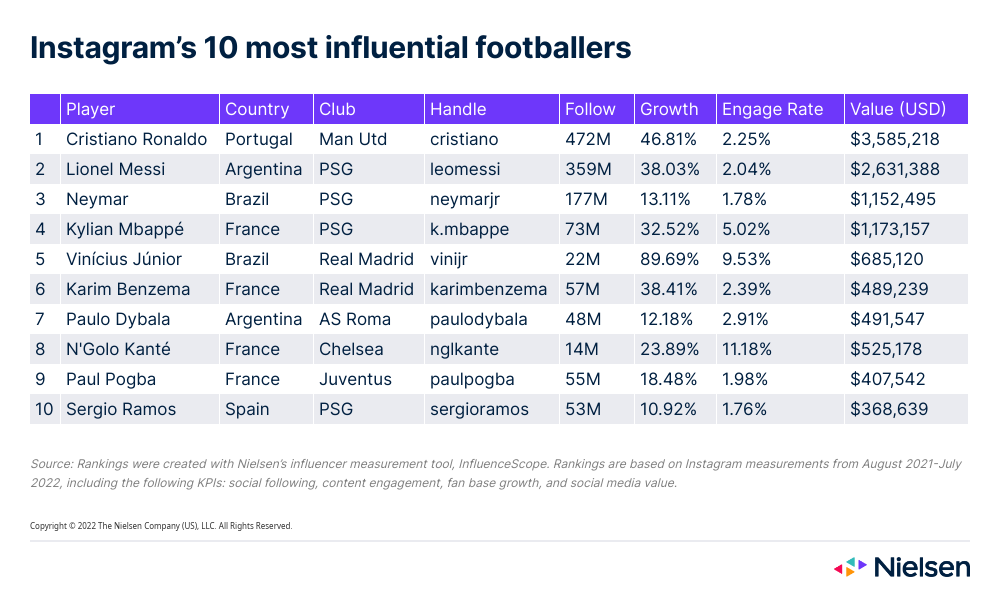 Following next is Argentinian footballer Lionel Messi with a media value of US$2,631,388 and Brazilian footballer Neymar with a media value of US$1,152,495. Other high-ranking players include French football player Kylian Mbappé (US$1,173,157 media value) and Brazilian player Vinícius Júnior (US$685,120).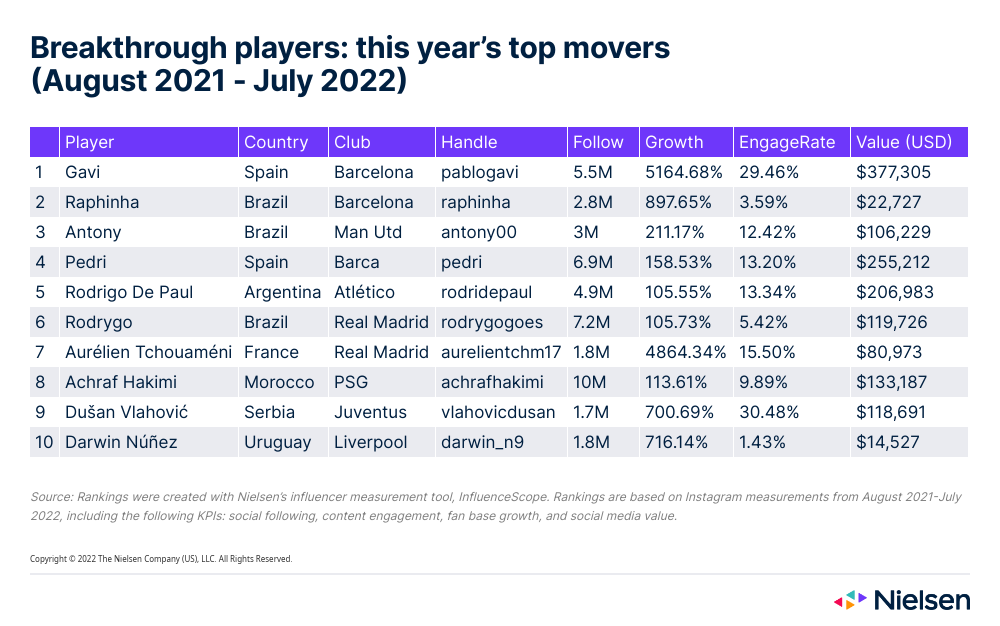 Meanwhile, Spanish footballer Gavi ranks first in the breakthrough players list on Instagram, with an expected media value of US$377,305 and an engagement rate of 29.46%. Following him is Brazilian player Raphinha with a media value of US$22,727 and engagement rate of 3.59% and Brazilian player Antony with media value of US$106,229 and engagement rate of 12.42%.
Other breakthrough players include Spanish player Pedri (US$255,212 media value and 13.20% engagement rate), Argentinian player Rodrigo De Paul (US$206,983 media value and 13.34% engagement rate), and Brazilian player Rodrygo (US$119,726 media value and 5.42% engagement rate).
Marco Nazzari, managing director of international sport at Nielsen said, "With dozens of the world's most recognizable athletes competing for football's ultimate prize, the World Cup will capture the attention of nearly a billion people. This event provides brands unique opportunities to partner with the right footballers to effectively engage their target audiences. Nielsen InfluenceScope evaluates all aspects of a particular player's influence so that brands can ensure that they receive a proper rate-of-return for the right investment."