We can't believe we are now down to the last roundup of top stories for 2021! It has been a great year recognizing the most well-loved brands and stories in marketing and tech for the year.
Our monthly deep dive and conversation with the top brands resulted in the much-awaited regular MARKETECH APAC Reports, and this month of December is no less an exciting list of one-of-a-kind campaigns, inspiring new leadership appointments, and fresh product launches.
This month, we saw a food delivery platform moving into an entirely new vertical of consumer electronics. This period, a philippine arm of a global communications agency also announced a new business director, while, a content marketing agency with a presence in APAC unveiled an expansive roster of new hires in the region within its client servicing, creative production, and editorial teams.
For the month, a very interesting campaign from a BNPL service in Singapore has also entered the list for bringing back audiences to the golden age of advertising in the 80s. Meanwhile, our MARKETECH Spotlight episode on a digital agency in Malaysia also came out on top for walking us through behind the scenes of incorporating AR and VR in marketing campaigns.
Learn more about the top stories that will be closing off our 2021 with a bang:
Top 5: MY digital agency Unicom Interactive Digital on MARKETECH Spotlight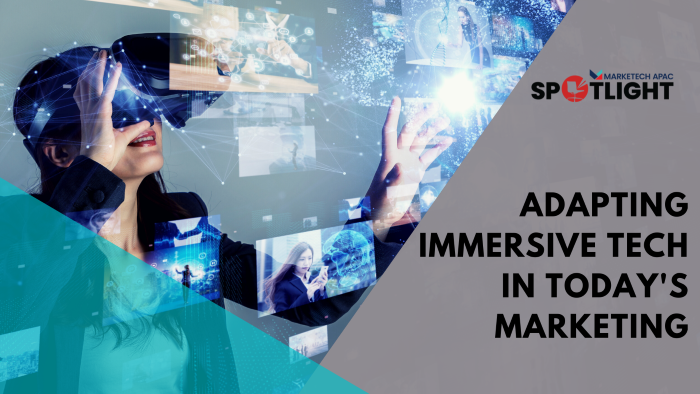 For our Top 5 story, we have the MARKETECH Spotlight episode of Unicom Interactive Digital, a fast-leading digital agency in Malaysia. 
In an interview with its COO Jareth Eng, we learn more about how brands are incorporating the tech of AR and VR in their marketing campaigns, and the best ways to deliver such that would effectively engage audiences at the same time push brands be top-of-mind.
Having helped numerous brands develop immersive campaigns since the start of the pandemic, Eng shared the agency observed that content remains to be the top determinant of a success of a campaign.
He says content must above all be personalized and authentic.
"More and more, let's be honest, we start to get bored of the same stuff, and we start to look for authenticity in content, because there are so much paid advertisements today [and] so much paid endorsements, and we reach a point where we do not know what is being said is real or not," said Eng in the interview.
Eng also shared his thoughts on the role of digital moving forward in the pandemic, "The perks of adding digital elements to campaigns have proven themselves during the past year. Even as we head back to a norm that we were used to, digital elements will still play a part."
Top 4: Mel Panabi joins Red Havas PH as new business director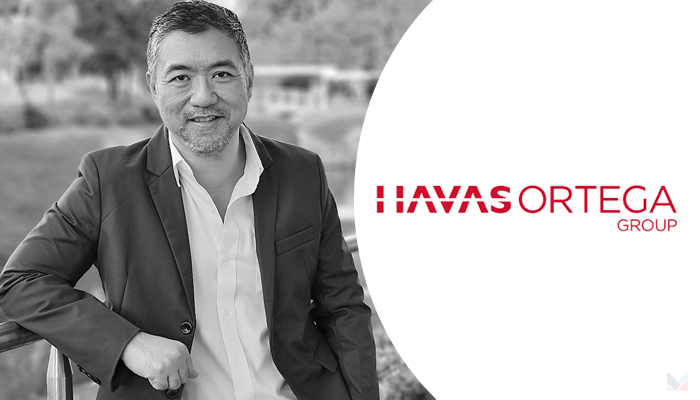 Havas Group's media and communications agency in the Philippines, Havas Ortega, has appointed Mel Panabi, former vice president of marketing communications at energy tech business WeGen Distributed Energy Philippines, as the new business director of its global public relations, social and experiential agency micro-network.
Through his new role, Panabi will be developing new products and services that will further strengthen Red Havas' position in the country's public relations and brands landscape.
MARKETECH APAC spoke with Panabi to know more about the area he is looking to prioritize in the role.
"I will be prioritizing promoting the 'meaningful brands' concepts of the agency. The global Red Havas Media Group actually made a study called 'Meaningful Brands', and it showed that people are now looking at the collective benefits provided by a brand, and its role in society," said Panabi in the interview.
He adds that he is eager to start Red Havas' sustainability and thoughtful corporate responsibility conversation.
"One other thing is that the United Nations' sustainable development goal is something that the brands need a lot, which is a space we want to occupy. We want to be associated with that kind of 'meaningful brands' and sustainability conversation," he said.
Top 3: BNPL service Pace launches 80's themed campaign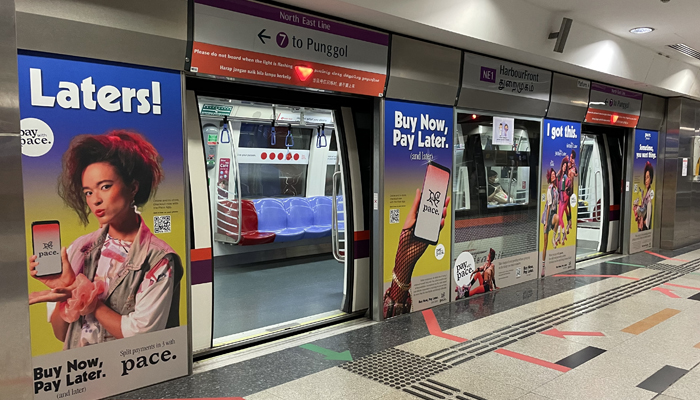 Buy Now Pay Later service Pace in Singapore enters our top stories for bringing a very refreshing and unique creative campaign that brought people back to the vibrant pop culture of the 80's.
Armed with a video and an OOH ad, audiences saw VHS effect shorts complete with authentic 80s fashion, while decals on platform doors at train stations were reminiscent of the classic shopping advertisements from the period.
Speaking with MARKETECH APAC, Daren Goh, Pace's head of growth, said that while BNPL is an inspiring tool for people to be financially responsible, payments could be something boring and pedestrian, hence, the push for the one-of-a-kind creative.
"We thought 80's was great because it's something that any generation can relate to whether you're [a baby boomer], even to Gen Z folks who are interested [in] how it is like [in the] 90s and 80s," said Goh.
He also shared that stimulating the feeling of Nostalgia was the goal.
"[80's] seem like simple times and just really great times. So I guess we could tap into so many different feelings and people also see that no matter what age they are from," said Goh.
Top 2: foodpanda to now offer delivery for consumer electronics via tie-up with Xiaomi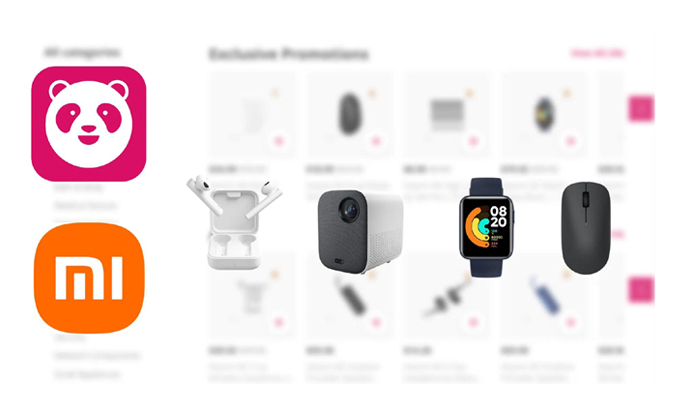 The leading food delivery platform in Asia, foodpanda, will now move to offer a wide range of consumer electronics and appliances for on-demand deliveries in Singapore and Thailand.
Partnering with Chinese tech giant Xiaomi, foodpanda will be offering Xiaomi's products ranging from smart devices, audio, and mobile accessories, to household appliances, and will be delivered to homes within 30 minutes.
Speaking to MARKETECH APAC, Christian Urban, foodpanda's head of marketplace of new verticals for APAC, shared, "Xiaomi is one of the great new vendors coming on board recently, and of course, a very popular brand and we are super happy about that. They are on board with hundreds of their products from their flagship stores across Singapore and Thailand."
Regarding the platform's new partnerships and offerings in 2022, Urban said that they want to enable more and more vendors to join their marketplace, helping them to digitize and get their goods delivered within 30 minutes.
"Our goal is to serve a large portion of essential and non-essential goods, and there is actually a strong demand for it. Hence, strategically, the goal is to go deeper and offer more of those goods to our customers," he added.
Top 1: Content marketing agency Green Park Content bolsters APAC presence with new hire lineup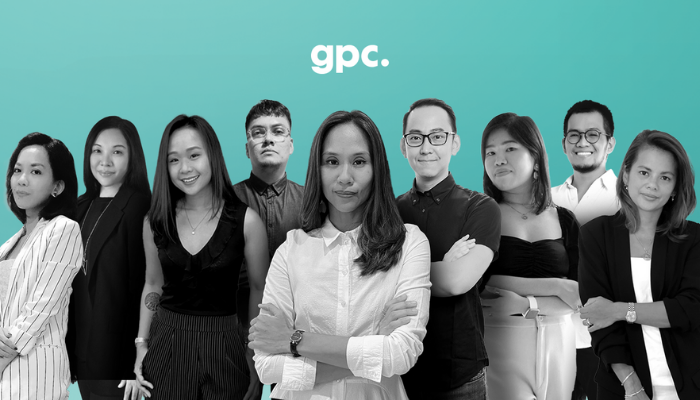 For this month's #1 story, we take a look at the expansive company hire move by content marketing agency Green Park Content for the Asia-Pacific region.
The hires, which were made in November, span across three major work categories: the client servicing team, creative production team, and the editorial team. In addition to these new hires, GPC also announced the promotions of some of its senior leaders, including Que Ramli to the role of global social media lead, Martin Niens as head of operations, and Fe Husaint who was recently promoted to the role of creative and global brand head.
Speaking to MARKETECH APAC, Marcelo Bittencourt, managing director for APAC at GPC, shared that ever since GPC started out in APAC four and a half years ago with only two hires, they have tested the waters of the business in the region and have since grown to provide various services such as search engine optimization and editorial content.
"The goal for GPC in APAC is [trying] to answer to our global FMCG clients on how we can be more localized, how can we have content that is meaningful for the local countries, because we are seeing a shift from budgets being centralized, and we are seeing how important it is, and how empowered are the local marketers are in the countries. So [we] want to be there with them because we are a part of a global [and] regional work lines and as close to their local operations we can be," Bittencourt stated.
On his insights on content development, he said, "Content is about connection, content is about building a bond with the audience. You cannot do this if you are not 'there', if you're not using slang, if you're not understanding what is the environment that you have. This is the biggest goal for us: to be able to grow our local expertise in the countries in APAC, to be able to be that partner to our global clients., and be able to answer their strategies to deliver their brand purpose with quality and with trust."
Rankings‌ ‌are‌ ‌based‌ ‌on‌ ‌Google‌ ‌Analytics‌ ‌from‌ ‌the‌ ‌period‌ ‌of‌ ‌16th‌ ‌November to 15th‌ ‌December.
Watch our exclusive interviews with the brands themselves on the latest episode of MARKETECH APAC Reports, now live on our YouTube channel.
This is in collaboration with Malaysia-based media company The Full Frontal.