The rise of the Asian middle class, estimated to increase from 2 billion Asians in 2020 to 3.5 billion by 2030, is transforming the future of mobility in the APAC region. Increasing affluence, alongside accelerated technology adoption, will create strong demand for ownership and usership of vehicles equipped with advanced features such as telematics and infotainment systems. APAC's share of the global connected cars market reached 42% in 2020, and is anticipated to register a CAGR of more than 19% from 2021 through 2025; that's notably higher than the global average growth rate of 13% during the same time frame, according to data from Technavio.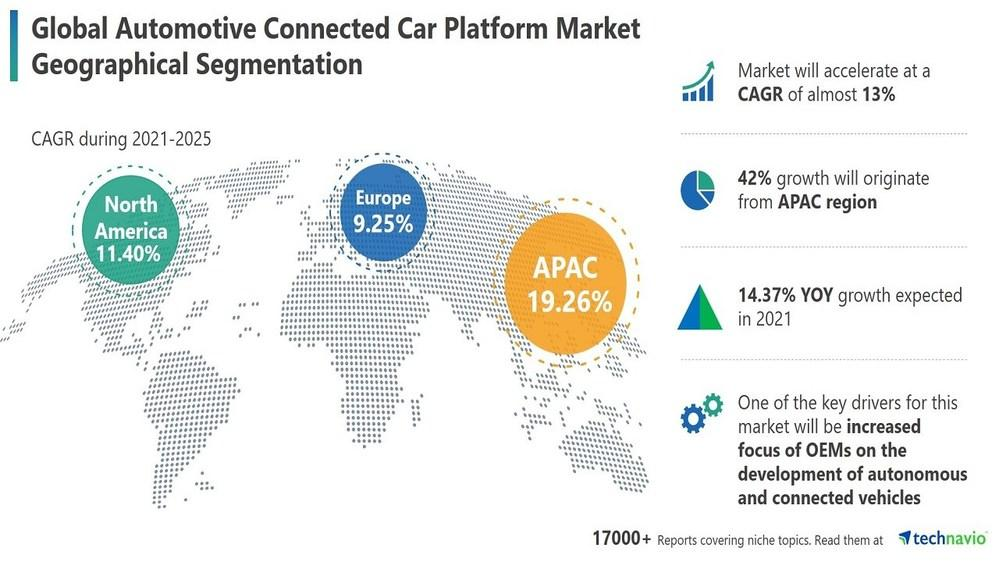 China, the largest market in APAC, is running neck and neck with the U.S. in global connected car sales. The region's technological advantages in information and communication technology (ICT) and data processing and platform services, along with secure investment underpinning a dedicated industrial strategy, as well as support from the central government, puts the market in a pole position to lead the connected car market for the region.
India, Korea, and Japan are also significant connected car markets for the region. Acknowledged as the world's fastest-growing economy, India's rapid development of telecom infrastructures like 5G and 4G LTE will be a key demand driver for connected cars. Favourable government policies will also drive the market's growth, given ongoing concerns over issues such as road safety and personal security. Meanwhile, Japan and Korea already play a significant role in the APAC car market. The Japanese have established themselves as industry leaders, while Korean manufacturers have made rapid strides forward. In both markets, the automotive giants will play a definitive role in advancing their connected cars agendas, catering to domestic car buyers that already have high awareness of connected technologies and increasing demands for convenience features in cars.
The scope of connected cars will go beyond that of conventional vehicle usership: the connectivity in cars will help them become a key interface for a range of industries looking to provide services to consumers. In addition, with many media tech platforms in APAC already placing a stake in the ground, this will help bridge service providers to car manufacturers, enabling myriad new opportunities for brands and marketers. 
Any time a consumer makes a trip in their car, there are countless options and opportunities for commerce. With smart connectivity, connected cars can help drivers make purchase decisions, streamline the buying process, and close the loop with seamless payments. It is important to note that in the car, where touch-based devices such as smartphones are not optimal for commerce activities, AI-enabled voice technology will be key to unlocking these opportunities.
Over the past few years, Chinese commerce giant Alibaba has been working with automakers to add its smart voice assistant, Tmall Genie, to the range of smart devices compatible with its connected car apps. Drivers are offered access to information via audio output or in text, while images form on the car's display screen.
One example is the integration of BMW Connected with Tmall Genie. BMW drivers can use Genie to place online orders on Tmall, and then choose to have their purchases delivered to their homes. Or if they are ordering groceries, they may want to collect them on their way home. Hema, Alibaba's chain of supermarkets, offers this choice. With Elema, a leading online food delivery and takeout service that is also part of Alibaba's ecosystem, drivers can view restaurant listings en route, put in their food orders, and pick them up on their way to their destination.
The use of consumer data together with vehicle data that provides location, time of day, and common routes, can target consumers' needs and wants, providing a more personalised user experience. Combining vehicle technology with cutting-edge digital tools powered by data turns cars into an extension of mobile devices and integrates the car into the drivers' connected lifestyles. 
Like Alibaba, Tencent, which owns Chinese super-app WeChat, is also fully leveraging its digital ecosystem to apply to the car environment, launching an in-car interface that integrates a selection of Tencent apps and functions into the in-car system. Tencent Way, a mobility life assistant, synchronizes users' hobbies, driving preferences and other information with the in-car infotainment system to provide personalized services throughout the journey. Fun Audio provides travel information pertaining to the route taken using predictive technologies, as well as a selection of Tencent content services such as QQ Music, WeRead, Tencent Sports, Ximalaya FM, and more. WeChat offers a custom version for autos with voice recognition and interaction technology that allows drivers to use the app while driving.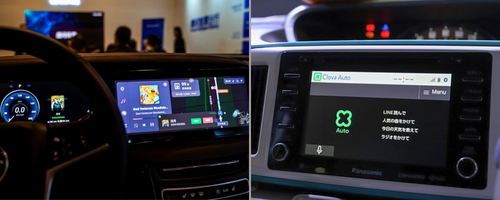 In a similar fashion, Japanese mobile app platform LINE Corp and automaker Toyota have struck a partnership to offer an AI platform featuring voice commands for navigation services in Toyota cars in Japan using LINE's Clova Auto system. Through voice commands while driving, users can check the weather at their destination, send and receive messages, as well as make calls via the LINE app, and even turn off their lights at home.
Besides the new commerce opportunities that connected cars enable, they will also open new channels to communicate in hyper-relevant ways with consumers at the moment of a potential purchase. For example, a fuel brand could recognize a connected car with a near-empty tank and proximity to one of its stations and offer a discount to fill up with the brand. These potential advertising opportunities could include sponsored placements and recommendations in apps integrated into the in-car system. Traditional drivers' media such as radio and out-of-home can also be revitalized through addressable ads that tap into the data from vehicles. Certainly, for media tech platforms that already have their existing digital marketing ecosystem, this creates an opportunity for further diversification.
However, there are critical concerns around road safety, data privacy, and cyber security that will need to be considered. Until cars become truly autonomous, the safety of drivers and passengers must be prioritized. Data collected from connected cars and consumer privacy must also be protected, in accordance with local data laws and regulations. Car manufacturers, software providers, and partners will also have to invest in cybersecurity to make connected vehicles safe for owners and drivers.
For brands and marketers, the prospect of connected cars is certainly exciting. Not only can they transform the way brands sell to, communicate with, and learn about consumers, but they also make drivers' journeys easier and more convenient. Ultimately though, how these opportunities come to fruition will depend on how the concerns of road safety, data privacy, and cyber security are addressed.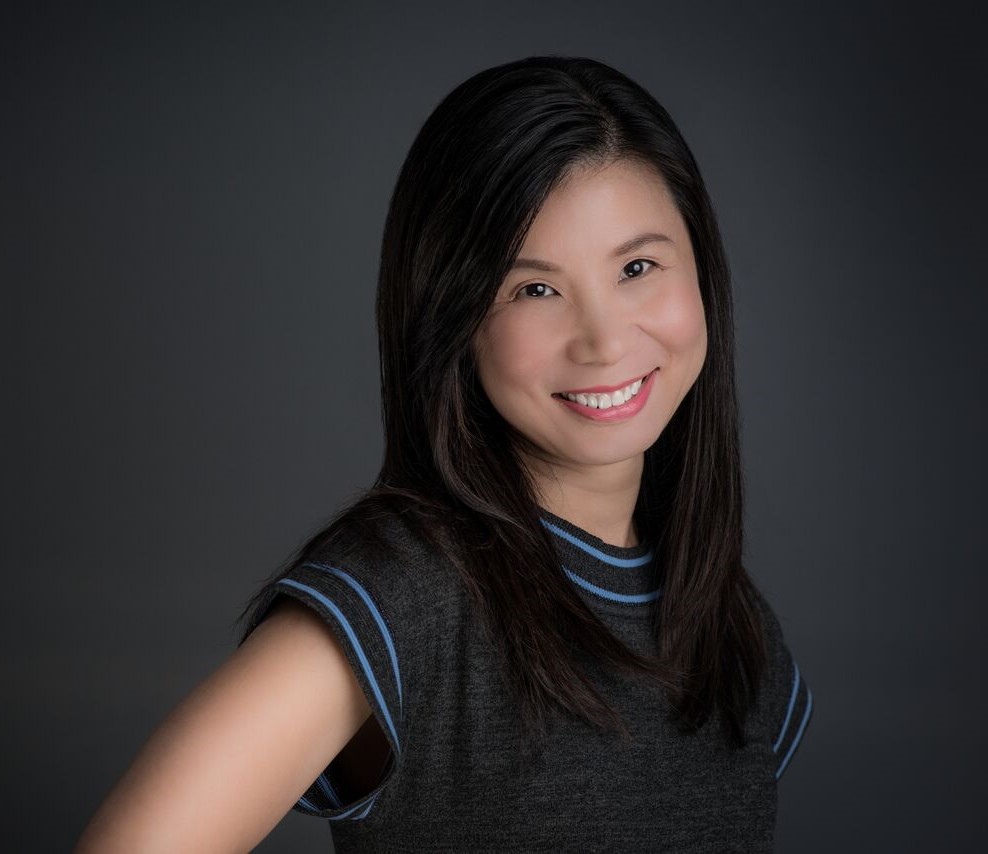 This article is written by Sharon Soh, Chief Planning & Audience Officer at UM APAC.
The insight is published as part of MARKETECH APAC's thought leadership series under What's NEXT 2023. What's NEXT 2023 is a multi-platform industry initiative which features marketing and industry leaders in APAC sharing their marketing insights and predictions for the upcoming year.