Philippines – There's no doubt that more than just being what used to be an exciting past-time and a convenient solution, online food deliveries have now become the crucial element this pandemic for both consumers and business owners, with strict national protocols enforcing everyone to stay within the premises of their own home.
Grab, the top ride-hailing app in Southeast Asia, that soon grew into a superapp has released its first-ever 'Food Trends Report' in the Philippines, drawing insights from its food delivery business GrabFood for the period of 2019-2021. 
For starters, the study shows that during this period, food delivery has also served to be Filipinos' go-to solution in battling traffic and road problems. Pre-pandemic, these were already in Filipinos' top dilemmas, and even now that times have changed, Filipinos are dealing with them the same even amid less opportunities for cars to roam freely in the streets. 
In the study which was conducted by NielsenIQ, it shows that among the top reasons Filipinos order food delivery in 2020 is so that they don't need to worry about traffic or parking. This is together with Filipnos' desire to satisfy cravings for food they can't cook, and due to simply not having the time to cook.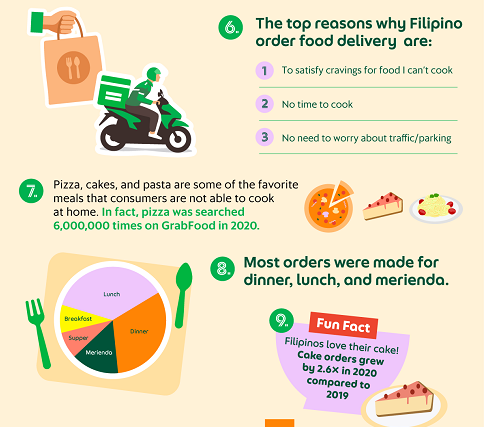 Due to the demands of family that has been augmented by the ongoing pandemic, the report found that it is families who have children that order the most from food delivery, with 65% of them belonging to the 25-44 year-old bracket. 
With Filipinos looking to delivery as a save from the rigorous preparations of their favorite dishes; pizza, cake, and pasta were found to be some of the favorite food items that Filipinos like to search on the Grab app. In fact, pizza was searched 6 million times on GrabFood in 2020.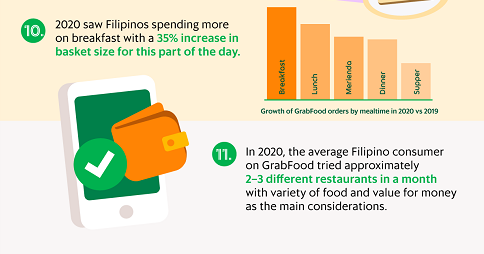 What's more, despite it being a staple only for celebrations, Filipinos' orders for cake also grew by 2.6 times in the year 2020 compared to the previous year. 
In terms of the time of the day, it seems that it is immaterial for Filipino foodies on what time they'd prefer to put in their orders, where most orders were made for dinner, lunch, and 'merienda' or afternoon time. However, in 2020, Filipinos were shown to spend more on breakfast with a 35% increase in basket size for the said part of the day. 
On top of Filipinos' delivery behavior, the average Filipino consumer is trying approximately 2-3 different restaurants in a month in 2020, with 'variety of food' and 'value for money' as their main considerations.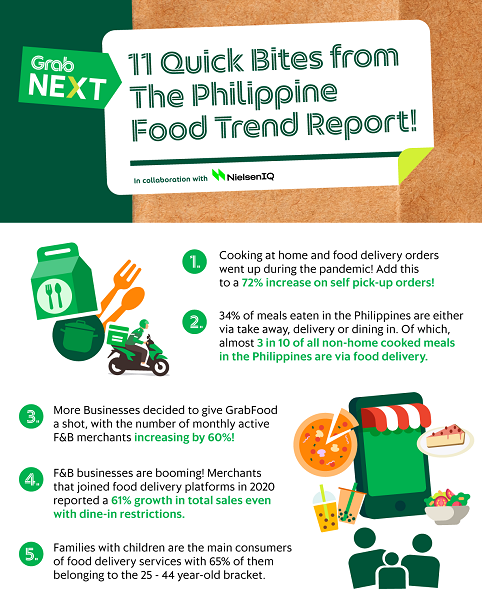 With Grab's report originally dedicated to bring commercial awareness to F&B merchants, the report reveals that most of all, more F&B brands are giving food delivery a shot, with the number of monthly active merchants in GrabFood increasing by 60% in 2020. 
Aside from research insights, the report by Grab also includes content on the state of the food delivery business as a whole in the country as well as tips on digital marketing for F&B businesses. 
Statistics were derived from Grab's internal database between 2019–2020. The research conducted also includes interviews with food industry professionals, restaurateurs, consumer surveys, and focus groups.