Our lifestyle today revolves around platform businesses, and the need for such services has been further heightened with social restrictions over the course of the pandemic. From what we eat (food delivery), how we commute (ride-hailing), to how we consume entertainment (video-sharing websites), we use the services provided by platform players. In fact, the market size of the global platform economy has surpassed the US$7t mark and is still growing at a compounded annual rate of 15%.
In 2022, there will be more startups coming to the scene disrupting traditional markets, and even established companies shifting their business model, all adopting the platform-based approach.
With increasing competition coming next year, what does it take for a platform player to emerge as a winner? The answer is the ability to create an ecosystem that not just meets the needs of both the consumers (buyers) and suppliers (sellers), but also one where both sides of the platform are committed and engaged in interacting with each other.
This can be achieved via platform loyalty programs. Platform loyalty programs are different from traditional loyalty programs. The program design of the latter is geared only towards the consumers whereas in the former, both players have their own roles to play to drive sustainable growth of the platform.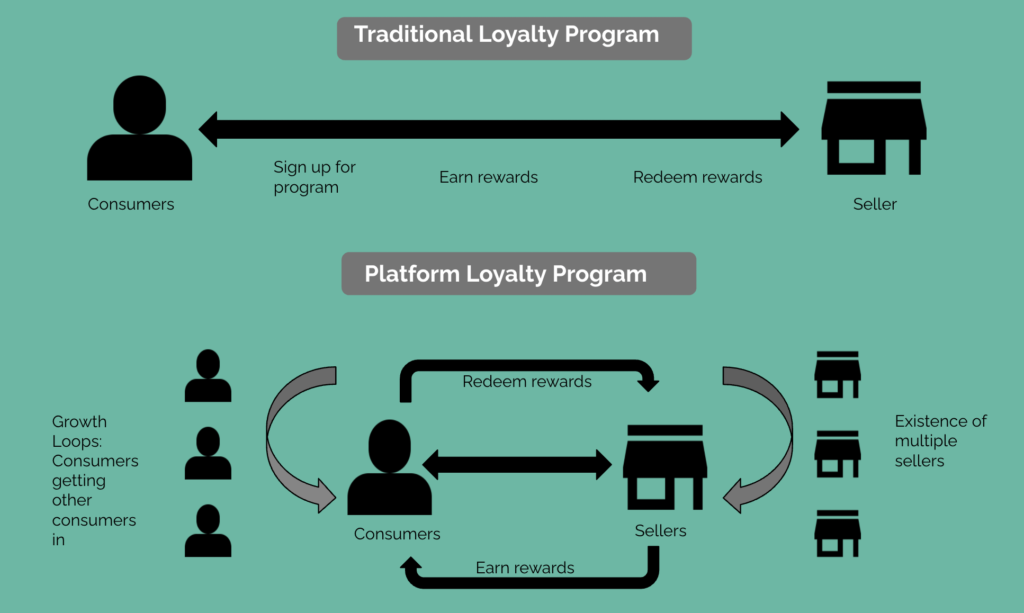 Five Strategic Archetypes of Platform Loyalty Programs to consider in 2022
As we enter 2022 with service platforms now deeply ingrained in consumers' day-to-day, today proves to be the best time to double down on their engagement and build loyalty programs that will make the stay and long for a brand's product or service.
Here are five strategies platform players can adopt in building a winning engagement strategy as their growth engine.
1. Two-pronged programs
The most direct way is to create a separate reward system for both consumers and sellers as means to create growth loops i.e. consumers bringing in more consumers; while sellers bringing in more sellers to the platform – to create more activities.
Example: foodpanda
Foodpanda is a great example of how they create a separate rewards program for both sides of the platform ecosystem. Consumers have access to challenges and rewards where you get to unlock badges and points and redeem them for vouchers. Meanwhile, foodpanda has Bamboo Rewards to recognize riders. Through Bamboo Rewards, riders get to earn rewards such as fuel incentives, vouchers, and free merchandise.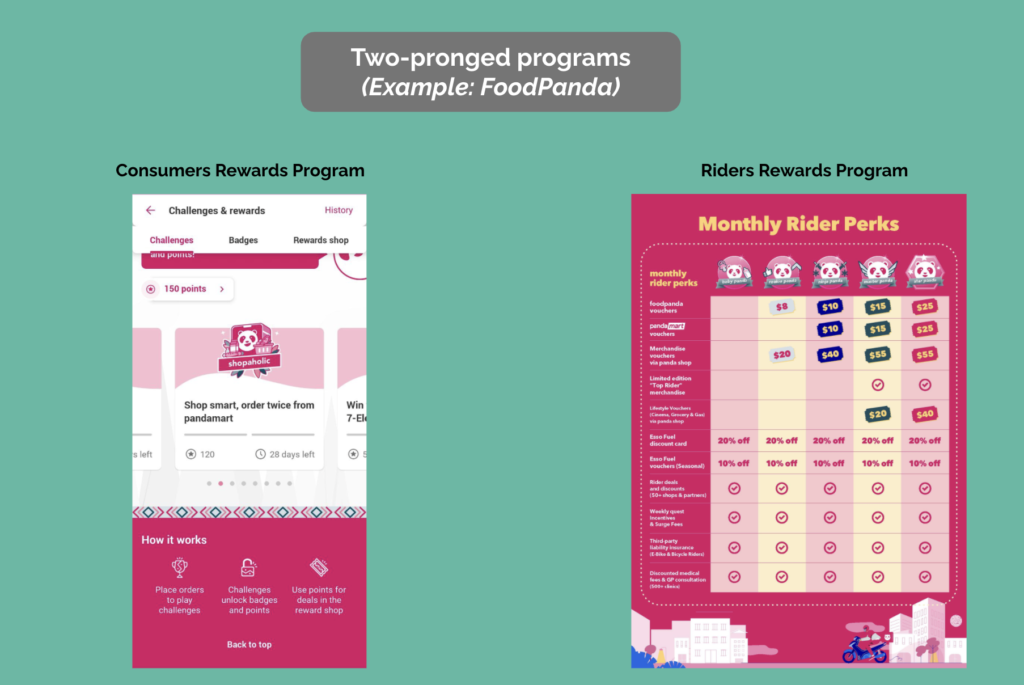 2. Customized programs
A platform owner can allow sellers on their program to launch their own mini loyalty program, which offers and rewards customers based on their own business needs, but still within the overarching rewards design principle of the platform.
Example: Lieferando
Lieferando is a food delivery platform in Europe. While they have an overarching points program, they allow the participating restaurants to customize their own stampcard program where users will get to earn a stamp for every order they make and redeem it for vouchers – personalized from that very restaurant – after collecting x number of stamps.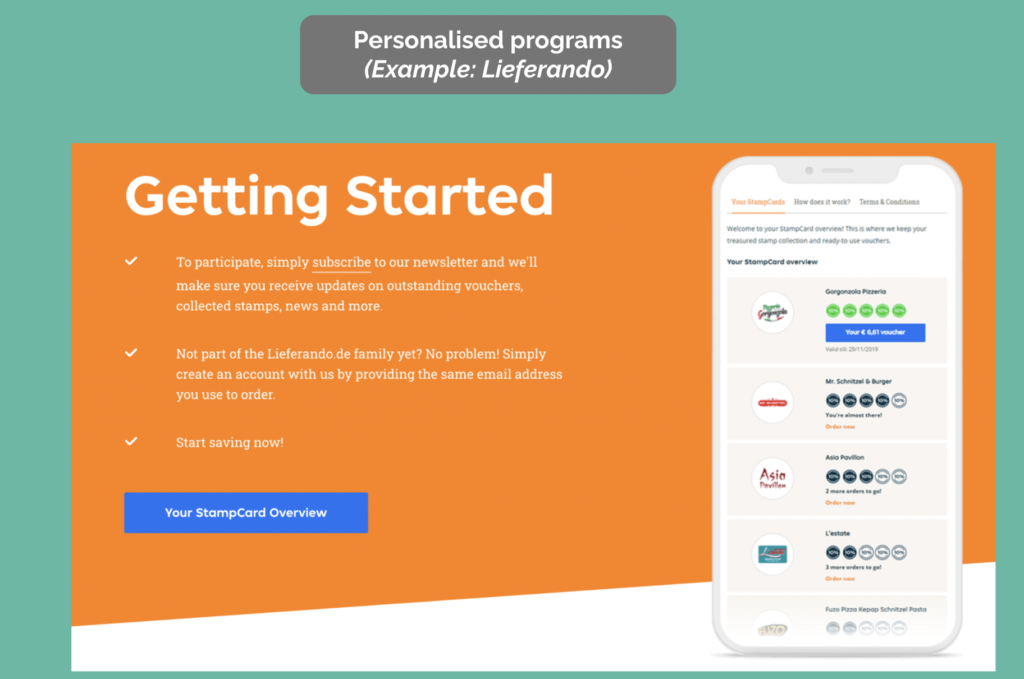 3. Coalition programs
Multiple brands join together in a partnership and offer a joint loyalty program, often having a single rewards currency in the ecosystem.
Example: PAYBACK
At the core of the coalition program, PAYBACK has market-leading brands in the everyday spend category. This helps to ensure sufficient scale to support the economics of the program and in turn attract other partners to the coalition. A highly liquid rewards currency is the main draw for the consumers where they can freely earn/ burn across the participating brands thus allowing them to stretch their dollars.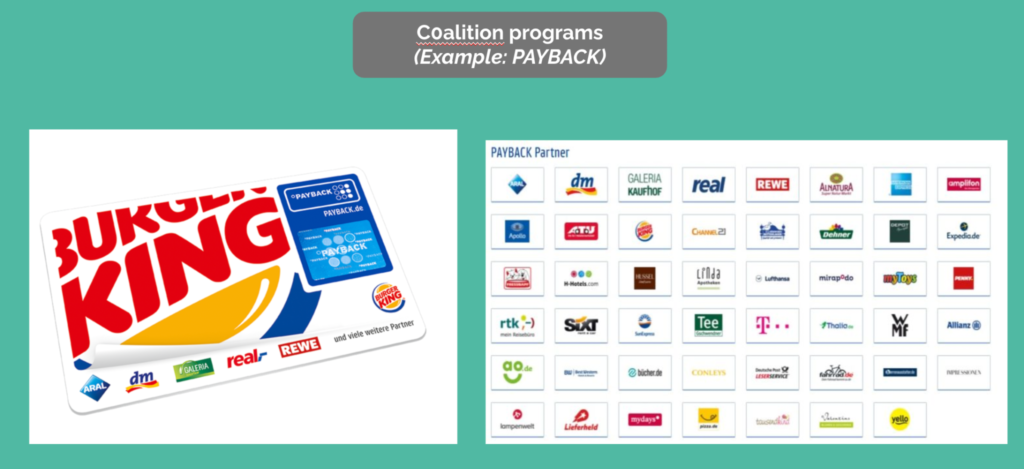 4. Alliance program
Similar to a coalition loyalty program except that participating brands do not have to forfeit their own loyalty program and consumers do not have to sign up for a new program to be part of the alliance ecosystem
Example: Star Alliance
Star Alliance is a two-tier rewards program that gives passengers more options to book their tickets from the participating airlines, simplified in-flight operations, and the ability to earn and redeem miles on other alliance members. To be a member, customers just have to be enrolled in any of the participating alliance members' frequent flyer programs. For airlines, joining an alliance gives them access to more customers and by combining networks, member airlines can offer more flights to many more designations without having the need to operate these routes on their own.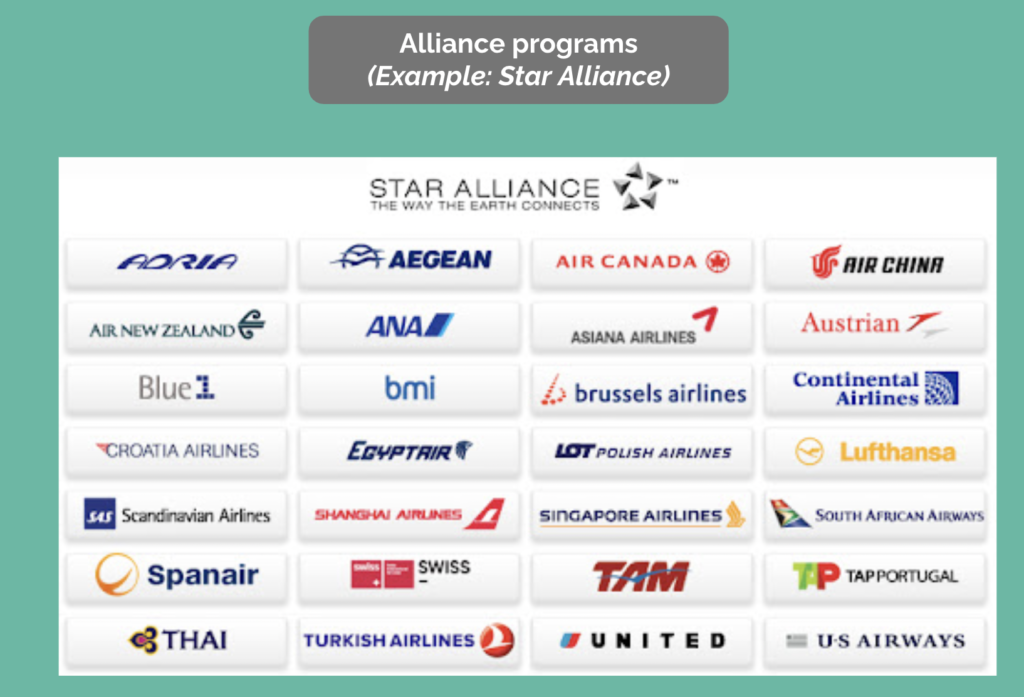 5. Employer-Employee program
While this model is not quite a typical platform rewards program, the program is meant to solve the pain points of employers and employees while still driving the main activities to the platform itself.
Example: Grab for Business
The program helps employers and saves them from having to give and track transport allowance to staff, and staff (users) do not have to be bothered with manual expense reporting while still being able to earn rewards points on their business travels.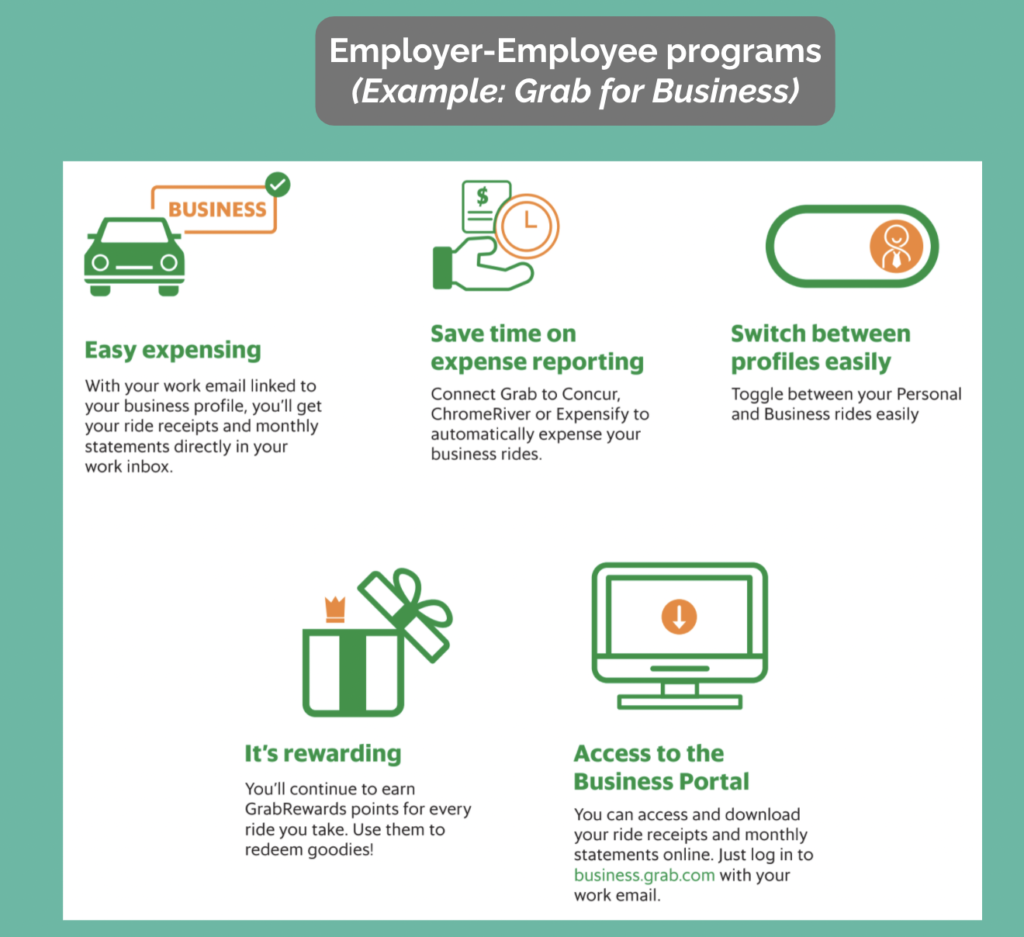 Program design principles for a successful platform loyalty program
Whichever model a platform player chooses as their engagement strategy, they need to adhere to these principles to ensure their program is successful:
1. Platform owners must solve the pain points of both consumers and sellers; or at least give sufficient reasons for them to join the program
2. Program insights should be made available to sellers (e.g. real-time dashboards) to improve targeting and offerings
3. Personalization and segmentation are important ingredients for sellers
4. Loyalty economics (e.g. earn/burn, breakage, floats) are critical for platform growth.
5. Balanced earn and burn across all partners and program must be independently owned by 3rd party
Platform business is in abundance and the market will get even more crowded in 2022. Only those who can foster healthy relationships between consumers and sellers will be successful, therefore, it is imperative that platform players start investing in their engagement strategies today.
Platform loyalty programs are an important growth loop strategy for platform businesses to grow their players, both buyers and sellers. Introducing such a concept in the current market environment could prove to be a winning asset and a strong differentiator from the competition.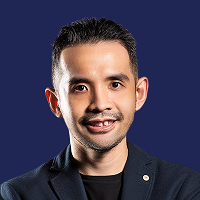 This article was written by Loyalty & Growth Leader Henry Christian. He is the former general manager of Singapore's loyalty program NTUC Link, and previously the head of loyalty program of leading lifestyle retailer MAP in Indonesia.
The article is published as part of MARKETECH APAC's thought leadership series What's NEXT.
This features marketing leaders sharing their marketing insights and predictions for the upcoming year. The series aims to equip marketers with actionable insights to future-ready their marketing strategies.
If you are a marketing leader and have insights that you'd like to share with regards to the upcoming trends and practices in marketing, please reach out to [email protected] for an opportunity to have your thought leadership published on the platform.