Singapore – The business of marketing is nothing but a pursuit of innovation that seeks to replace 'older' problems with 'better' ones. While the internet has blessed us with an ecosystem that generates overflowing data, the 'better' problem now is how do we strategically and intelligently translate this marketing data at hand into solutions that are a win-win for both the brand and consumer?
In the recently concluded webinar by MARKETECH APAC and Vase.ai, the latter's CEO, Julie Ng, gives a presentation to discuss the three things that boggle marketers' minds the most in the midst of transforming marketing intel into groundbreaking marketing.
These are (1) Ensuring ROI, (2) Getting signals rather than noise, and (3) Conducting consumer research with minimal resources. At the heart of putting in place an effective 'consumer insights system' is this simple yet compelling framework which is called the Consumer Insights Loop.
The 'loop' is so straightforward that upon learning it, brands can go ahead and apply it right away in their most immediate marketing concerns.
The Consumer Insights Loop consists of three steps: Feedback – Action – Outcome.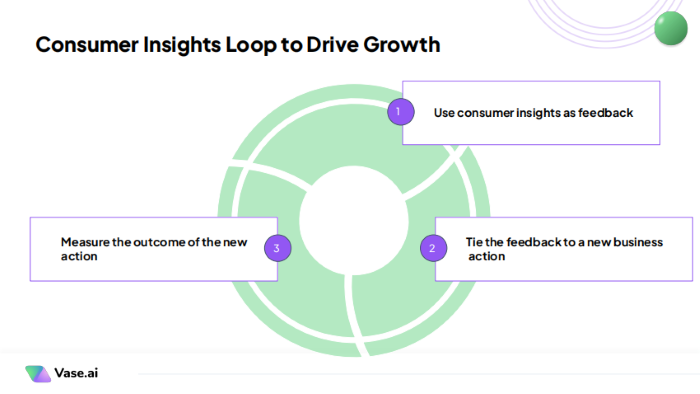 Julie said that the same strategy is being adopted and embraced by top Silicon Valley companies such as Facebook, LinkedIn, and Uber. And what these companies have found as most effective is first, treating consumer insights as a feedback mechanism in everything they do (feedback). The second is directing that feedback to tie it to a new business action (action), and then lastly, to close the loop, measuring the outcome of the new action (outcome) and then repeating the process all over again – using the consumer insight extracted from the new action as the baseline feedback to start and develop a new business action.
As an example, Julie uses the case of a telecom whose objective is to look for a promotional campaign idea to increase roaming usage data.
As a starting 'feedback', the telecom found that roaming prices are currently a big hurdle to consumers, and that insight revealed that the audience, prone to sharing their experiences online, would use data 71 times more if charged at a lower rate. With this, the telco created a campaign that charged lower roaming tariffs and a messaging that played around the theme of 'holiday spam'. When measured, the campaign had actually resulted in a 90% increase in the telecom's social conversation volume and off-the-chart brand metrics.
In the presentation, Julie also shared insights on how to identify and acquire 'signal' from 'noise' in a trove of overflowing data. She said that in order to successfully distil a 'signal', you have to be intentional, targeted, and specific on the type of data you'd like to obtain.
Furthermore, in order to confidently say that a consumer insight is indeed a signal that leads to an action and is not a noise, we need to meaningfully close at least one round of the loop. However, even if it is indeed a signal, you would need to close the loop at least twice in order to get meaningful business results.
Learn more about what Julie has to say with regard to refining and optimising your consumer insights strategy through the on-demand webinar. 
The webinar, with the theme Consumer Insights Power-Up 2022, gathered marketing leaders in SEA to discuss how brands are building and implementing their best practices in consumer insights. The industry discussion saw Jia Nina, the Country Marketing Head of BigPay, and Tanushri Rastogi, the marketing lead of Popeyes for APAC gracing the panel, while Neeraj Gulati, partner at Accenture Song, joining the discussion for a fireside conversation. 
Register HERE to get your on-demand access.