Philippines — Euromonitor International has released its latest 'Top 100 retailers in Asia 2022' report featuring four familiar players from the Philippine business sector in the SEA rankings. Leading the market is SM Retail, the retail giant with a portfolio of supermarkets, department stores, and specialty stores, which landed at the eighth spot for the whole region recording $5b in sales for 2021.
Meanwhile, the other three Philippine retail firms included in the list are pharmaceutical company Mercury Drug sitting at the 11th spot with $3.6b in sales; following closely at the 12th spot is the grocery retailer Puregold Price Club with $2.9b in sales; and lastly Robinsons Retail stands at 16th spot recording a $2.3b in sales. All four PH firms, including SM Retail, recorded an improvement in their SEA rankings.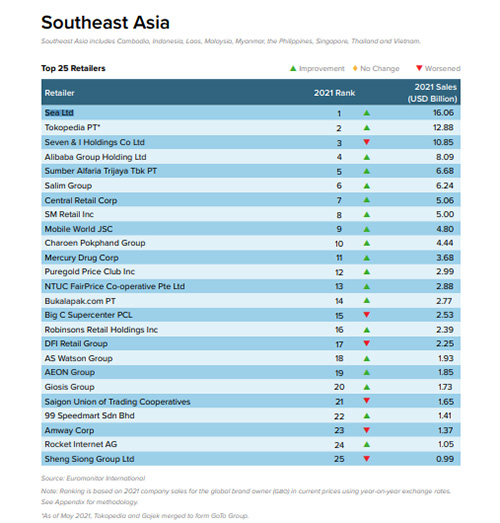 For this year's list SEA Ranking, the Singapore-based global consumer internet company Sea took the number one spot for the region. Sea is the parent company of Shopee, the leading e-commerce site for the region.
For the whole of Asia, Alibaba Group of China and JD.com, another Chinese e-commerce company, were named top firms.
According to Euromonitor's report, the state of retailing in SEA is largely fragmented. SEA is home to over 500 million people that have diverse ethnicities, cultures, religions as well as diverse shopping habits.
"Conquering this market is complex. Regional e-commerce players must create localised strategies like search engine optimisation for respective countries and languages or product lines catered to various cultural needs," said Euromonitor.
Furthermore, according to the general overview of retailing in the Philippines from Euromonitor, e-commerce has had a presence in the Philippines for a few years, but its sales hold a noticeably lower share of overall retailing than in its neighbouring Southeast Asian markets because Filipinos are strongly accustomed to shopping via in-store retailing channels. The experience of shopping in-store is something that e-commerce can not replicate, but the pandemic forced Filipinos to adopt e-commerce out of necessity.
Additionally, shopping centres remain the primary shopping destinations in the Philippines, despite being mandated to have limited operation during quarantine periods. Essential retailers like supermarkets and drugstores/para pharmacies remained open in shopping centres so they still experienced foot traffic in 2021.
On the other hand, customer experience when shopping in-store and customer safety when shopping online, in terms of delivery and handling of products, are chief considerations among Filipinos when shopping.