Kuala Lumpur, Malaysia – Goobat, a Malaysian-based pharmaceutical technology company, is now accepting the cryptocurrency Bitcoin as a mode of payment on its e-commerce Goobat.care.
Bitcoin, the cryptocurrency founded in 2009, has risen its validity within the financial market earning its spot as an acceptable new store of value.
"There is a growing number of cryptocurrency enthusiasts in Malaysia. In fact, we have listened and learned that there is an increasing demand from consumers calling for the acceptance of Bitcoin and cryptocurrencies as a payment option and so, we believe this is a step in the right direction," said Asher Looi, co-founder of Goobat.
He added, "Numerous central banks have been reported to begin exploring and adopting these cryptocurrencies. As part of the retail industry, we feel it is important and timely to educate the public that Bitcoin transactions are safe, and that users will still have full control of their money in their wallets," pointing out that cryptocurrencies like Bitcoin are the future of finance.
Bitcoin payments through the Goobat.care web store will be powered by US-based cryptocurrency clearing gateway Bitpay.
The existence of the Goobat.care e-commerce is a response to the local issue of some pharmacies in sub-urban areas that may not have full access of the much-needed medications. Further, due to the lack of economy of scale, these outlets would tend to retail products at steeper prices.
"When we set up Goobat.care, we wanted to ensure that we could help suburban consumers find what they need. So now we have more than 3,000 products online to offer, at affordable prices," Looi added.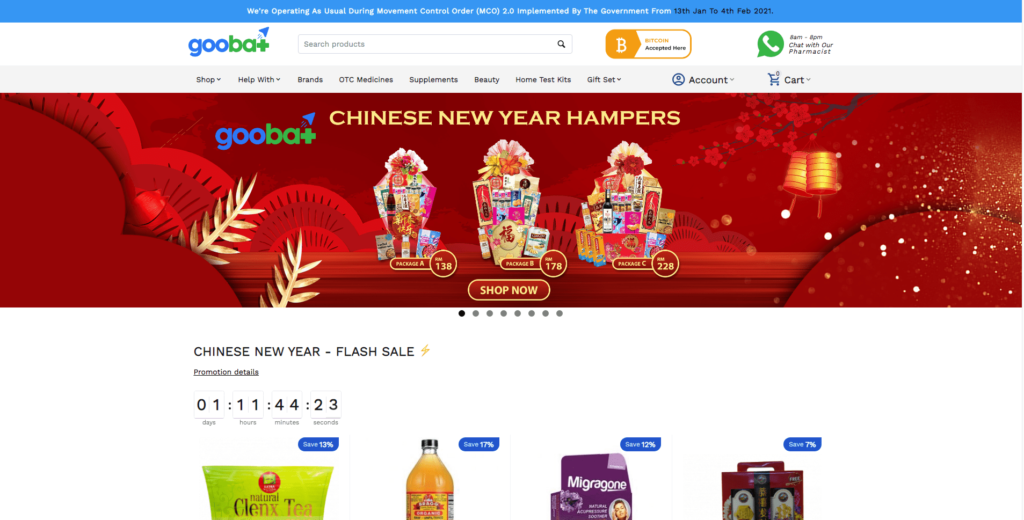 Once a transaction is completed on Goobat.care, Klang Valley customers can choose to receive their products by Goobat.care's 3-Hour Express Delivery, or opt for the Standard Delivery option. The latter is available to customers nationwide.
Goobat also assures that it will provide special handling for some products that may be temperature sensitive, or can be affected by changes in humidity like probiotics and other medicines. By the end of January this year, Goobat plans to introduce a mobile app and incorporate more languages into its platform.
"We integrate the Big Data concept into the core of all touchpoints. Our end goal is to build an artificial intelligence (AI) model in the future to serve our clients better. In the long run, this AI model will serve to identify risk groups based on their [consumption] patterns, or buying patterns of Goobat.care, and we will offer personalized supplements suggestions to our consumers," he added.