Singapore – Philippine-based financial services Cebuana Lhuillier and Singapore-based fintech Nium have announced a new partnership in launching the remittance app Quikz in Singapore to increase the remittance reach of Filipinos residing in Singapore.
The Quikz app will be powered by Nium's Remittance-as-a-service (RaaS) solution and Cebuana Lhuillier's huge network of pay-out locations in the Philippines, allowing Filipinos based in Singapore to enjoy improved convenience, security, and real-time global transactions in sending money to the Philippines.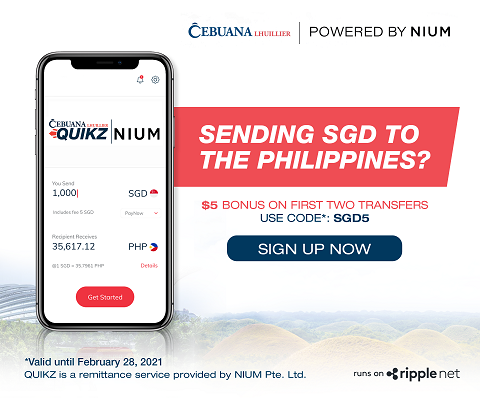 Yogesh Sangle, executive vice president and global head of consumer and SME business at Nium, said, "With millions of Filipinos living and working overseas for their loved ones back home, the convenience and transparency in remittance processes play such an essential role – especially with continued social distancing measures and lockdowns in place."
He added, "We are extremely excited that Cebuana Lhuillier, a home-grown Filipino brand, shares a common goal with Nium, and we are proud to co-establish and power this new platform through our enhanced remittance capabilities."
Meanwhile, Jean Henri Lhuillier, Cebuana Lhuillier's president and CEO, commented, "Cebuana Lhuillier's core of Financial Inclusion always pushes us to provide better micro-financial services to Filipinos, wherever they may be. This new partnership with Nium strengthens our remittance services to ensure that Filipinos around the world have access to fast, reliable, and safe transactions."
Cebuana Lhuillier currently has more than 2,500 branches in the Philippines. Besides Nium, a partnership with technology provider Ripple has also been forged in order to facilitate low-cost payments.