Singapore – Dating and social networking app Bumble has teamed up with 13 local small businesses in Singapore to launch its 'Date Do What' campaign. Said initiative aims to ease the burden of planning for dates through partnerships with local businesses.
The campaign gives app users the opportunity to connect with others in real life and over a shared experience for 3 months from 4 July up until the end of September this year.
Through this collaboration, Bumble hopes to make dating fun and easy for people who are looking to make new connections through the app by providing them with over 13 activities or dining options to choose from, with exclusive discounts and packages curated specially for the Bumble community.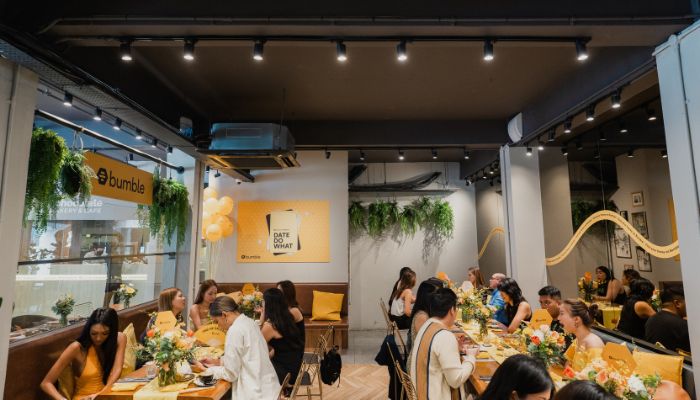 According to Lucille McCart, Bumble's APAC Director, of the 13 local businesses they are collaborating with for this campaign, more than half are women-owned or women-led, which was really important to them when developing this campaign and is just one more example of how the app is committed to empowering women in Singapore and across the globe.
"Bumble exists to empower new connections and foster healthy and equal relationships. Now more than ever, singles are eager to connect in-person as pandemic restrictions are being lifted in Singapore and around the world. Our partnership with local small businesses through 'Date Do What' allows us to provide our Singapore community with personalised date recommendations that play to their passions and lifestyle preferences. This helps create a fun environment for singles to bond with their dates, and hopefully develop meaningful and lasting connections," McCart said.
Under its specially curated 'Date Do What' campaign, Bumble has identified the following partners to cater to its community's diverse interests, namely 'Adventurous', 'Foodie', and 'Artsy-Fartsy'.
In Singapore, daters on Bumble are keen on in-person experiences, with 'Going Out' being the second most used Interest Badge on daters' profiles. The Bumble community in Singapore also have a wide array of interests — 'Sports' is the most popular interest badge adopted by Singapore daters, although many have also used the 'Food & Drinks' or 'Foodie' badges on their profiles.
Besides offering daters a list of recommended date activities, the 'Date Do What' campaign will also feature a 'Date Generator' questionnaire to help daters find the perfect date experience. By answering a short list of questions to fine-tune their preferences, daters can get personalised date recommendations from Bumble's curated list of activities that are uniquely tailored to match their hobbies and interests.