Singapore – Wootag, a visual interactives and insights platform, has announced the launch of Sports Signals, the newest feature catered for marketers to enable video interactives through sports event content, such as football matches.
This enables clients to be more engaging for the audience by tapping into a new audience segment and using the real-time live events as a trigger to showcase customized marketing messaging and advertisement to enhance the branding experiences on video and display.
Furthermore, marketers can choose a sports event as a new trigger for the video ad. For instance, brands that are sponsoring teams can engage with their audience during the live gameplay and even structure offerings based on outcomes.
In addition, messages and offerings can further be customized based on both positive and negative outcomes and a host of other signals. Brands can further build based on individuals/players who are their brand influencers and structure experience and message based on their individual/ team performances.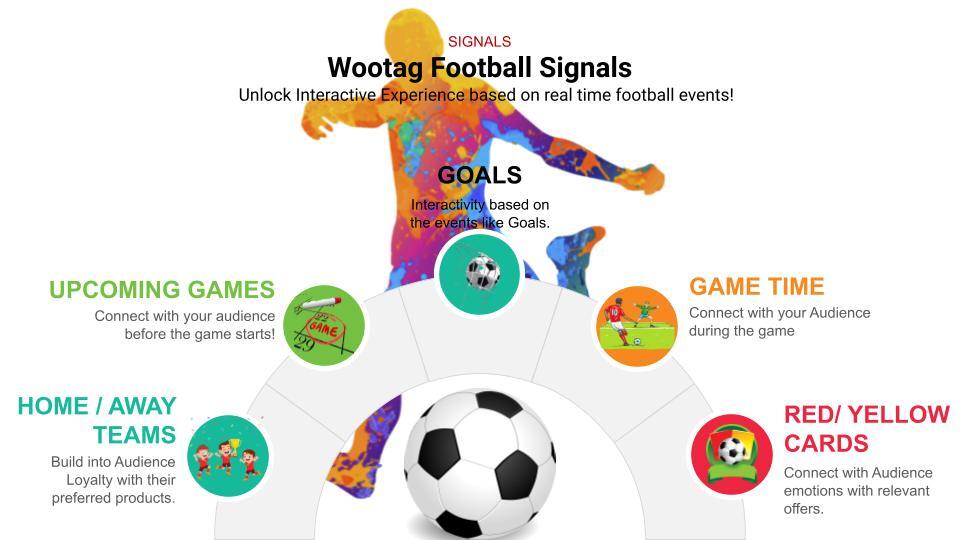 Lastly, brands can amplify their message during breaks encouraging for a quick snack break.
The launch of 'Sports Signals' follows after Wootag recently launched the parent platform Wootag Signals last April, in which it provided marketers with the ability from customizing viewers' experience by weather to customizing videos or interactive content based on weather conditions. They can simply select the location, trigger type from weather factors to temperature, and then assign the interactivity.
"In the video marketing industry, that has long been plagued by lack of a way to drive conversions. Sports Signal helps drive the engagement with 230%-370% uplift by allowing meaningful targeted reach at real-time live events. It is fundamentally important for marketers to engage their target audience on the digital journey and convert the viewers into customers," said Raj Sunder, the founder and chief executive officer of Wootag.
For instance, marketers from the food and beverage industry can leverage Wootag's Sports Signals to showcase a discount for their drink to celebrate if your home team scored a goal. If there's a financial brand sponsoring a match and their team wins, Sports Signal enables marketers to showcase a preferential discount for team jerseys on the video.
"Wootag will continually enhance Wootag Signal to provide marketers more features to increase business efficiency and maximize the marketing effort," Sundar concluded.
Wootag's market is present in Singapore, Hong Kong, Taiwan, the Philippines, Indonesia, Malaysia, Thailand, and Vietnam.