Singapore – As the pandemic thrust consumers to rely more on digital consumption, brands had to recalibrate their presence and leverage online channels to ensure they continued to reach their target consumers. This pandemic-induced reality is what gave way to the third wave of Digital Advertising — prompted by Retail Media.
In the recently concluded conference 'What's NEXT 2023: Marketing in Asia Pacific' by MARKETECH APAC, JJ Eastwood, managing director at Carousell Media Group, dug deeper into retail media and how it became the way to activate digital advertising's now 'third big wave'.
If we're now in the third, where can we date back the earlier ripples? The study by Interactive Advertising Bureau Southeast Asia and India (IAB SEA+India) and Carousell Media Group revealed that the first wave, in fact, started with the search era in the 2000s and then followed by the social era in the 2010s when social media networks took part in digital advertising. Fast forward to 2020 — retail media networks finally took over.
Retail media networks are classified into digital marketplaces, mass merchant retailers, and commerce intermediaries or delivery providers. To name a few, some known retail media networks are Amazon and Walmart in the US and in Asia, there are Carousell, Grab ads and panda ads.
In his presentation, Eastwood emphasised that five factors are driving the growth of retail media. This includes first-party data, which enables retail media networks to serve customers with relevant advertisements; closed-loop attribution, which helps in better understanding of ads; contextually relevant ads to the consumer; ability to reach relevant audiences at scale; and capability to run full-funnel campaigns.
However, in particular, the growth of retail media was propelled by sponsored search ads which make up almost 80% of retail media networks' revenue.
Eastwood explained, "Those sponsored search ads are as relevant as organic search listings. This is what is at the core of every retail media network, what delivers results and meaningful insights for brands."
The existence of retail media fills the needs of the brands since there has been a decline in television advertisements and the loss of third-party identifiers, whilst the stores are starting to shift into the digital world.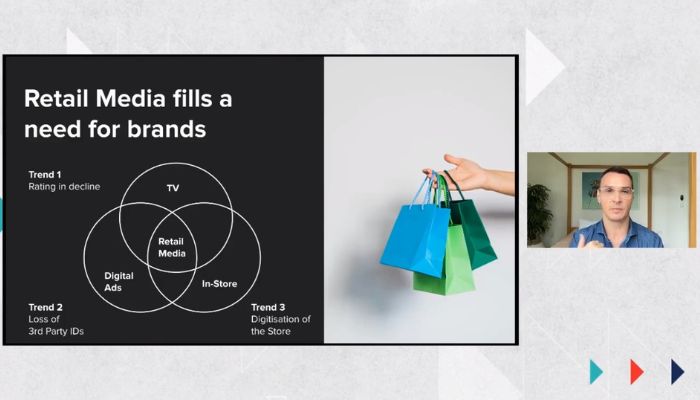 With this, Eastwood emphasised the retail media trends that emerged, particularly in Asia, where 99% of the brands and agencies plan to increase their retail media spending over the next 12 months. Moreover, according to Eastwood, 70% of advertisers are seeing an improvement in performance from retail media networks over other channels, whilst brands say that they will advertise on a retail media network despite not listing products in that marketplace.
Marketers face many challenges when advertising, such as measuring marketing outcomes, optimising cross-channel campaigns, and removing third-party identifiers, particularly cookies. Eastwood shared how retail media can solve these challenges.
What's next for retail media in Asia? Concluding his presentation, Eastwood said, "I think what is gonna happen for the next six to 12 months, particularly in Asia, are more data collaborations. Retailers and brands can come together and enrich each other's data upon what they know about certain consumer profiles."
He added, "Through the use of DSPs, Retail media is moving up the funnel into video and digital out-of-home formats. However, through the likes of shoppable videos, retail media will blur the lines between traditional branding campaigns and direct response."
What's NEXT 2023: Marketing in Asia Pacific is the inaugural 2-day hybrid industry conference of MARKETECH APAC which was launched last February 28 and March 1 as a culminating event under What's NEXT 2023.
More than 200 in-person participants and more than 100 virtual attendees participated in the conference to know more about what's next in the different marketing disciplines including growth marketing, marketing and technology, retail media, public relations, travel marketing, influencer marketing, customer experience, and many more.
In the virtual conference held on the second day, Eastwood was joined by other marketing leaders from panda ads, Boost, CARSOME, and Hubilo, PrimeCredit Limited and Rentokil Initial amongst others, who also shared their insights about various marketing facets.
Carousell Media Group, the speaker for the keynote presentation, is a proud bronze sponsor of What's NEXT 2023: Marketing in Asia Pacific. Carousell Media Group is the advertising arm of Carousell Group, which helps brands across Southeast Asia and Hong Kong acquire new customers and increase sales. With tens of millions of active shoppers and hundreds of millions of product searches on its marketplaces every month, brands can connect with consumers through full-funnel campaigns, drive conversions and gain valuable marketing insights.
Learn from marketing leaders across Southeast Asia—from CARSOME, Colgate-Palmolive, FlowerStore.ph, MessageBird and ZALORA Group—on how marketers are building a seamless customer buying journey with channels that adapt and bridge silos on 'Omnichannel Journey Mapping: Connecting the CX Dots in 2023.' To get on-demand access, register HERE!