Singapore – Retail e-commerce has largely continued its strong growth in Asia Pacific in the wake of the pandemic, driven by merchant digitalisation and consumer habit persistence. With this, new data from Euromonitor has listed the fastest growing retailers in the region, all have differing strategic priorities and initiatives in Asia-Pacific that provided the e-commerce market with unique growth opportunities.
According to the data, Indonesia's GoTo Gojek Tokopedia PT and Singapore's Sea Ltd emerged as standout performers, achieving retail sales growth rates of 44% and 43%, respectively.
It is worth noting that Shopee's hyper-localisation, competitive pricing, and extensive product range, coupled with engaging features like livestreaming and interactive games, fostered continued consumer engagement for the platform in the region.
Meanwhile, Nitori, a leading Japanese home products specialist, showcased exceptional expansion beyond Japan into mainland China, Taiwan, Malaysia, and Singapore. With 77 new outlets in the pipeline, Nitori remained at the forefront of regional growth.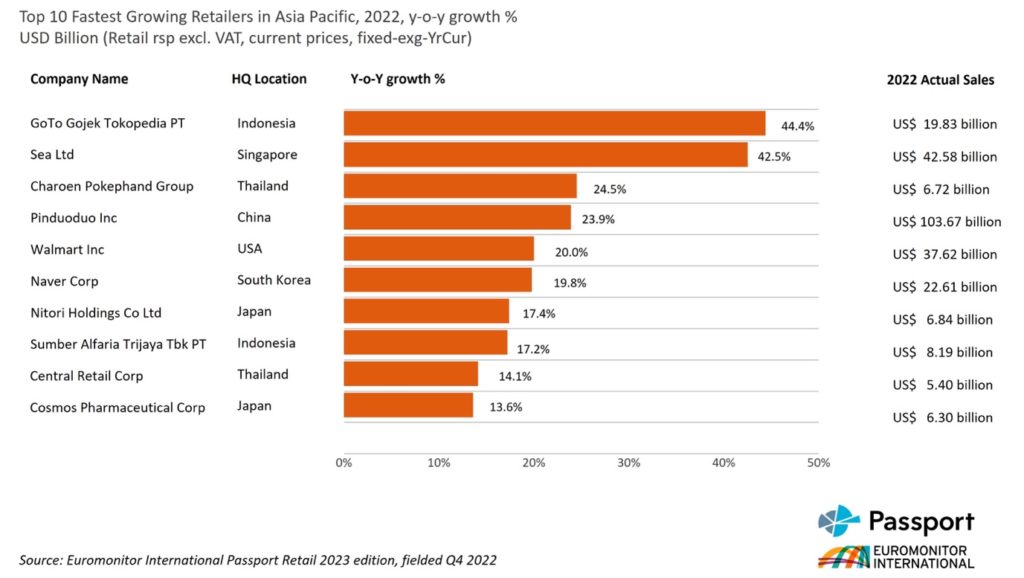 In addition, Watsons' 'The Grand Store' in the Philippines embraced the power of Artificial Intelligence (AI) and Augmented Reality (AR) in its in-store tools. These cutting-edge technologies have enabled shoppers to analyse their skin conditions and virtually try on cosmetics, facilitating personalised and confident purchase decisions.
In other local platforms, SSG.COM, South Korea's retail giant Shinsegae's e-commerce portal, implemented a 'premium strategy' by introducing luxury brands like Gucci, Ferragamo, Burberry, and Montblanc on its platform. Another South Korean e-commerce player, Naver Shopping, is redefining consumers' delivery expectations by launching its 'Naver Guaranteed Delivery Programme' with CJ Logistics to provide overnight delivery to over 90% of South Korea's region.
Quan Yao Peh, senior analyst at Euromonitor International, said, "The retail industry witnessed a dynamic transformation fuelled by the post-pandemic shifts towards experiential retail and social e-commerce. Supported by the two powerful engines of increased social media usage and integration of new technologies, the post-pandemic Asia-Pacific retail landscape remains competitive."
He added, "There has never been a greater variety of choices across physical and digital channels, and technology and digital tools will continue to transform the way retailers engage and sell to consumers. Retailers are facing new and unprecedented challenges, and those able to turn this into an opportunity are well placed to remain the preferred shopping destination of consumers."