Singapore – TikTok in Singapore has launched its first-ever #JobTok educational live stream series, a lineup of shows that aims to equip youth aspiring for tech careers with knowledge of the jobs and skillsets of the future in the industry and to help them to make more informed career decisions in life.
The educational series will run from 31 March until 6 April 2021 and will be a hybrid broadcast, where one will be streamed on TikTok Live itself and on Facebook, and the other on Zoom.
TikTok invited home-grown tech talents from TikTok itself and Government Technology Agency (GovTech) to lead the live stream and talk about inspiring experiences working in the tech sector, and debunk commonly-held myths about the profession. Invited hosts will also be sharing actionable steps that undergraduates can take to transition smoothly into a technology-first workforce.
The first in the educational series is 'Women Leadership in Tech', which is a virtual grassroots dialogue session, to be hosted by Member of Parliament (MP) Tin Pei Ling, alongside female leaders from ByteDance Singapore, who will discuss how women can be empowered to thrive in the tech and innovation sectors, as well as the exciting job opportunities and career prospects that Singaporeans can capture in the rapidly-growing post-COVID-19 digital economy.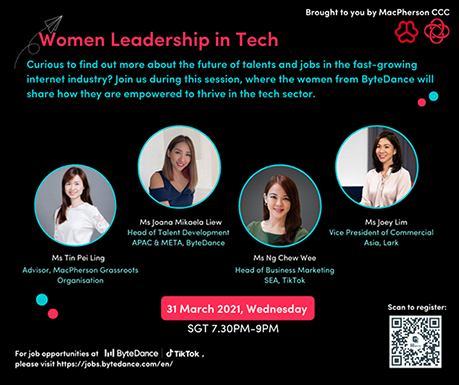 The educational series also includes 'Adulting Advice From Young GovTechies', which will be on 31 March at 8:00 pm SGT, and 'The Faces Behind TikTok LIVE', which will be on 6 April at 8:00 pm SGT.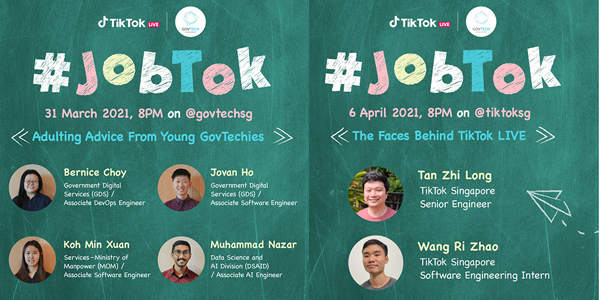 The virtual dialogue with MP Tin will be streamed on Zoom and MP Tin's Facebook Page on 31 March 2021, at 7:30 pm SGT. The rest of the #JobTok educational series will be broadcasted live on the TikTok app beginning on 31 March to 6 April 2021.
In addition to the series itself, TikTok will also be launching an #Adulting contest, which invites users to share their personal tips for youth entering the workforce, including interview tips, internship experiences, and how to ink their first job. The contest will run from 31 March until 4 April where participants will get a chance to win prizes collectively worth around S$1,200.
According to Joana Mikaela Liew, the head of talent development for ByteDance APAC and META, as the country emerged stronger from the COVID-19 pandemic, it is crucial to dispel uncertainty among today's job-seekers and equip them with the relevant skills to be future-ready.
"Our Jobs and Skills series aims to provide an insider's look into the tech industry and spark greater interest among more young Singaporeans towards the new opportunities brought about by the digital economy. Additionally, through our meaningful dialogue with MP Tin Pei Ling, we hope to bring this conversation closer to the grassroots and address on-the-ground concerns of those who are either looking for job opportunities in the tech space or planning to upskill," added Liew.