Manila, Philippines – Top technology-related unboxing and review YouTube channels in the Philippines are seen to be able to earn a YouTuber on average ₱522K per month, new statistics from e-commerce aggregator iPrice.
Individual tech vloggers Unbox Diaries and Mary Bautista earn ₱522K and ₱351K per month respectively, despite the fact that Unbox Diaries has fewer subscribers (1.25M) than Bautista (1.42M).
Meanwhile, tech blogs like YugaTech and GadgetMatch earn less compared to individual creators, as these competitor sites earned ₱119K and ₱65K per month respectively. However, this is best supported by the smaller subscriber size they have, as YugaTech has only 453K subscribers, while GadgetMatch has 631K subscribers.
Moreover, individual vloggers like Liz Tech and Poy Reviews are both estimated to earn above ₱100K a month, which are more than the estimated amount of authoritative blogs with Youtube reviews like Unbox PH (₱52K/month) and Manila Shaker (₱17K/month).
"iPrice hypothesizes that consumers like watching content that is more personal and relatable. Thus, this is why individual vloggers that review in Filipino seem to have an affinity with the country's market," the company said in a press statement.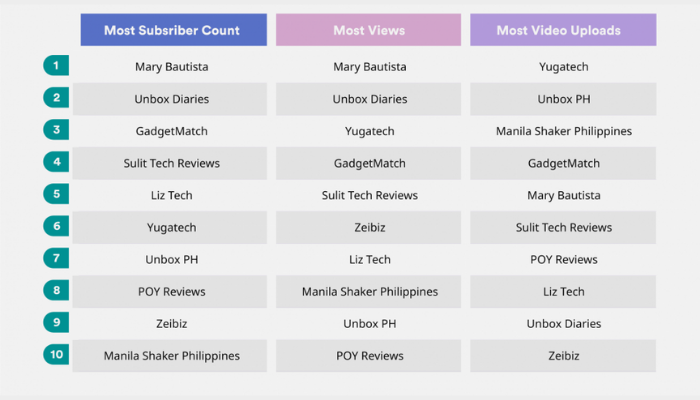 Despite the high earnings these YouTubers get, new regulations by YouTube may change their earnings, as the company announced that any amount earned from US viewers through Youtube Premium, ad views, Super Chat, Super Stickers, and Channel membership will now be taxable. Creators may be taxable up to 24% of their total earnings if they aren't able to submit their tax information to AdSense before May 31, 2021.
"That said, Filipino tech vloggers may not be as affected, especially for the individuals that review in the Filipino language. However, this doesn't discount their Filipino-American audience. With this new rule in place, we will have to wait and see how much this will affect the country's tech vloggers," the company added.
The survey was conducted with manual shortlisting done by Nox Influncer, and data is collected based on the channel's analytics shown on the metric platform SocialBlade. Rates are determined based on a low click-per-minute (CPM) value ($0.25 USD) and a high CPM value ($4.00 USD), numbers that were found to be common from their partners, and multiply them by the number of views the channel gets per day.