New Delhi, India – India's small businesses are reportedly the most innovative in the Asia-Pacific region, for the second consecutive year, according to a survey by a professional accounting body, CPA Australia. Combined with a very strong domestic economy, this is expected to make Indian small businesses one of the Asia-Pacific's top performers in 2022.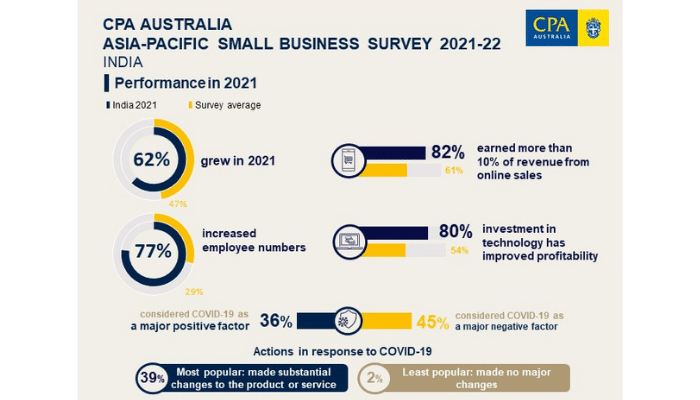 Sixty-two per cent of Indian small businesses reportedly started growing last year, with 46 per cent experiencing very strong growth – the highest result of the markets surveyed. As a result of this, 77 per cent of respondents said that they had hired more employees, outperforming all other markets.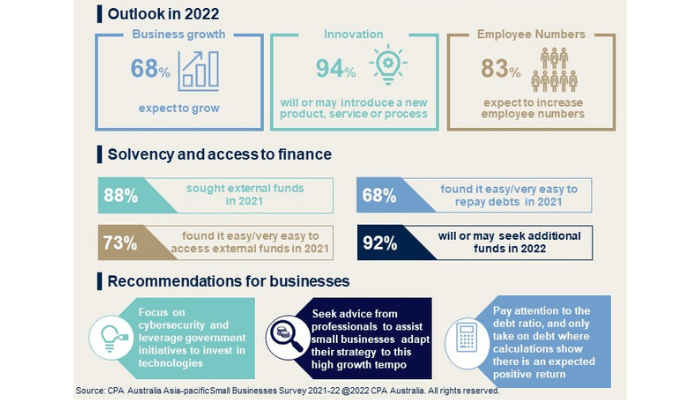 India's small businesses are likely to be strong creators of new jobs this year, with 83 per cent expecting to increase employee numbers, ranking first among all markets. Sixty-eight per cent of respondents forecast their small business will grow this year.
Leslie Leow, general manager – Emerging Markets, CPA Australia said, "The survey results confirm that Indian small businesses are very ambitious. Despite the pandemic, most undertook actions such as making substantial changes to the product or service and made investments associated with high growth businesses.
Leow mentioned that India's small businesses take the crown as the most innovative in the region with ninety-four per cent will introduce a new product, process or service this year, surpassing all other markets surveyed for the second year in a row.
India has a strong and competitive local economy, growing access to skilled workers and government policies such as the recently signed India-UK Global Innovation Partnership is anticipated to trigger a golden era of innovation for the sector according to Leow.
Reflecting their strong innovative culture, Indian small businesses are investing in technology with a very high success rate. Of local businesses that invested in technology last year, 80 per cent reported that such investment had already improved their profitability, well above the survey average of 54 per cent.
To support their innovations, India's small businesses were the most likely to access external finance for business growth last year, and are the second most likely to expect accessing finance for growth this year. Financing this growth shouldn't be difficult with 69 per cent expecting "easy" or "very easy" access to external finance this year, the highest result of the markets surveyed.
India's small businesses are also one of the leaders in selling online, with 83 per cent generating more than 10 per cent of their revenue through that channel. Related to that, they are also one of the leaders in receiving payment through new payment technologies such as PayTM and PhonePe.
Indian small businesses were the most likely to have sought advice from IT consultants (49 per cent), business/management consultants (40 per cent) and accountants (35 per cent). Seeking external advice is a characteristic of high-growth businesses as professional advisers can guide small businesses through challenges and help them take advantage of opportunities.
Leow said, "Policy measures such as the Special Credit Linked Capital Subsidy Scheme are likely to accelerate technology adoption and meet strong demand for external finance. Indian small businesses should make full use of these government initiatives to expand and innovate, however, some may wish to consider whether they are striking the right balance between short-term growth and sustainable development."