Sydney, Australia – The Garvan Institute of Medical Research has teamed up with advertising agency BWM dentsu to launch a new campaign highlighting the importance of genomics research and raising awareness and funding for the institute's ongoing research and development.
The campaign, titled 'Diseases Dilemma', puts Australians in a conflicting position of trying to choose who to donate to: a young mother with pancreatic cancer or a retired musician with Parkinson's disease, as well as the choice between a teacher with a kidney condition or the student with immune disease.
The campaign was launched to give Australians a wide awareness that thousands of disease-related charities in Australia exist, yet unless one has a personal connection to a specific cause, donation causes fall into deaf ears.
Furthermore, this campaign's 'impossible choices' are brought to life as portrait pairings of real people living with different diseases, each execution posing its own unique dilemma that challenges people to think, interact and ultimately donate to Garvan Institute's ongoing genomics research, which is directed by its microsite bearing the same name of the campaign.
"We are incredibly grateful to our 12 heroes, the men and women living with disease, who shared their personal stories in such a raw and powerful way. We know the power of medical research to change lives – we see it. It's a privilege for the Garvan Institute to be able to share these stories and really articulate the hope that medical research can provide," said Mara-Jean Tilley, director at the Garvan Research Foundation.
For Oskar Westerdal and Jon Foye, creative directors at BWM dentsu, the campaign highlighted the personal conflict on how impossible it is to support one cause over the other.
"Bringing these stories to life has been emotional, humbling and incredibly inspiring, and we are so grateful for the support of our director-photographer Simon Harsent, the Pool Collective and all our production partners who've made it all happen," both stated.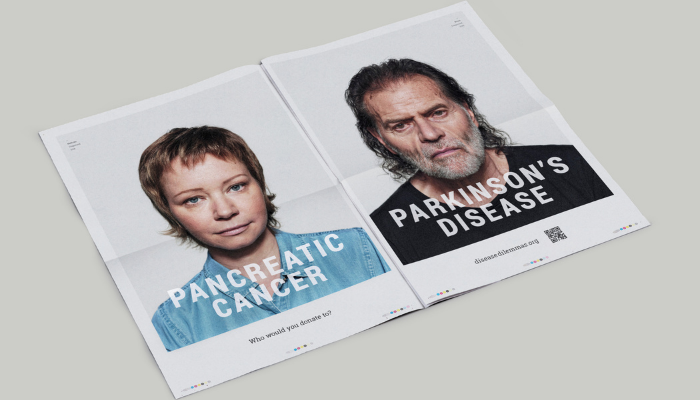 With the launch of the 'Diseases Dilemma' campaign, many agencies sprung into action and helped in promoting the campaign through pro bono support. The campaign has since then seen support from creative agencies Fin, Rumble Studies and Bopper, as well as agencies from the dentsu network including Isobar, Haystac, dentsu Amplifi and Carat.
For Marcus Tesoriero, ECD at BWM dentsu, the variety of formats in the campaign rollouts is due to charity overload, which is a real challenge for the Australian public.
"In addition to screen exposure, the mass of media placements, that have been secured through dentsu media and our generous partners, have allowed us to physically impose disease dilemmas in busy public spaces, train stations and even sports stadiums – capturing people's attention in a big way, showing how one donation gives to all.," Tesoriero stated.
The 'Diseases Dilemma' campaign has been in full swing since March 8, and has been promoted across print media, TV, radio, digital, OOH, cinema and takeovers in train stations and a sports stadium.