Jakarta, Indonesia – Burger King Indonesia has launched a social campaign called #SunyiBersuara or "Voice of The Silent" which puts focus into inclusivity and equality of the workforce, especially for the deaf and mute community.
The campaign starts off with an "open letter" to food chains, encouraging them to hire differently-abled people in their establishments. In retrospect with today's commemoration of the International Day of Persons with Disabilities, Burger King Indonesia has stated that they have hired more than 100 deaf and mute people across franchises in Bali, Makassar, and Jakarta, and encouraging others to follow suit.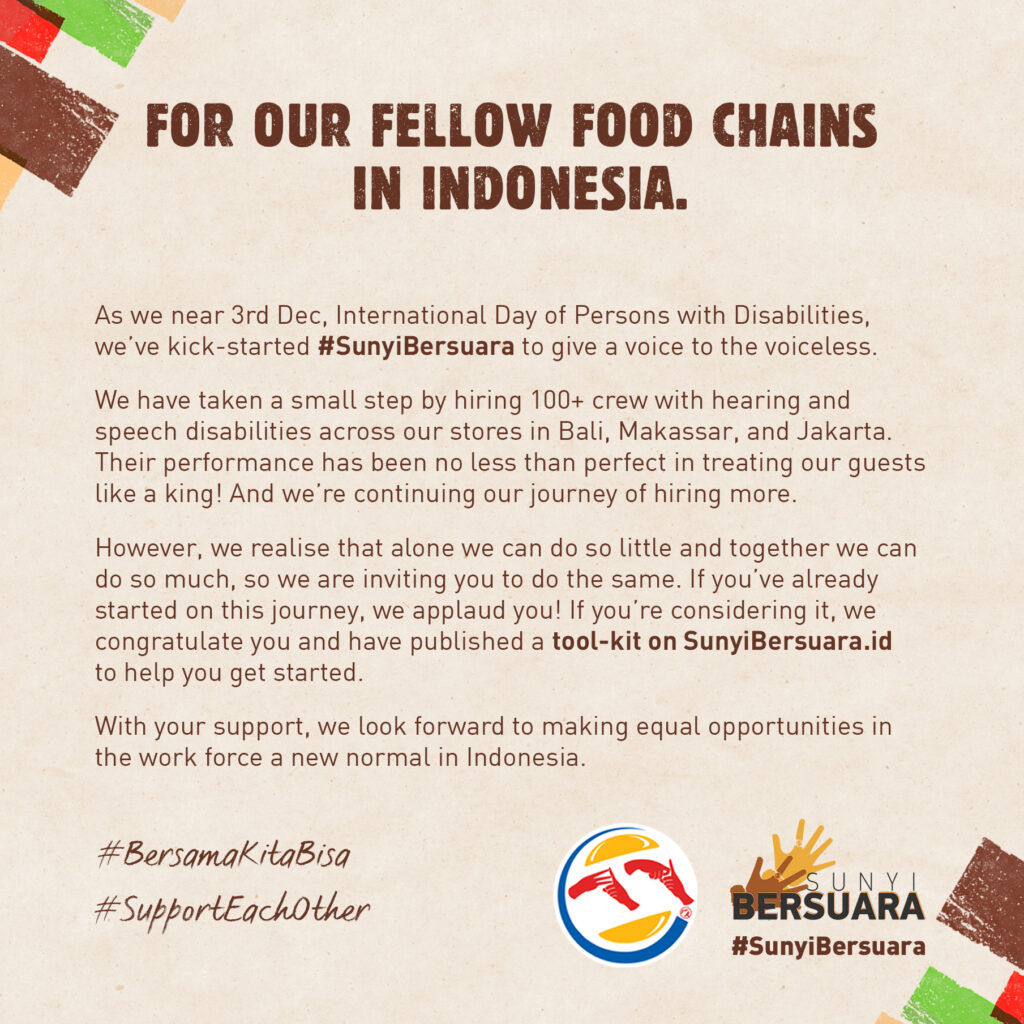 "We started the hiring process towards the end of 2018 – it required us to build employment and training procedures from scratch, and we've learned a lot along the way. We understand that businesses may have several considerations before taking on this journey, as was the case with us initially" said Frida Marpaung, head of HR & CSR at Burger King Indonesia.
Furthermore, Burger King Indonesia is expounding the campaign by releasing an online tool-kit to give companies guidance on hiring persons with disability, understanding their needs, and reaching out to relevant NGOs and other stakeholder parties that will help with the training and supporting the differently-abled community.
"As we hired more crew members with disabilities in our restaurants, we realized it was us who was missing out on such amazing talent all this while," says Vaibhav Punj CEO of Burger King Indonesia.
Punj added, "In a guest satisfaction survey, we found that our special stores performed significantly better. Our intention of reaching out to companies with an Open Letter and publishing a Tool-Kit is to get them started on their special journey".
To further encourage companies on fostering inclusivity, Burger King Indonesia has also published a video campaign, which follows the story of Debby, who communicates using Bahasa Indonesia Sign Language, and narrates how she goes on with her duties as a franchise employee, specifically as a counter keeper.
The franchise has also made their company design assets more accessible such as posters that instruct customers how to place their order in sign language or simpler steps, company logos and slogans translated into sign language, and a chart for the local version of their sign language.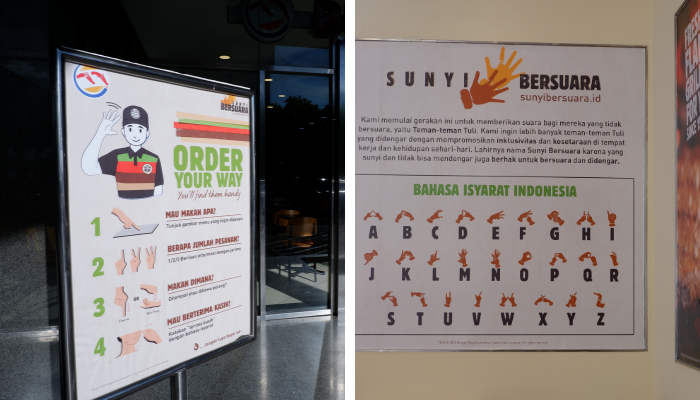 "As we transition to a new normal, we're looking to make the hiring of persons with disabilities in the workforce a habit and we're seeking the support of our F&B partners across Indonesia so that together we can make a big impact," Punj added.
Burger King is a key member of the International Labor Organization's (ILO) International Businesses Disability Network (IBDN), which supports social initiatives in favor of workplace equality for differently-abled people.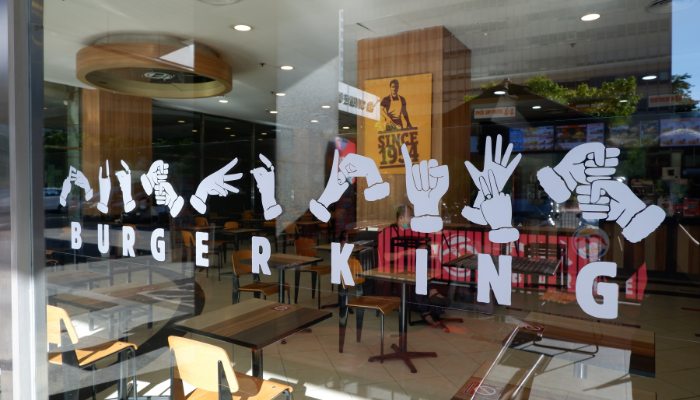 "Building a better future and inclusive society depends on our actions today. Indonesia business and disability network are a group of like-minded companies that promote the employment of workers with disabilities," Kazutoshi Chatani, employment specialist at ILO Jakarta, stated.