Manila, Philippines – Despite the majority of Filipino small businesses successfully deploying digital finance gateways, access to external finance, on the other hand, may hamper their business growth, new survey from professional accounting body CPA Australia shows.
According to the report., cash flow difficulties are having a negative effect on some Filipino small businesses as 64% of respondents sought external funds last year; with 43% seeking funds for business growth, and 32% for survival.
However, only 13% of respondents found accessing external finance easy or very easy, the lowest of the markets surveyed. This may explain why respondents mainly sought funds from friends or family (21%) or personal resources (21%), compared to 15% from a bank. Only 16% of Filipino small businesses expect accessing external finance to be easy or very easy in 2021, which is lower than the survey average of 28%.
Part of this issue can be attributed to COVID-19 restrictions, with more than half (58%) of Filipino respondents reported being negatively impacted by COVID-19. However, 46% say they have already recovered or expect to recover in 2021, while 62% of small businesses grew in 2020.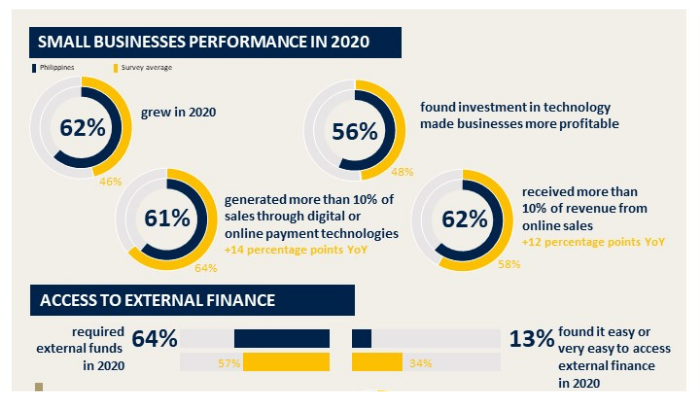 Filipino small businesses made greater use of digital technologies in 2020 as the pandemic accelerated the use of e-commerce. Around 27% of Filipino small businesses reported that they began or increased their focus on online sales in response to COVID-19.
Meanwhile, 61% of respondents received more than 10% of sales from digital or online payment technologies such as GCash, DragonPay, and PesoPay, up from 47% in 2019. About 62% of small businesses received more than 1% of their revenue from online sales, up from 50% in 2019.
According to Mark Chau, regional general manager of business development international at CPA Australia, dynamism among Filipino small businesses should help drive an economic rebound this year as restrictions are gradually eased and global economic activity returns to normal.
"The survey shows that small businesses in the Philippines are eager to innovate and engage with customers through social media. A vibrant and youthful workforce together with growing domestic demand supported the sector in 2020," Chaus stated.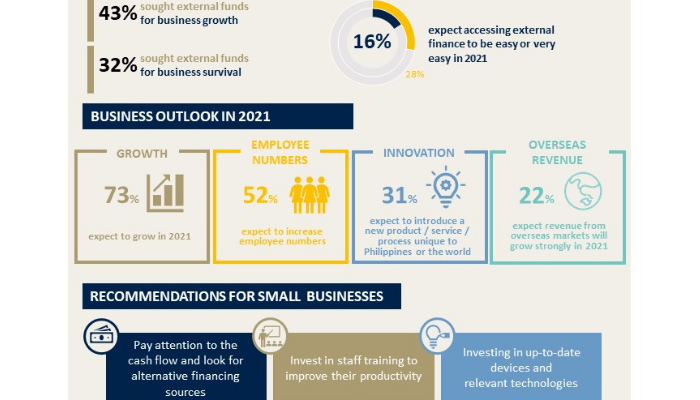 About 73% of Filipino small businesses expect to grow in 2021, with 52% intending to increase employees. 22% anticipate that revenue from overseas markets will grow strongly, while 31% say they will introduce a new product, process or service to the local or overseas markets, the second highest of the markets surveyed.
"Difficulties in accessing external finance may hinder business plans to hire more employees, invest in technology or expand to new markets. Small businesses in the Philippines should consider seeking professional advice to maximize their success in obtaining external finance," Chau added.