Hong Kong – 7-Eleven has always been known for running attractive redemption programs that offer appealing collectibles, however, the convenience store chain in Hong Kong has decided to switch things up from its usual loyalty programs with the launch of four snoopy concept stores in Hong Kong and Macau.
The concept stores are a follow-through of the brand's current campaign in celebration of Snoopy's 70th birthday, called "Happiness is…", which is a catchphrase from the famous Peanuts cartoon strip featuring Snoopy and his friends. Initially, the brand has partnered with Japanese lifestyle fashion brand Niko to roll out a series of Snoopy eco bags.
7-Eleven said that with the opening of the concept stores, they wanted to do something that does not simply reward customers for their loyalty, but a platform that aims to increase brand equity and authentically engage customers in a fun and exciting way.
A hub of three stores in the high traffic district of Mongkok and one store in Macau has been chosen for the transformation. The brand dubs the project as creating a "Snoopy town."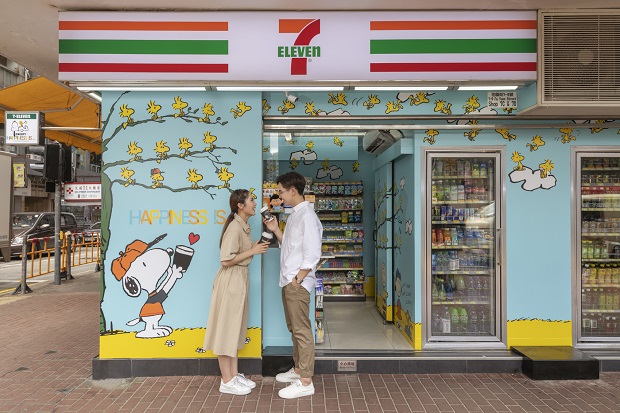 Stores were painted with Peanuts characters from top to bottom. Special Snoopy touches have been added inside and outside the store such as in the shopfront, category signage, chiller and freezer doors, and in the ceiling. Item shelving has also been transformed to look like Snoopy's iconic red doghouse and a gondola end display of a jumbo Snoopy figure driving a bright yellow school bus has been installed as well.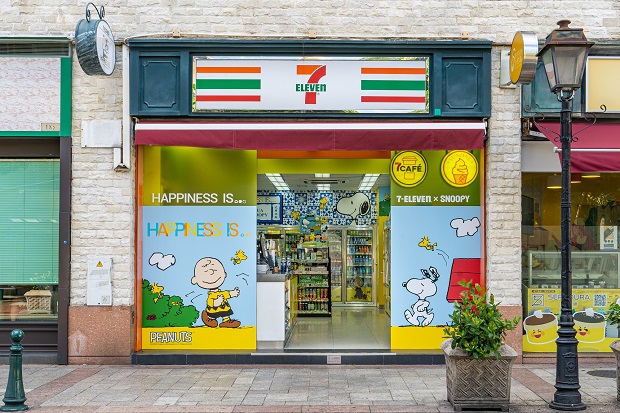 Each store decoration will bear a special theme to represent a particular concept under the umbrella of the "Happiness is…" platform. One store would show the theme "friendship and togetherness," another "sharing," with the other two to carry the theme "more hellos" and " a day out."
The company said in a press statement, "One of the team's primary objectives was to strengthen the brand association between 7-Eleven and the Peanuts franchise in a fun and engaging way."
"The Snoopy concept stores are a successful example of building on an already popular market promotion to give customers a fun and exciting store experience. The introduction of the concept stores elevates the redemption program to another level, turning it into a platform to authentically connect with customers and reshape how they think and feel about 7-Eleven as a brand," added the company.
In addition to the store visuals, team members inside the concept store will be wearing an exclusive Snoopy x 7-Eleven t-shirt featuring the iconic Charlie Brown chevron stripe.
7-Eleven will also be offering exclusive Peanuts merchandise on one of its stores such as pet products and lunchboxes, while the Peanuts theme will also be seen gracing the stores' signature products such as Slurpees, Sundae, 7Café coffee and Hot Shot.