Singapore – As kids step into vacation mode, Changi Airport in Singapore is making the most out of the holidays by bringing Snoopy and friends to kids through an exciting and one-of-a-kind snow house. Winter arrives early at Changi Airport with a double-storey snow house at Terminal 3 (T3) where guests can take snow luge rides, zip down a snow slide, dig mini trenches with snow excavators and watch snowfall with an enchanting light and sound show.
Opening from 27 May to 11 July, the snow house is filled with recreational activities that let kids recreate winter memories. For one, the peanuts-themed destination comes with a mini snow slide that is complete with a snow luge. The house also features a snow digger site where guests can dig mini snow trenches.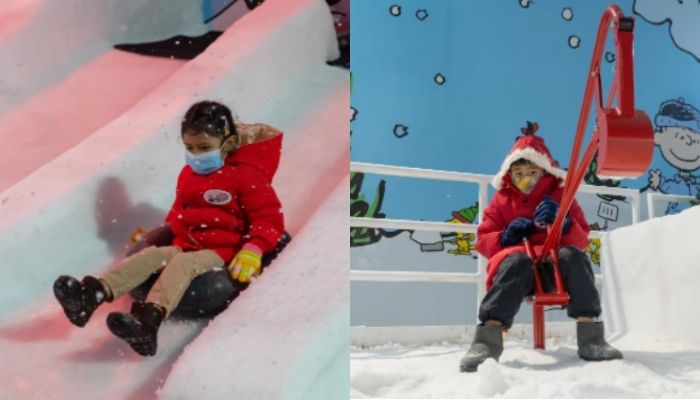 Moreover, guests can experience sub-zero temperatures at the snow pit and have a "magical time" watching snow float down the 7-metres-tall Peanuts Snow Hangout in a 1 to 2-minutes enchanting light and sound show.
One of the main attractions is the life-sized ice sculpture of Charlie Brown, hand-carved by local artist Jeffrey Ng, who has won numerous awards across his over 30 years of experience sculpting ice worldwide.
Phau Hui Hoon, GM of Changi Airport Group for Landside Concessions, said, "Changi Airport is always on the lookout to delight our visitors and travellers in novel ways, whether it is through curating new activities and experiences or bringing in new retail and dining brands. This June, Changi welcomes the well-loved Charlie Brown and Peanuts gang to Changi Airport for the first time. The multiple facets of Charlie Brown's character have resonated with fans over several decades and we also see this as a good chance for parents to reminisce their childhood memories with their children."
Five Peanuts-themed photo spots are, in fact, situated across T3 including a 5-metres-tall topiary featuring Snoopy and his best pal Woodstock on a large-moving skateboard. According to the airport, the massive 350kg structure is made of over 2,500 hydrangeas and pom poms that took over two months to put together.
Those that are interested to experience the snow house can book their slots on the iChangi app from 20 May 2022. Peanuts Snow Hangout runs daily from 11 am to 10 pm from 27 May – 26 June, 1-3 July, and 8-11 July 2022.
Aside from the new snow house, the airport revealed that it will also be launching 3 new F&B destinations in June; namely Husk Nasi Lemak, Matchaya, and Flash Coffee.