Manila, Philippines – Gen Zs are now growing up and are now fully demonstrating to the world their unique needs and desires. Dubbed as the most digital-savvy cohort to date, Twitter, one of the go-to platforms of the said group, has released its own findings on how the generation is using the platform and the implications of each to their social inclinations and consumer behavior.
According to Twitter's data for Q1 2021, 61% of the Gen Z audience on Twitter use the platform on a daily basis. Within their conversations on the platform, Gen Zs' passions are as diverse as they can get where across different topics, there is almost an equal percentage of Gen Z users conversing around them such as gaming and tech with 63%, food and beauty with 61%, and music with 60%.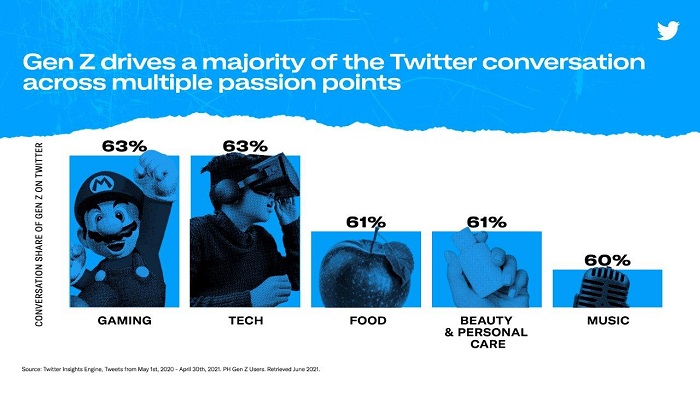 This isn't surprising as according to the same data, Gen Zs see themselves as 'open-minded' with 81% describing themselves as such. On top of pop culture, Gen Zs also show great interest and concern towards news at large, where 50% use Twitter to read news stories to be up to speed with current events.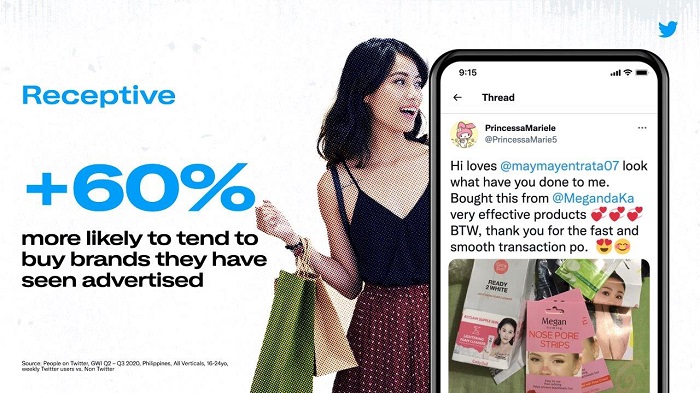 In terms of consumer behavior, Twitter has become a source of finding out about products and brands, where Gen Zs are shown to more likely buy brands they have seen advertised on Twitter with 60%, based on the platform's data for Q2-Q3 in 2020.
Chandan Deep, Twitter's head of emerging business for Southeast Asia, said that there's no better way to understand the Gen Z mindset than to delve into their world on Twitter.
"Twitter allows Gen Zs to freely express themselves, connect with communities, and at the same time, empower them to pursue and champion their values, interests, and passions," said Deep.
"Gen Zs have always been active on Twitter, but there are still plenty of things to learn and discover about them because their interests are so diverse. We see a trend wherein Gen Zs rule conversations and are active in engaging with brands especially if it gravitates towards the things that matter to them," added Deep.