If you know your customers so well, then why do you keep treating them like strangers? It's a conundrum APAC marketers, brands, and retailers face every day – and a challenge they are desperate to solve. Let us deep dive into the economics of 'messy data', and how to unlock the value of personalised marketing efforts through the art of identity resolution.
In its simplest form, fragmented customer data is muddling marketing efforts to get a clear view of who customers actually are. Common critical marketing mistakes are sending customers promotional emails for products they already own, blasting them with ads for clothing they don't like, or placing them on hold for 45 minutes as a customer service representative tracks down their details when they want to return something.
And the impact to the bottom line is a lot higher than you may think – to the tune of AU$16 billion, in some cases. Meanwhile, according to the global Zendesk Customer Experience (CX) Trends Report 2022, nearly 70% of APAC consumers feel as though customer service is an afterthought for businesses. On top of this, 94% say they are willing to spend more with companies who personalise the customer service experience, and 71% reveal they would switch to a competitor after one bad customer service experience. 
Unlocking the value of your data with identity resolution
ID resolution is the process of connecting and matching different data points across multiple devices and channels to form a unified view of a single customer, allowing brands to connect the dots between fragmented data to form a complete picture of an actual person.
The goal of ID resolution is to identify the same individual within and across all data sources that contain customer information. Simple enough. But why, then, is it such a tough nut for brands to crack? Because a truly complete and up-to-date view of the customer must combine an individual's transactions from multiple sources — point-of-sale, e-commerce, email interactions, loyalty data, mobile app engagement and more. It also has to include historical data as well as new data that are produced every day when customers interact with a brand. The scale and scattered nature of it all has kept effective ID resolution out of reach for most brands.
Consider this incredibly common scenario: your brand just received a new online buyer called Victoria. You send her your welcome series. At the same time, another in-store customer called Vicky hasn't purchased from you in four months, so you send her discounts persuading her to shop with you again. Here's the kicker — Victoria and Vicky are the same person.
Creating a new era of customer success
The benefits of getting ID resolution right are the cornerstone to any organisation's success. With an accurate customer data foundation, all departments across the company have the same access to customer information in real time. This access ensures the customer will have a seamless journey at every touchpoint, whether that's in-store, online or with customer service.
Even more, quality ID resolution prepares organisations for a cookie-less future by building a hearty, privacy-compliant, first-party data set, providing a buffer against increasingly strict privacy policies that limit the use of third-party data. With deeper customer relationships, brands can speak to their customers on the individual level, boosting customer loyalty and increasing lifetime value.
ID resolution improves marketing performance and ROI too. Smart segmentation allows brands to create highly targeted campaigns for specific customer segments, cutting down on redundancies. This gives brands the ability to react in real-time and effectively allocate budgets, cutting down on expenses.
First-class ID resolution software should be powered by machine learning (ML). With ML, match rates and accuracy improve over time even when unique identifiers are incomplete, inconsistent or unavailable. At the same time, ML-based ID resolution uses probabilistic data linking, allowing human-like logic to catch inconsistencies that more rigid matching schemas couldn't process.
It's also key for your ID resolution software to be transparent, providing a clear idea of the process. This builds trust and confidence versus 'black-box' processes that don't show how an answer came about. ID resolution software should also provide a stable customer ID and allow for enterprise scalability – handling and resolving massive amounts of customer identities quickly and cost-effectively, regardless of the size of customer data volume.
Even more, the best solutions are flexible, allowing for simple updates and management and not 'one size fits all' to ensure they meet your unique business needs. Above all, expertise should be at its core, providing you with an implementation and support team with deep experience and know-how.
The right ID resolution platform enables brands and organisations to take control of their customer data, systematically improve customer relationships, foster brand loyalty and win.
3 reasons true ID resolution is solid gold for your brand:
A great ID resolution strategy takes 'dirty data' and turns it into value — forget about 'garbage in, garbage out'. With true ID resolution, it's 'garbage in, gold out'.
Most marketing activation channels charge by volume, so having bad ID resolution wastes money in the form of duplicate marketing.
Exceedingly simple ID resolution makes it impossible to accurately understand who the most valuable customers are, leading to bad customer experiences, incorrect analytics and inaccurate personalisation.
The marketing technology landscape is cluttered with SaaS offerings that overly specialise in a subsection of data. Adopt a strategy that can handle all your data, otherwise, it will just reinforce silos and not truly solve the problem.
Find out more by downloading Amperity's Identity Resolution: Connecting the Dots and Understanding Your Customer guide here.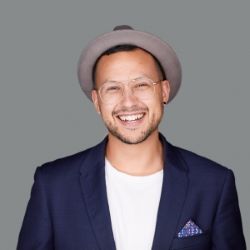 This article is written by Billy Loizou, area vice president of Amperity.
The insight is published as part of MARKETECH APAC's thought leadership series under What's NEXT 2023. What's NEXT 2023 is a multi-platform industry initiative which features marketing and industry leaders in APAC sharing their marketing insights and predictions for the upcoming year.
If you are a marketing leader and have insights that you'd like to share on upcoming trends and practices in marketing, please reach out to [email protected] for an opportunity to be part of the series.