Manila, Philippines – Local telecommunications company PLDT and banking brand BDO are leading the most valuable brand's list in the Philippines, according to the latest ranking from brand valuation consultancy Brand Finance.
According to the list, PLDT is the most valuable brand in the Philippines in the rankings this year, powered by a 2% increase in brand value to US$2.6b. PLDT's brand performance contributed to the brand capturing a higher market share of the fiber industry, which led to a 45% improvement in year on-year revenue.
Meanwhile, BDO led the charge as the most valuable banking brand (brand value up 49% to US$2.2b), followed by Bank of the Philippine Islands (brand value up 8% to US$1.3b) and Metrobank (brand value up by 4% to US$1.1b).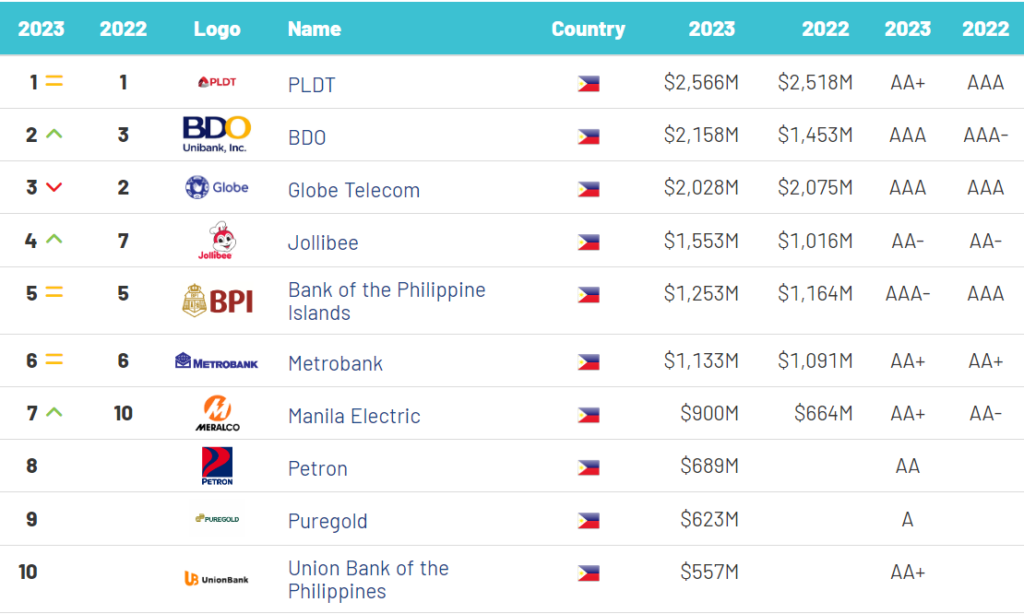 The banking sector also saw five new entrants make our rankings this year – Union Bank of the Philippines (brand value at US$557.28b), Security Bank (brand value at US$331.44m), Chinabank (brand value at US$278.29m), RCBC (brand value at US$246.02m) and Philippine National Bank (brand value at US$234.69m).
Other leading brands include telco Globe (US$2.0b brand value), fast food chain Jollibee (US$1.6b brand value), electric provider Meralco (US$0.9b brand value), gas corporation Petron (US$0.7b brand value), and retail chain Puregold (US$0.6b brand value).
Meanwhile, Jollibee is the fastest-growing brand in the rankings, recording a rise in brand value by 53% to US$1.6 billion. It leaped three positions to 4th place while retaining a corresponding brand strength rating of AA-. Consequently, its financial performance improved, coupled with greater consumer spending after the pandemic.
Alex Haigh, managing director for Asia-Pacific of Brand Finance, said, "This year, we would like to congratulate PLDT, Globe Telecom and Jollibee for topping Brand Finance's Top 20 Philippines brands rankings as our most valuable, strongest and fastest growing brand respectively. We also see success in the nation's banking sector, as banking brands' investments to digitalise and improve customer experience have resulted in brand value growth across all brands in the sector."