Shanghai, China – Restaurant company Yum China has announced the launch of a new plastic reduction initiative across its KFC and Pizza Hut branches in China, in response to new environmental regulations in the country.
The latest campaign is expected to reduce approximately 8,000 tons of non-degradable plastics annually starting from 2021, replacing traditional plastic packaging with paper straws, paper bags, and biodegradable plastic bags.
With KFC, the brand's campaign under the initiative is launched as the "Be Natural, Be You" sustainability campaign, raising consumers' awareness of environmental protection by encouraging sustainable practices. Beginning this year, KFC chains across China will stop using plastic straws and over 90% of KFC restaurants will be replacing disposable plastic cutlery with wooden cutlery. By 2025, it is expected that all plastic packaging and cutlery will be phased out across KFC restaurants in China.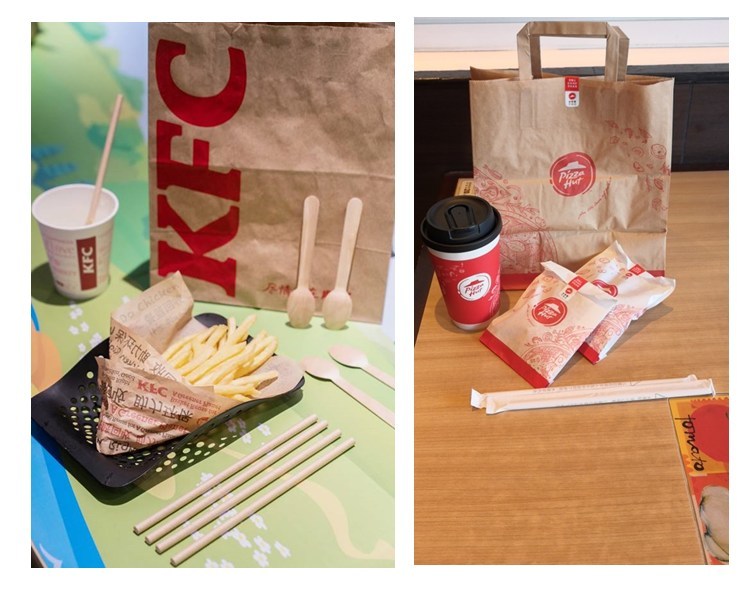 Meanwhile, Pizza Hut has already phased out the use of plastic straws across their branches in the country by the end of 2020, while over 70% of Pizza Hut restaurants across the country have replaced existing plastic bags with paper bags or biodegradable plastic bags. By 2022, Pizza Hut will be phasing out the use of plastic bags in the branches in China.
"The new plastic reduction initiatives reinforce our sustainability strategy to drive meaningful change through packaging innovation and reduction. In line with our long-term commitment of supporting economic, social and environmental development, we are committed to working with customers, partners, and all other stakeholders to promote a more sustainable future," said Joey Wat, CEO of Yum China.