Building and maintaining a healthy brand is a relentless and ever-evolving process. While online sales have seen steady growth in the past decade, the impacts of the pandemic have further accelerated the uptake of digital mediums. In particular, those organizations with a regional presence, things get even trickier as each individual Asian country has its own digital and social landscape; failure to understand these hyperlocal insights will eventually lead to failed strategies.
With this, Thailand-grown social media analyzing service Wisesight shares the 7 methodologies that they think marketers may leverage to enhance their regional game plans.
Wisesight believes that competition between foreign and local brands has never been as tight and fierce as it is now; and without studying the background and consumers' interest, it's hard to dive in and expect significant growth of revenue.
A common theme emerges between these 7 methodologies, that is, brands should simplify the analysis and management of regional initiatives with the help of social data.
Here's how marketers can do it:
1. Do a Regional Brand Health Check
A 'regional brand health check' will enable insights on the intricacies specific to your brand within each market, giving you direction on how your consumers think, and truly feel about your initiatives, and if they are on point for each country you have a presence in.
According to a study that was centered on a regional footwear brand's health for four countries – Malaysia, Thailand, Singapore, and Vietnam – the highest share of voice came from Thailand and Malaysia, with 36% and 34% respectively. Despite the fact that the Malaysian population size is lower compared to Thailand, the rate of consumer's voice is significantly high and similar for both countries, which implies a high affinity for the brand within the market and even a potential to be top of mind in Malaysia when employed with the right marketing strategies.
2. Run a Channel Analysis
Another methodology that enlightens on the mix of channels to use in different countries would be 'channel analysis.' This will help craft the right social media channel mix strategies to penetrate each APAC country. An example of this, is for a specific regional footwear brand, Malaysia has a higher concentration of consumer voice on Twitter by 54%. This study is critical as the channel mix varies by industry and audience types.
Other findings in the study of the four countries are that the most active users are in Thailand and Malaysia, followed by Singapore and Vietnam. Vietnam was relatively low across channels as the footwear brand had just penetrated into the market during the period of analysis. Other key takeaways a brand could get from this type of analysis especially in multilingual nations like Malaysia, Singapore, and India among others, is the concentration rate of dialects or languages commonly used by fans of a brand. Localization of content is needed to capture the attention and raise engagements and such analysis can help you decide to what degree you need to localize, and which languages specifically are more important to your audiences.
3. Carry a Sentiment Analysis
A 'Sentiment Analysis' helps to understand and cater to consumers as it's a necessity to satisfy their needs, resulting in having a positive impact and sentiments. Analyzing sentiments aids brands to identify key areas of focus to improve operationally, or product-wise, adjust their marketing plan and tweak their communications and social media efforts. This will help them resonate better with their audiences, ultimately improving overall brand net promoter scoring (NPS).
4. Micro-KOL identification – Organic influence
While appointing an agency to get influencers is a costly affair, many regional brands are turning to the Micro-KOLs as this segment of influencers is deemed more reliable and perhaps they're the way forward in some instances. However, identifying them is a challenge in itself. Wisesight's Micro-KOL identification methodology enables the brand to collaborate with organic fans of their brand, tapping into the holy grail of the marketing funnel "advocacies".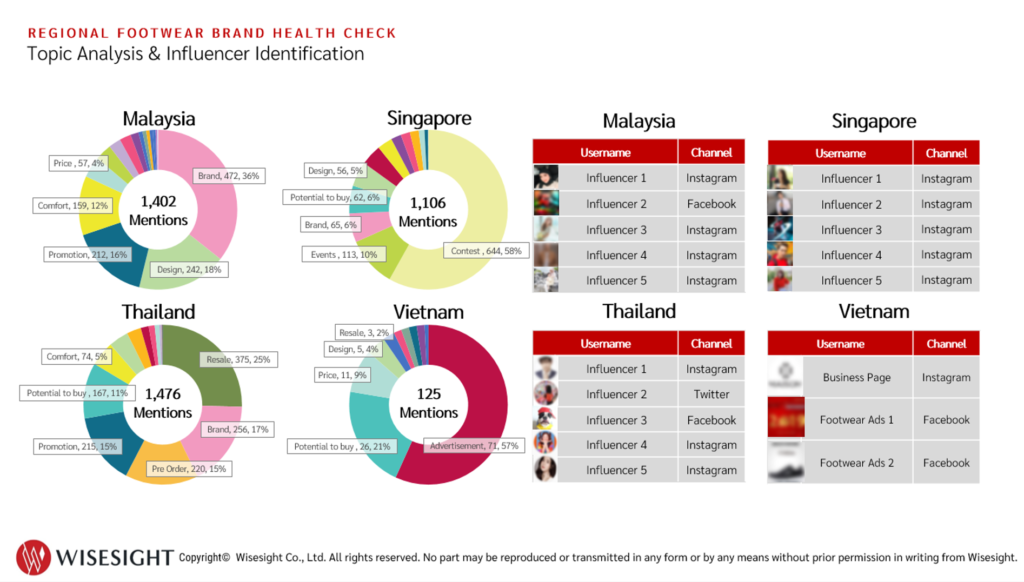 5. Dive into Product Analysis
Deep dive analysis specific to products alone will give learning on the key elements to highlight in different countries to attract consumers' attention. Based on the regional footwear brand's study findings, netizens were more brand-centric which indicated their customer's loyalty towards the brand.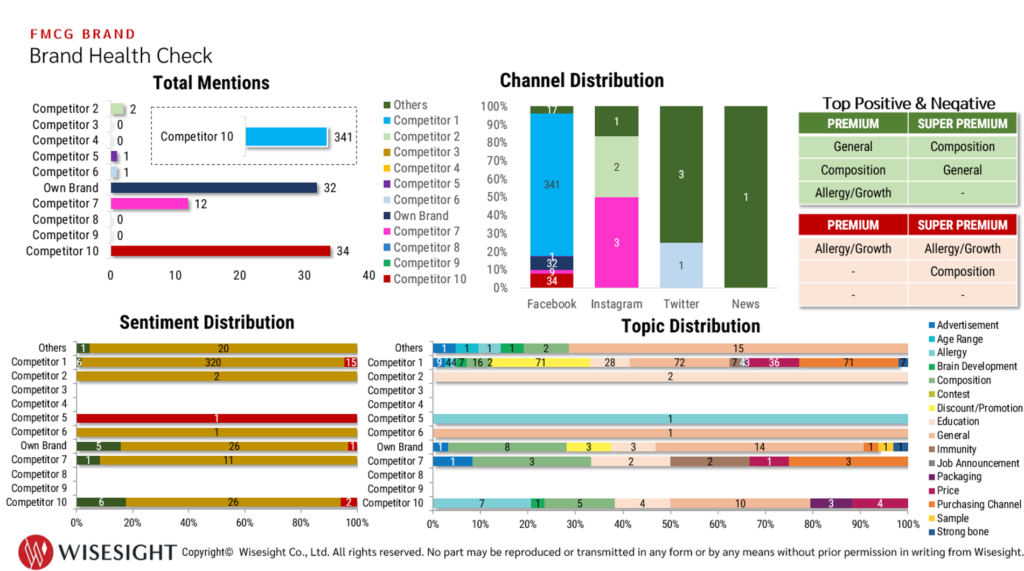 Consumers across the four countries perceive their footwear as comfortable. While Malaysia and Singapore both have positive impressions towards their designs, those in Thailand and Vietnam are more concerned about the authenticity of the shoes due to a penchant for reselling in these markets. With these insights, the marketer now has a better picture of how to position their key selling points in each country to resonate best with audiences.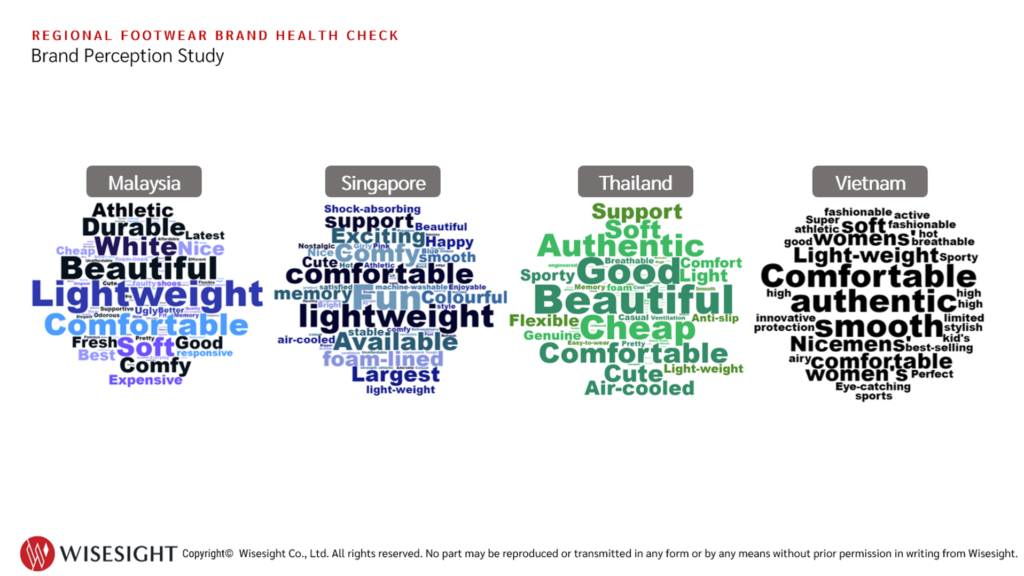 6. Endeavor in Regional Topic Analysis
Get into your customer's head; what are their main concerns and topics of interest? For context, a brand that ran the exact same content calendar across the region garnered varying topic preferences from audiences, the below chart illustrates how Singaporean consumers were contest driven, Malaysia were more brand-centric and Thais were keen on resales of the product from the Brand – an exactly similar marketing strategy but different reception.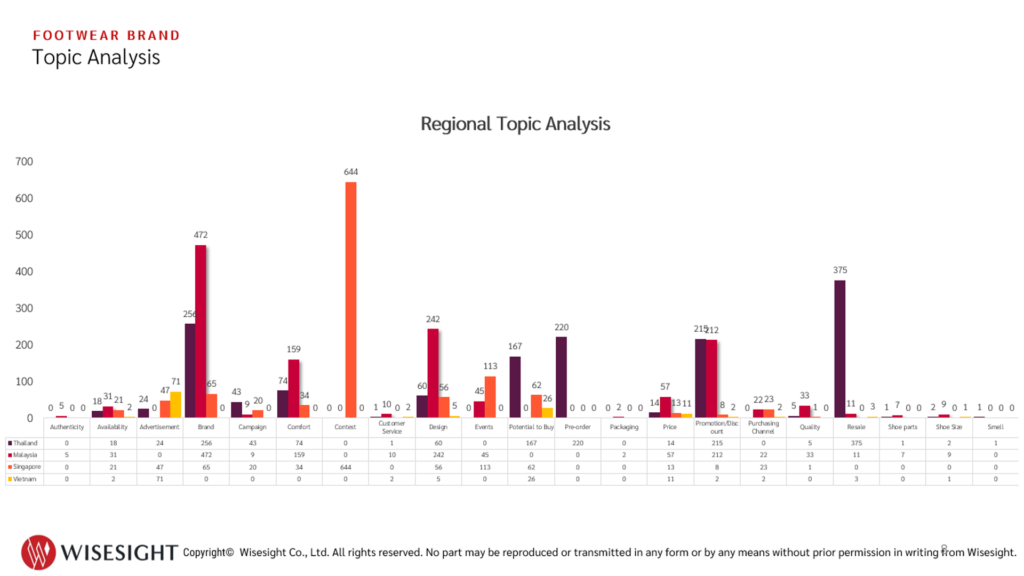 With analyst-supported research, brands can also study the topics from different parties to understand consumers' preferences from different segments. This will help brands in understanding the method to target different types of customers. A Wisesight case study for a regional hardline manufacturer during the height of the pandemic lockdowns, revealed both contractor and consumers' priorities were different. Contractors needed to adapt to sustain their business and to target different segments of customers and the end-user simply postponed all projects.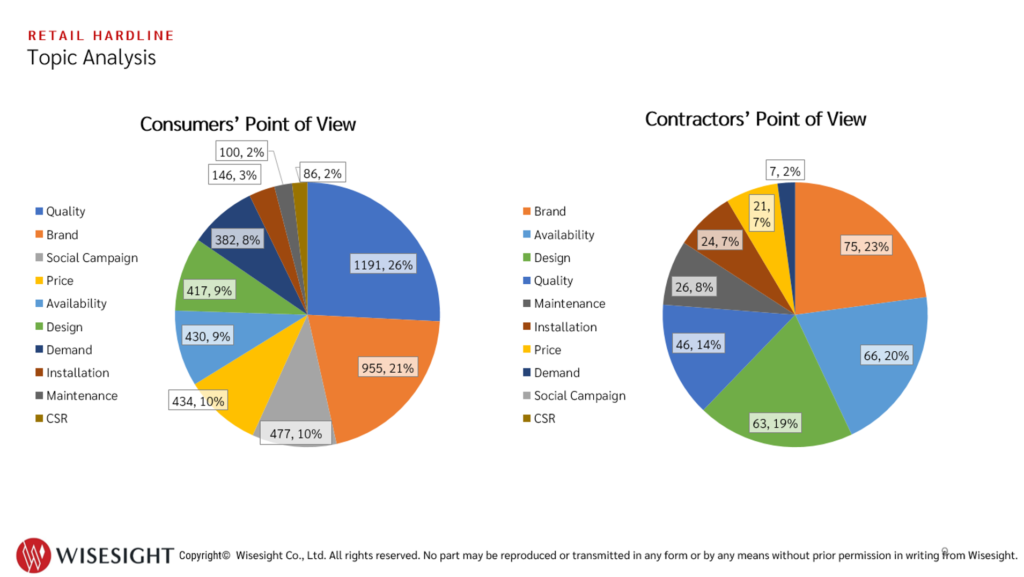 Overall, it shows that the end-users prioritized their experience and could wait to purchase the product, while contractors focused more on the supply chain of the products. The brand ultimately could plan what the end-user would need more of when the lockdowns were lifted and create more communication for contractors on the availability and methods to access their products during the lockdown.
7. Consider Content Performance Analysis
Inbuilt social performance insights can only get you so far. In this specific method of analysis, aside from learning from your own performance, a combination of competitors' performance will allow you to learn from their successful strategies and failures, continuously improving content, posting performance with the insights and tactical recommendations given by Wisesight analysts. In the below analysis, Brand 2 (UNIQLO) only has 0.001% of efficiency rate despite having the highest number of posts among all brands.
Clearly, the posts and interests between the brand and consumers do not match, resulting in having to do so much more to hit the engagement numbers. The goal should be to have a high-efficiency rate and gain high engagement too.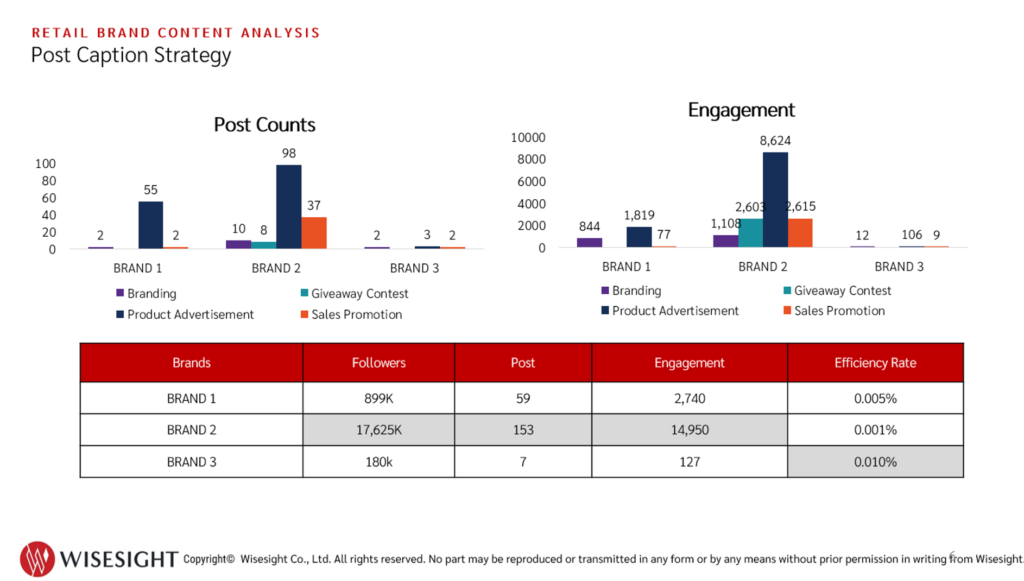 Applying these methodologies to analyze consumer's voice regionally amounts to improving visibility for marketers, streamlining marketing spend, and truly building active communities that serve as organic advocates for your organization. These methods will further help audit the performance of your appointed creative agencies, campaigns, social media content performance, and overall marketing strategies.