Jakarta, Indonesia – Amidst the observance of Ramadan, Indonesians have downloaded e-commerce apps more than any other category during the said time period, according to the latest data from data.ai.
According to the data, Indonesia's e-commerce app downloads took a 27% increase from the overall app downloads in Indonesia from April to May this year. This is followed by buy-now, pay later (BNPL) apps (9%), coupons and rewards (8%), and overall shopping (4%).
Shopee ranked first for breakout time spent in Indonesia, Malaysia and Singapore. In Indonesia, home-grown Tokopedia ranked second by breakout time spent. Tokopedia also saw strong growth in Malaysia during Ramadan, ranking fourth by breakout time spent.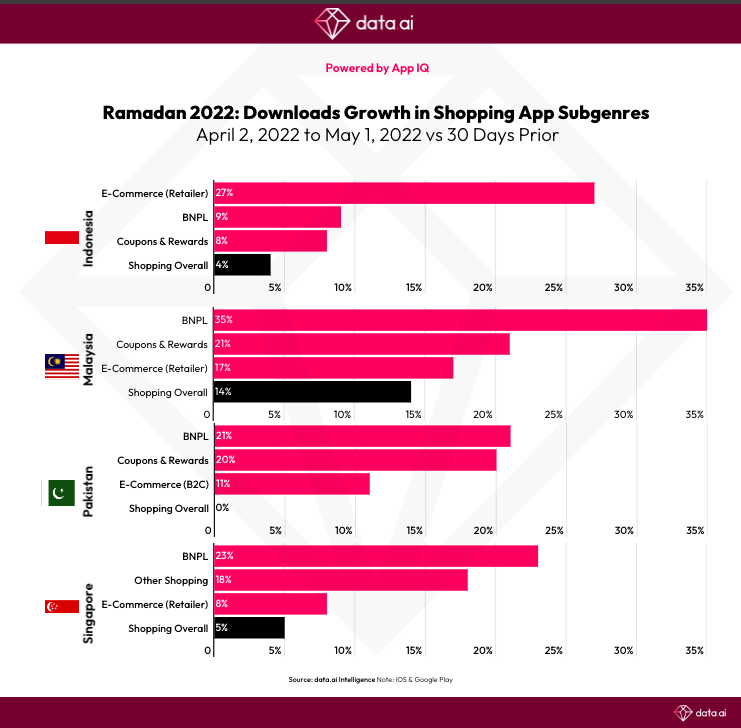 In terms of overall shopping, Shopee still ranks first in breakout downloads, followed by Bilibili and Alibaba. Other apps that ranked include Lazada in fourth, UNIQLO Indonesia in fifth, and Zalora in sixth.
"Shopee's increased share of advertiser impressions and share of creative impressions indicates this video ad was likely resonating with viewers and driving downloads. The ad was seen in 49 apps, with a high volume of games. The video ad also emphasised vouchers — appealing to the sale period," data.ai explained regarding the top ranking of Shopee.
Globally, consumers turned to mobile to engage during Ramadan, particularly for prayer. Downloads of the top 10 Quran apps grew 120% during Ramadan versus the 30 days prior. Time spent grew even faster at 135% — fueled by both a larger audience of mobile users and deeper per-user engagement. Average daily time spent per user in top Quran apps grew 55% to approach 20 minutes during the 30 day period.