Singapore – In order to aid shoppers in sifting through the multitude of items for their holiday haul, Amazon Singapore has launched its holiday gift guide. In a dedicated page within the site, Amazon compiled and laid out a roster of items according to different categories, such as to whom the shopper intends to give the gift to, gifts within a certain price range, and gifts by interests.
Shoppers are able to view a list of appropriate gifts for men, women, and teens, as well as for kids, babies, and even pets. For those who are price-conscious, Amazon has grouped items that are capped off at S$25, S$50, and S$100. 
Amazon has also enabled it for users to browse items according to their intended purpose this holiday, presenting consolidated selections for decorating, gift wrapping, arranging parties, as well as selections for toys, books, and beauty products.
Within the holiday shopping page in Amazon, there is also a mounted 'Holiday Toy Store,' which houses a curated list of Top 100 Toys and Top 100 Board Games.
Aside from the guide itself, Amazon has announced its early deals for the featured items. Up until 26 November, shoppers can enjoy from 15% to 50% discount across its product categories – baby products, beauty and health, toys, groceries including wine and spirits, as well as, home and kitchen items, electronics, and pet products.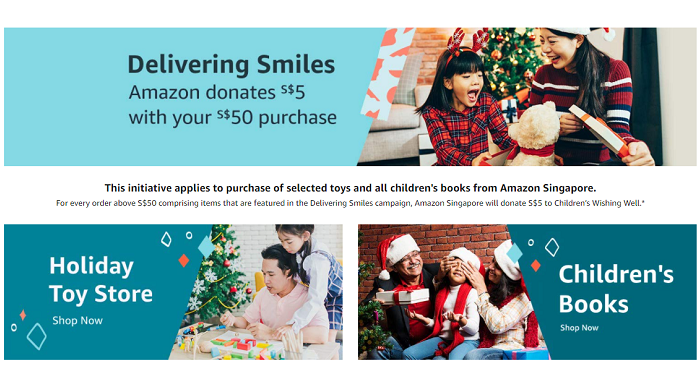 In fulfillment of a new partnership, shoppers are also given a chance to help underprivileged children, with Amazon pledging a donation of S$5 with every order above S$50 spent on products purchased from the non-profit organization Children's Wishing Well's gift guides. Amazon.sg said it will be donating a minimum of S$10,000 to the organization.