Singapore – Over the past 12 months, more than half of businesses in Singapore or 67% of them have used fintech in running their operations, and within this percentage, the top three forms of fintech used emerged to be mobile payments or digital wallets, robo-advisory or chatbots, and open banking APIs, according to a report by CPA Australia.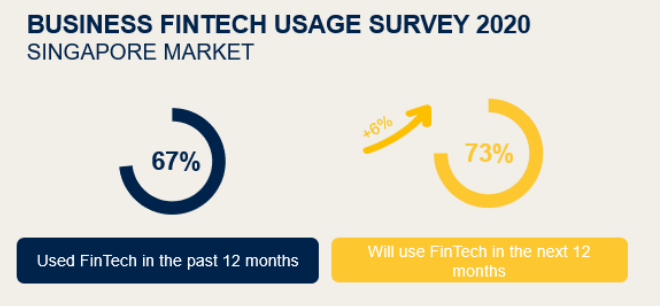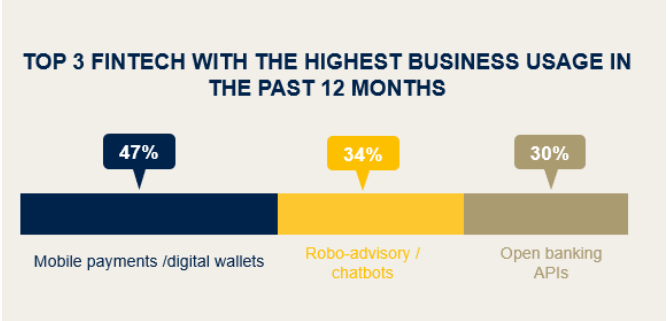 Mobile payments recorded the most adoption with 47% of businesses, followed by chatbots with 34%, while 30% said they have used open banking APIs.
Singapore has been widely known for being a top technology hub, and as the coronavirus started threatening safety, the government has further encouraged the use of fintech. In April, the Monetary Authority of Singapore (MAS) urged individuals and businesses to use digital finance services and e-payments to help contain physical contact.
Amid social distancing directives, more businesses have expressed desires to adopt fintech, with 73% expecting to use at least one fintech product or service in the next 12 months, with a third of them citing COVID-19 as a reason for further usage, to operate anew amid disruptions in operations.
The most boost in adoption is seen to come from the need to increase efficiency in doing business, with nearly 6 in 10 respondents, or 59.1%, identifying it as an important factor. Meanwhile, more than 4 in 10, or 43.6%, of businesses expect to use fintech to help them better understand and improve customer experience. 
The top three most used fintech are still the same ones seen to drive the adoption for the coming months. About 42.7% of businesses believe that they will use mobile payments the most, followed by robo-advisory and chatbots with 23.6% , and open banking APIs with 19.1%.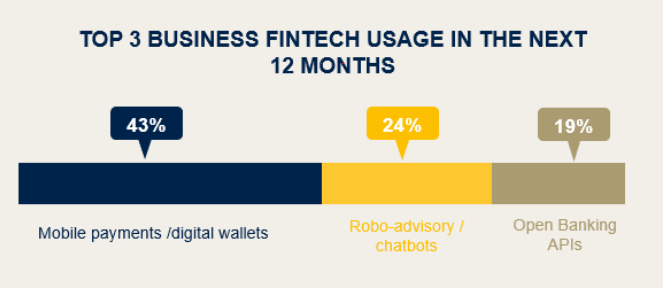 While the report revealed that a positive adoption of fintech is on the horizon, it also found certain factors that hinder businesses to jump in.
The top concern showed to be cybersecurity with 34% identifying it as a barrier, while a lack of fintech understanding and knowledge within the board and senior management was also a concern with 30%. Meanwhile, 26% simply did not consider fintech to be necessary for business.