The COVID pandemic has seen a plunge in the employment rate for most industries and according to the Philippines' statistics, the country's unemployment has risen to 17.7 percent in April.
Homegrown super-service app MyKuya which launched in 2018 has been since handing out opportunities for its would-be partners, but the ongoing retrenchments in businesses have further proven the app's value proposition.
MyKuya is a mobile-based application and technology platform which allows users to quickly hire trained partners to run jobs such as grocery delivery, personal shopping in malls, plumbing and carpentry works, and even on-demand tasks for small businesses.
These partners, called Kuyas and Ates (brother and sister), are able to become part of the on-call workers by signing up through the app, and going through just like any normal hiring process, that of with document requirements.
As of current, the app has signed up 10,000 partners, and they are nowhere near from stopping at that, as MyKuya is rallying to create 1 million job opportunities by 2022.
With this massive goal, how do then the company plans to reach out to prospective Kuyas and Ates?
MyKuya's Marketing and Communications Manager Gab Billones said that hyperlocalizaiton of content and simplification of narratives are some of its top strategies.
"One of the most effective strategies that we do is hyperlocaliczing our efforts, really targeting communities, condo associations, and different particular groups where interests of the majority, particularly the target market that we have are present in these online communities," Billones said.
"We also do simplifications. We're not just doing hyperlocalization, we also simplify the messaging, and the narrative of MyKuya, so it becomes more relatable to as many people as possible. We curate stories, particularly highlighting the activities that our partners do, and the kind of value that our customers actually find with MyKuya services. So those are the kinds of narratives that we actually highlight on our Facebook messaging, and we're still trying to reach out more and more communities, in preparation for our expansion activities as well," he added.
Presently, MyKuya has established online presence on the major social media channels of Facebook, Instagram, and Twitter. On Facebook, they present real-life testimonials of individuals who have already worked as partners for the app, integrating the promotional hashtag #MyKuyaMyHero.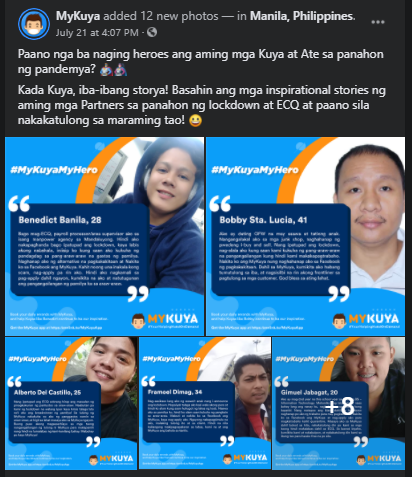 "How do our Kuya and Ate exemplify heroship during the pandemic? Each Kuya, a different story! Read on the inspirational stories of our partners in this time of lockdown and ECQ, and find out how they are able to help many people!" said one of the posts, followed by quote cards of partners, bearing their images and testimonies. (Translated in English)
In terms of the app's users, the super-service app has also responded to the hard times that the pandemic has thrusted many into, and has made service rates more wallet-friendly amid users' tightened budgets.
One thing that it has already done is to reduce the rates for their Pick-up & Drop service, lowering it from P150 per hour to P99 per hour within the MECQ period.
Reduced rates will also be seen on the app's services for their enterprise owner users such as BizHelper and MotoToday services. BizHelper is help in tasks like packing, sorting, and organizing, while MotoToday is for those that require motorcycle delivery or pick-ups. Under the MECQ, the lower minimum number of hours to avail of these services has been reduced from 6 hours to 4.
Enterprise owners are one of the main stakeholders of the app. As of today, it has over 100 SME users.
When we asked about their approach to business development, just like how they reach out to potential partners, MyKuya's Country Head Dennis Bunye said that they go for a personalized approach, even implementing an SME club.
"We reach out enterprise partners in terms of in-person, face to face conversations, and we also get referrals in terms of how we can gain access to certain communities, which we hope to serve as well in order to be able to provide more value to them," said Bunye.
"We are also having this what we call SME club, wherein we will make use of the spirit of community and provide value through not only giving advice and not just being salesy about it, but really sharing what we learned as we get to understand further the requirements of our SMEs right now," he added.