Kuala Lumpur, Malaysia – SUBPLACE, the newly launched subscription platform in Malaysia, has announced its #SUBportingTogether campaign, which will offer discounted subscription services for as low as RM1.
As a first of its kind, SUBPLACE just launched last December to offer an all-in-one marketplace for subscription-based purchases. With this new campaign, SUBPLACE aims to assert its "commitment to help Malaysians get through this difficult time."
The campaign will run from 1 February to 31 March 2021. Consumers will be able to subscribe to curated subscription boxes containing grocery products, daily necessities, and personal care products, among others, for a fraction of the price.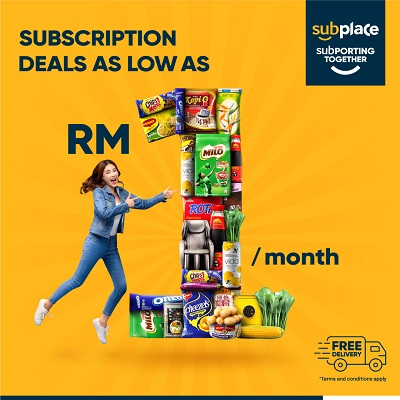 Its lowest RM1 subscription deal subscribes users to a vegetable box, an enormous slash from the original RM13.77. Users will also be able to avail discounts from its other curated consumer subscription boxes such as its 'Snack Pack' SUB Box, 'Mom's Favourite' SUB Box, and 'Cook Easy' SUB Box, which snips away about 20 % off the original fee.
SUBPLACE's CEO Mak Wai Hoong said the campaign aims to shine more light on the subscription model, believing that many people are still unfamiliar with it.
"Through this campaign, we hope to introduce consumers to the benefits of subscriptions, both in terms of convenience and cost savings," said Wai Hoong.
"We believe that the #SUBportingTogether initiative will benefit more than 100,000 people and help ease the economic pressure on consumers. It also tides businesses over these tough times with a stable recurring income," added Wai Hoong.
All subscriptions must be placed between the promo period. Participating SUBPLACE merchants include Meet The Chili, Japanese beverage company Dydo Drinco, hairdressing product Mase Group, massage product Itsu, POS system Smart POS and safe box maker Falcon.
All subscription boxes are offered on a free delivery, with the RM1 vegetable box to be availed by pick-up.
Aside from the current promo, SUBPLACE has also launched its top pick deals with a limited period discount. Consumers can subscribe to top pick products at up to 50% discounted price. Participating merchants include The Fresh Company, Jom Makan Place, Ogawa, GOODNITE, Kuvings, among others.