Asia Pacific – Social media conversations on shopping are expected to shift now that the way people purchase has changed once again with the ushering of the post-pandemic. This has been evident in social media listening company Digimind's latest report which revealed that within APAC, internauts have produced over 8 million online mentions of luxury brands in the year 2022.
We need not go too far on this occurring reality when the recent viral TikTok incident supercharged the conversation on 'luxury', where a Singapore-based Filipino teenager drew backlash for calling her first Charles & Keith bag purchase as 'luxury'.
At present, the interest of consumers in conversations on luxury shopping persists. The report by Digimind monitored the public posts of online users from four APAC countries – Indonesia, Malaysia, Singapore, Thailand, and the Philippines – that mentioned the top 10 luxury brands namely Cartier, Chanel, Dior, Gucci, Hermès, Louis Vuitton, Prada, Rolex, Tiffany & Co., and YS.
Within the overall 8 million social and web mentions in the region, the report showed that Thailand tops the volume of these online mentions, accounting for 37% of it, or in particular, 2.9 million. This was followed by Indonesia with 1.94 million and the Philippines contributing 1.92 million. Meanwhile, Malaysia and Singapore recorded 867,000 and 295,000 mentions, respectively.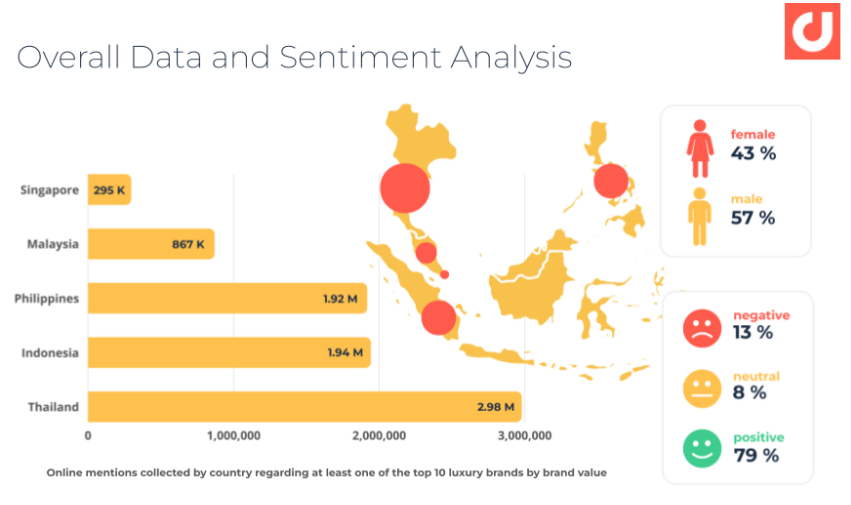 Since the four countries do not have the same population numbers, the data was based on the number of active social network users per country.
The report also explained that there may be several factors on why these luxury brands were being talked about online. First, there is a 79% positive sentiment recorded behind the brands amongst APAC consumers. Another factor is the collaboration of K-pop artists with the said luxury brands. Iterations of these would be artists wearing custom-made outfits during their concerts or events. Furthermore, luxury brands are getting a lot of attention due to venturing into newer technologies, including Non-Fungible Tokens (NFT), the metaverse, and cryptocurrency for payment purposes.
Olivier Girard, head of Digimind APAC, said that the luxury culture in Southeast Asia is very much alive because of loyal customers, with fans adoring the ambassadors of these products. Girard also added that they noticed the continuous interest with great average of monthly mentions and sentiments from the people in the region.
He added, "When it comes to high-profile events, social media coverage is a critical area of monitoring, where a single blunder can potentially have massive repercussions on multiple stakeholders. Social media monitoring tools like Digimind Social offer brands the ability to spot the hottest trending discussions and extreme shifts in sentiment in real time, turning actual public perception into concise, actionable reports to activate the right escalation chain."