SEA – In celebration of International Women's Day (IWD), Twitter has announced its new #SheInspiresMe campaign across Southeast Asia, which aims to highlight women's inspiring voices on the social media platform, featuring leaders in business to entrepreneurs, mothers, daughters, partners, and friends.
The #SheInspiresMe campaign has partnered with more than 40 creators from different countries in the SEA region, namely Indonesia, the Philippines, Singapore, and Thailand.
The said creators will make a personal #SheInspiresMe video tweet in which they share about the women that inspire them, and why, and will be tagging three other people to spread the campaign across the platform. This series of videos will be tweeted from 8 to 19 March on Twitter.
There will be 40 creators across the SEA region. Participants from Indonesia include Cheryl Tanzil (@CherylTanzil), Febriana Firdaus (@febrofirdaus), as well as Laily Fitry (@MahameruLee), among others.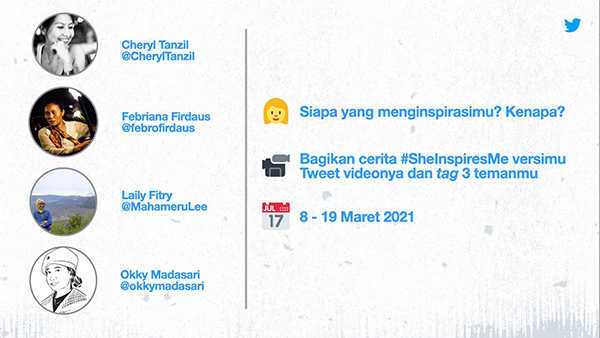 From the Philippines, Catriona Gray (@catrionaelisa), Dr. Gia Sison (@giasison), Inka Magnaye (@inkamagnaye), and Joyce Pring (@joycepring), and many more will also participate in the campaign.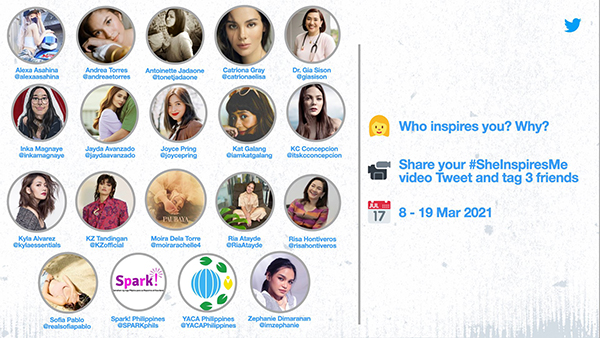 Meanwhile, participants from Singapore include Cheryl Allison (@cherzinga), Preeti Nair (@plspreeti) as well as female communities and organizations like AWARE Singapore (@awarenews), among others.
And finally, joining the campaign from Thailand are Amanda Chalisa Obdam (@amanda_obdam), Danupha Kanateerakul (@millimdk), and 4EVE (@4eveOfficial), among others.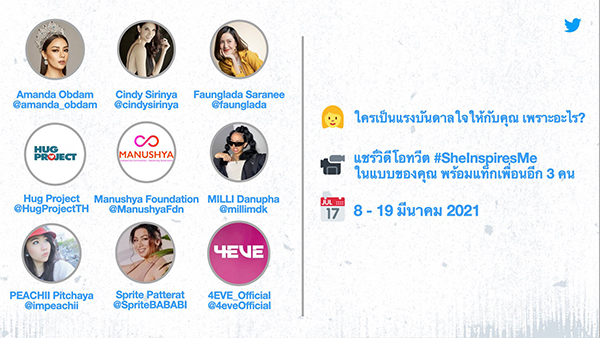 Users are also invited to join in Twitter's #SheInspiresMe campaign by simply creating a video tweet of up to 2:20 minutes in length, sharing positive stories about inspiring women with the hashtag #SheInspiresMe. Participants should also tag three other app users and Twitter's official accounts – @TwitterID, @TwitterPH, @TwitterSG, and @TwitterThailand.
Furthermore, Twitter has launched a special emoji to celebrate IWD, which will be available throughout the month of March. The emoji is actuated when people tweet with the hashtags #InternationalWomensDay, #WomensDay, #WeAreWomen, #ActForEqual, #IWD2021, #IWD, and #GenerationEquality.