Singapore – PropNex, a Singapore-based real estate company, is releasing its very own version of the popular board game Monopoly called 'Monopoly Propnex Edition' in an aim to introduce insights of the local residential market through gamification.
PropNex has likewise partnered with the digital experiential version of the game in Singapore, called 'Monopoly Explore! SG', which allows players to explore Singapore through its landmarks, local products, and to even win prizes.
For the company, the board game will allow the common populace to get a sense and reality of the Singaporean real estate market. Furthermore, it will allow players to experience cash flow management and effective techniques of real estate investments as a lifelong skill, which brings families together in cultivating the wisdom of financial prudence and investment skills.
"Through playing the MONOPOLY PROPNEX EDITION, PropNex is confident that players young and old will have a better grasp of [the] property market in Singapore and as well as a deeper understanding of financial prudence necessary to own their first property or multiple properties. In the game of four to five players per round, as soon as two players go bankrupt, the player with the highest worth of assets will emerge the winner," the company said in a press statement.
The upcoming physical version of the Monopoly Propnex Edition is targeted at Singaporean consumers, with tutorial videos about the gameplay already available online.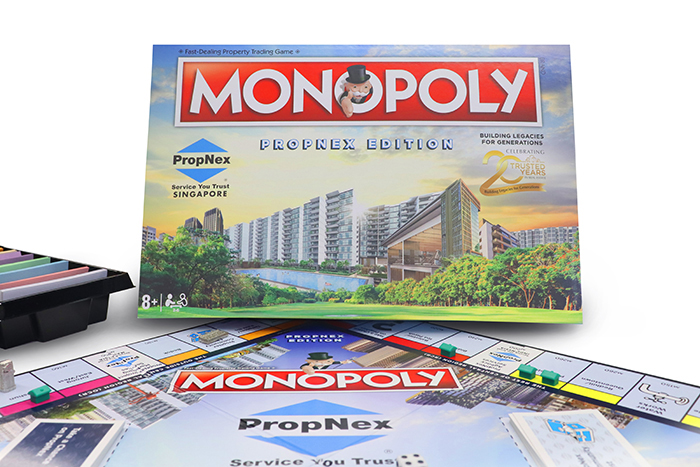 According to the company, the Monopoly Propnex Edition is curated to bring out the essence of the 'Singapore flavor', which provides a deeper understanding of the property market, namely what constitutes the Core Central Region (CCR), Rest of Central Region (RCR) and Outside Central Region (OCR) segments, as well as highlighting the various challenges that investors have to overcome in owning multiple properties complying to various cooling measures currently in place.
For Ismail Gafoor, CEO of PropNex, the board game development is traced back to his desire of bringing the board game to every household in Singapore in order to teach the basics of real estate.
"I did not realize that the numerous games played as a family has significantly imprinted on my passion for properties, as PropNex today has fulfilled the aspirations of thousands of homeowners in their dream homes and investments, with the guidance of over 8,900 salespersons. It took my management team and me more than a year to conceptualize and bring this Monopoly PropNex Edition idea to fruition today, and we are excited for Singaporeans to come on board this journey with us," Gafoor explained.
PropNex has been ramping up its objective of consumer education about the real estate industry since 2013 when they launched the Consumer Empowerment Campaign, which aimed at keeping their consumers informed of the trends and market outlooks that will affect their real estate decisions. They have also hosted virtual property shows and launched a membership program called PropNex Friends, where members can enjoy exclusive deals and rewards from Propnex itself.
The board game is up for sale at PropNex's website for S$49.99 or S$42.99 for members of PropNex Friends.