Manila, Philippines – Philippines-based university FEU Institute of Technology (FEU Tech) has released a proprietary learning system for its students, Mastery-based Individualized Learning Enhancement System (MILES), as its response to schools' shift to a new normal amid the Pandemic. 
The country's government has been firm in its decision to hold off face-to-face classes until the availability of a vaccine, urging schools from primary to tertiary levels to take learning online. While many have opted to leverage available online tools such as ZOOM to administer classes, FEU Tech has taken the liberty to create its own system for learning.
MILES runs on online learning platform Canvas. The system differentiates itself from other virtual learning systems via its "Mastery Network," wherein in every course, students are required to achieve a certain level of mastery in one topic before they can go study the next, eyeing a more targeted and goal-oriented learning.
According to FEU Tech Executive Director Dr. Benson Tan, he and his team have high hopes for MILES because the program was built to address the learning gap of the often favored method of rote memorization which is not enough to integrate into students deep knowledge of a topic.
How the mastery network works, students will be given the option "to try as many times as they need," until they have achieved a certain minimum score on a test that demonstrates mastery. Alongside this, the system offers asynchronous learning, where they can easily access learning materials online at any point in the day.
FEU Tech explains in a press statement: "Take the subject of trigonometry. Under a normal classroom setting, students may only have a few weeks to fully master the sin, cos, and tan operations needed to find certain angles. With MILES, students can undergo a formative assessment as many times as they need to, solving different trigonometry problems each time. Eventually, the students will come out with a better understanding than if they were rushed."
Within MILES, FEU Tech is also determined to give students a holistic experience, albeit virtually, of campus services. Through a Blue button in the Canvas platform, students will be able to reach out to school-bound departments such as the clerical office, the library, and even the guidance counselor. The same goes for the university's faculty.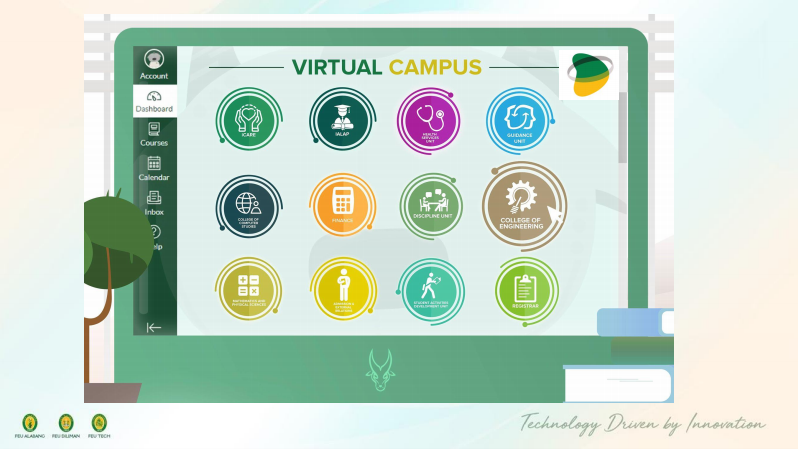 Through the same Blue button, students will be able to easily consult professors on the course material. For every course, faculty will be ready to answer questions as they come, where at least one professor is made available online from 7 am to 9 pm.
"On top of a self-paced learning environment, our faculty are ready to lend assistance at any time, whether that means simply asking a one-off question about the lesson or even taking time to give students one-on-one tutorial sessions," said Tan.
FEU Tech is the dedicated technology institute of Far Eastern University (FEU), and was established in 1992 in the country. FEU currently has six tertiary level branches and one secondary school campus. Aside from FEU Tech, the MILES program so far has been launched to two of its other campuses; FEU Diliman and Alabang.