Hong Kong – Due to the prolonged economic impacts brought by the COVID-19 pandemic, the confidence rate among small and medium businesses (SMBs) is at an all-time low, according to a new survey from professional accounting body CPA Australia.
Only 16% of surveyed Hong Kong small businesses reported growth last year, and only 21% expect their business to grow this year. Furthermore, the survey also stated that the weak outlook is reflected in the cautious approach of Hong Kong small businesses' increasing their headcounts. Only 12% of respondents expect to increase staff in 2021, compared to the APAC survey average of 36%.
In addition, Hong Kong small businesses are also less inclined to innovate, with only 8.5% of respondents stating they will introduce new products or services in 2021, compared to the average of 23% in the APAC.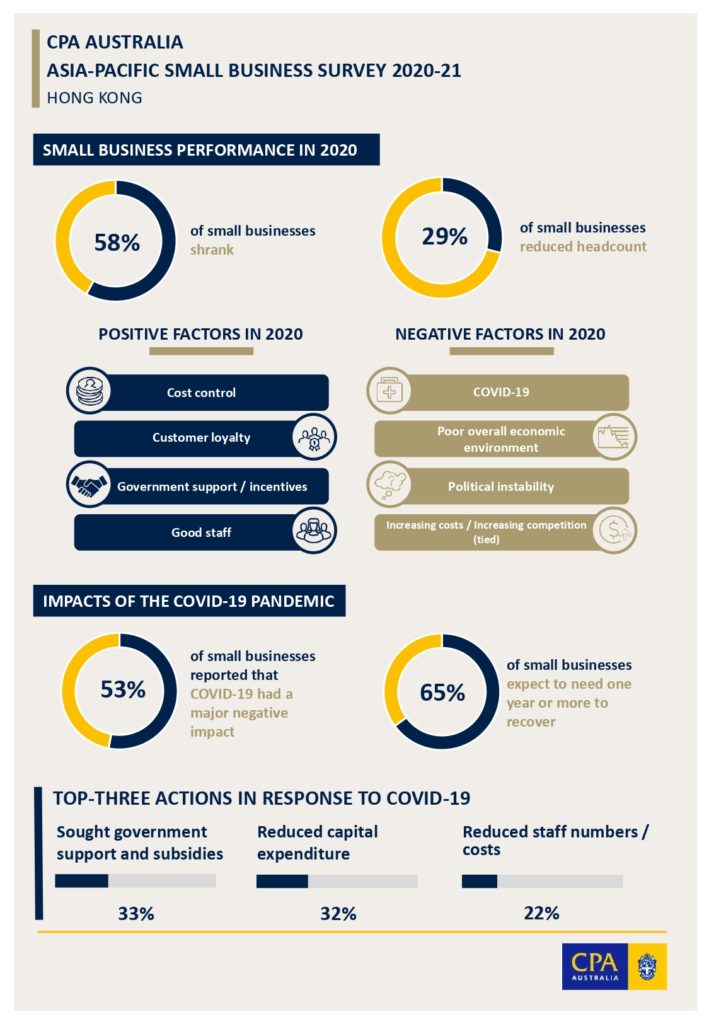 "For two consecutive years, expectations of business growth among Hong Kong small businesses have been the lowest of the surveyed markets. 53% of respondents identified COVID-19 as having had a major negative impact on their business operations in 2020, and 65% of them expect to need one year or more to recover," said Janssen Chan, 2021 divisional president for Greater China at CPA Australia.
When asked what major actions businesses took in response to COVID-19, small businesses in Hong Kong were most likely to have sought government support and subsidies (33%), reduced capital expenditure (32%), and reduced staff numbers and costs (22%).
The response is also reported in other findings that beginning or increasing the focus on online sales was one of the key actions taken by small businesses in many of the markets surveyed.
"The relief measures announced by the SAR Government supported small businesses to combat the worst of the pandemic. According to the survey, 44% of the respondents sought external funds for business survival. Using government grants as the main source of external finance jumped from 9% in 2019 to a record high of 33% last year," Chan added.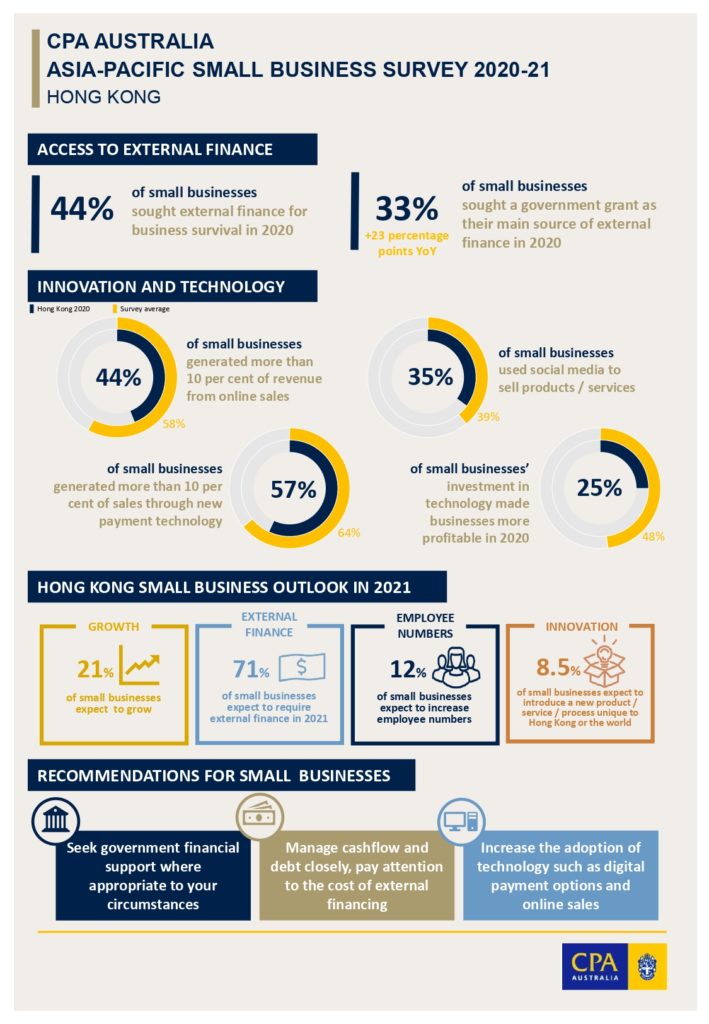 Chan also noted that the government's initiative to issue electronic consumption vouchers, as announced in the Hong Kong Budget, is one great opportunity for SMBs in taking advantage of e-commerce and digital payment options. He also recommended reopening applications to the Distance Business Programme to continue driving digitalization and technology adoption of small businesses.
The Distance Business Programme is an initiative by the Hong Kong government to support enterprises in adopting IT solutions to continue their business and services during the epidemic.
"While business innovation may involve additional expenditure in the short term, small businesses in Hong Kong should be more proactive in reassessing their resource allocation and consider innovating through the adoption of technology. This could enhance their long-term competitiveness and help them keep pace with their peers in other Asia-Pacific economies," Chan added.
The survey recommended Hong Kong businesses to consider certain measures such as managing cash flow and debt closely paying attention to the cost of external financing, leveraging government support schemes to increase the adoption of technology, as well as to identify, invest in and adopt new technologies to keep innovating.