Jakarta, Indonesia – Just like other nations around the world, Indonesia has also jumpstarted its vaccination efforts for citizens amid the pandemic, and super app Grab in the Southeast Asian country has affirmed its commitment to support the government in its efforts. 
As a start, Grab Indonesia will be using its platform as an educational channel to fight misinformation about the COVID-19 vaccine. Grab also said that it's ready to work with the government to reach population segments of society with high physical interaction and those that carry "vulnerability from geospatial, social and economic aspects that need immediate protection from the virus" including its driver partners, Grab merchant partners, and GrabKios agents to give education about the vaccines.
In a webinar series hosted by Asian Development Bank Wednesday, Ridzki Kramadibrata, president of Grab Indonesia, said, "Gradually, vaccines are an important step for the country's economic recovery, and the government has committed to providing them free of charge to all people. However, giving vaccines with broad and even coverage is not an easy thing, especially in an archipelago country like Indonesia."
Kramadibrata added, "We have been working closely with the Indonesian government in various aspects since the beginning of the spread of the virus and hope to play a role in assisting the government in implementing COVID-19 vaccination for all Indonesians safely and protected by utilizing our technology and the wide reach of our platform."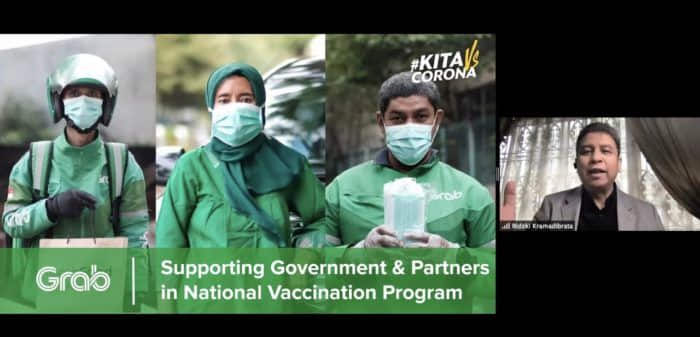 In line with its assistance to the country's vaccine rollout, Grab will continue to utilize its in-app health feature GrabHealth, which is in collaboration with health technology-based company Good Doctor, to attend to users' queries regarding the COVID-19 vaccine. Grab also expressed in a press statement that it is ready to collaborate with the government on other various approaches needed to accelerate vaccine distribution in the country.
Grab also hopes that policymakers in Indonesia can consider providing early access for driver-partners, merchant partners, and GrabKios agents, who continue to serve as frontliners.
"While the Indonesian people are playing their role in fighting the pandemic by staying at home, driver partners, merchant partners, and GrabKios agents remain at the forefront of keeping our community going. Grab believes that they should be prioritized because of the important services they provide and the crucial role they will play during the pandemic," said Kramadibrata.
"We are committed to continuing to serve and support Indonesia in this challenging time. Therefore, let's work together and take care of each other to ensure that no one is left behind in this difficult time," he added.